Publication date: 16th November 2021

Cyber-Duck Limited is committed to achieving Net Zero emissions by 2035.
Baseline Emissions Footprint
Baseline emissions are a record of the greenhouse gases that have been produced in the past and were produced prior to the introduction of any strategies to reduce emissions. Baseline emissions are the reference point against which emissions reduction can be measured.
Baseline Year: Financial Year 2020 (01/02/2020 – 31/01/2021)

Additional Details relating to the Baseline Emissions calculations.

Prior to 2020, we did not regularly measure GHG and Carbon Emission at Cyber Duck. The figures below are estimates of use in 2020 and significantly lower than what it would have been in previous years due to effects of COVID-19.

Baseline year emissions: 2020

EMISSIONS

TOTAL 176.8 (tCO2e)

Scope 1

175.5

Scope 2

1.2

Scope 3

(Included Sources)

Business Travel: 0.1

Employee Commuting, Remote Working and Fuel and Energy Related Activities: No qualified yet – this would be something we aim to measure more closely in the future.

Total Emissions

176.8 tCO2e
Current Emissions Reporting
Reporting Year: Financial Year 2021 (01/02/2021 – 31/01/2022)

EMISSIONS

TOTAL (tCO2e)

Scope 1

Pending – Annual Report available in Quarter 2, 2022

Scope 2

Pending – Annual Report available in Quarter 2, 2022

Scope 3

(Included Sources)

Pending – Annual Report available in Quarter 2, 2022

· Business travel

· Employee commuting

· Remote working

· Waste generated in operations

· Fuel and energy related activities

Total Emissions

Pending – Annual Report available in Quarter 2, 2022
Emissions Reduction Targets
In order to continue our progress to achieving Net Zero, we have adopted the following carbon reduction targets.
We project that carbon emissions will decrease over the next five years to 117.87 tCO2e by 2025. This is a reduction of 33.33% reduction in tCO2e. We aim to reach Net Zero Carbon Emission target by Financial Year 2035.
Prior to 2021, and due to the restraint imposed on our business and employees by COVID-19, emissions reduction management was delayed to 2021. We are currently in the process of developing a robust "Net Zero Strategy" through our internal Operations Team to reach our goal of becoming carbon negative by the end of year 2035. Our strategy and implementation plan to reach our goal, and measure our progress annually, will be duly published and commence in the new financial year, 2022. This strategy and implementation plan will be reviewed annually.
Our aim is to reduce our carbon emission by 33.33% until 2025, a further 67% by the end of 2030 and 100% by 2035.
Progress against these targets can be seen in the graph below: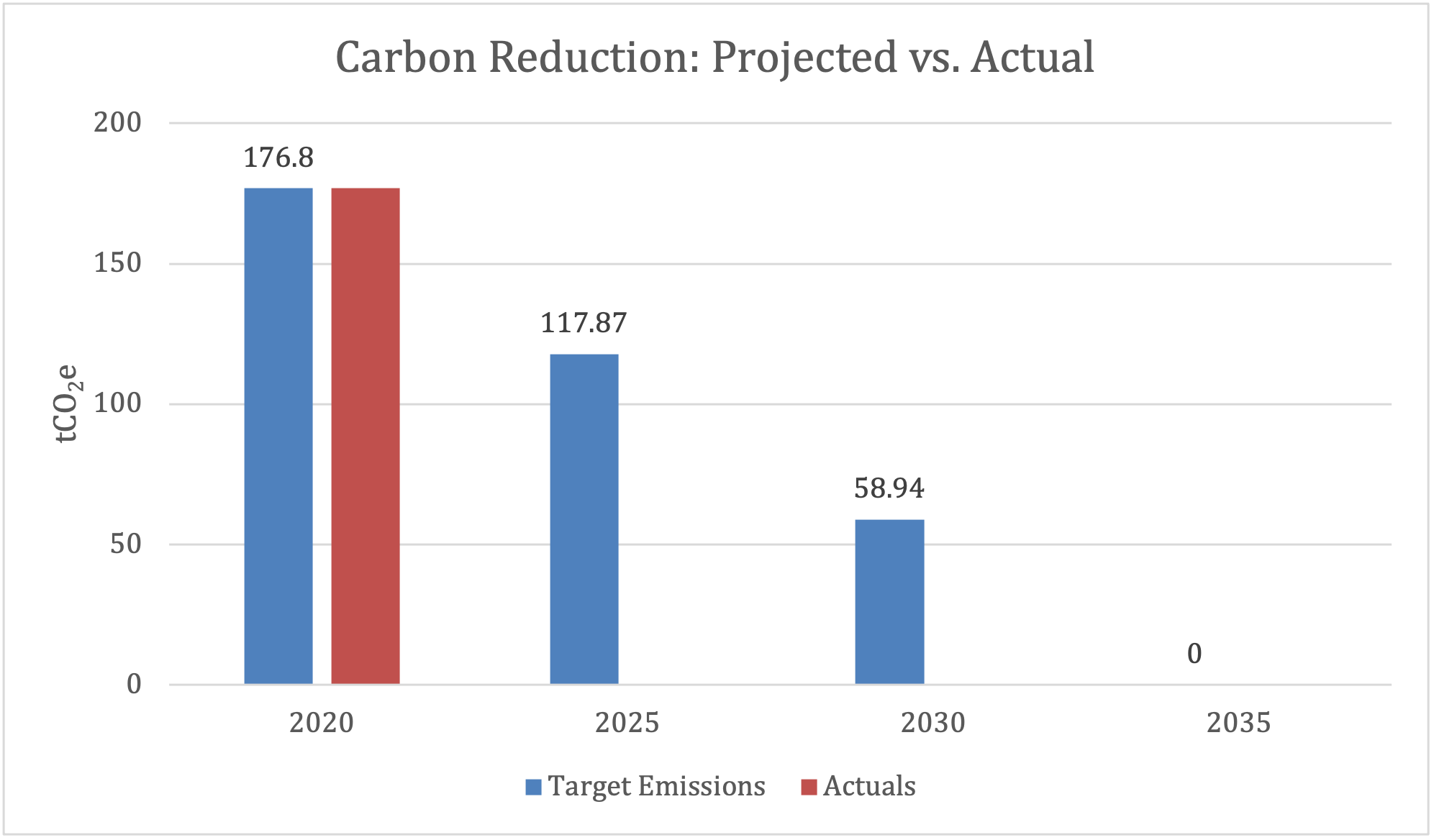 Carbon Reduction Initiatives and Projects
We are committed to taking measures and actions that result in protection of the environment, and as such, we have embarked on qualification route to obtain ISO14001 accreditation by 2022. Our Environmental Management System enables us to consider, measure, assess and action where required to protect the environment during our operations, through various aspects of our business. Our Carbon Emission targets, implementation plans, and measures are published under ISO 14001.
We intend to consider adopting ISO 14067:2018 by 2025 to continue and have an effective and progressive response and approach to the urgent threat of climate change based on the best available scientific knowledge.
Some of the actions already taken to reduce Carbon Emission in 2021 are:
Terminating our lease of secondary office space in London and focusing staff to work from our main office in Northwest London or from co-working spaces when required in a hybrid manner.
Adopting a Remote-First working policy whereby over 80% of responsibilities of roles within the company can be fulfilled from home and reduce commuting to/from the office.
Reducing our in-person meetings to absolutely when necessary and only for specific tiers of clientele. Therefore, using online methods of conducting meetings.
Introducing employee benefits (salary sacrifice scheme through HMRC) which enables staff to purchase an electric car.
Reducing our recyclable waste by moving to digital records entirely across all operational departments.
Recycling and reducing the number of electric and IT equipment and implementing policies to ensure that equipment is repaired prior to replacement and any purchases are necessary to the business.
Working only with cloud providers for hosting and services that are committed to sustainability and powering operations using renewable energy, such as AWS
Implementing sustainable design practices, to reduce server traffic/waste, as documented in our blog
In the future we plan to implement further measures such as:
Providing our team with tools to calculate their produced carbon and work towards a plan to reduce their carbon footprint.
Evaluating our existing energy supplier contracts and implementing guidelines to ensure that we only use suppliers which supply energy from renewable sources, or offset carbon emissions.
Ensure that our equipment (lighting, electric units etc.) in our offices are energy efficient and help reduce use of energy.
Adapt policies and programmes that would be result in behaviour change amongst our employees and contractors to encourage them to consider green methods of travel/commute, such as 'Cycle to Work'.
Reduce our company carbon emission for business travel by using electric vehicles or public transport.
Exploring the implementation of carbon offset schemes that fund climate solutions, such as planting of trees/forests.
All our actions and plans will be duly studied based on feasibility and business cases. Whilst individual teams will be taking action to reduce carbon emission throughout this period, the responsibility of monitoring of emissions will be undertaken by our Internal Operations department.
Declaration and Sign Off
This Carbon Reduction Plan has been completed in accordance with PPN 06/21 and associated guidance and reporting standard for Carbon Reduction Plans.
Emissions have been reported and recorded in accordance with the published reporting standard for Carbon Reduction Plans and the GHG Reporting Protocol corporate standard and uses the appropriate Government emission conversion factors for greenhouse gas company reporting.
Scope 1 and Scope 2 emissions have been reported in accordance with SECR requirements, and the required subset of Scope 3 emissions have been reported in accordance with the published reporting standard for Carbon Reduction Plans and the Corporate Value Chain (Scope 3) Standard.
This Carbon Reduction Plan has been reviewed and signed off by the board of directors, as of 15th November 2021.