It may have been around for a couple of decades now, but User Experience (UX) design is still an up-and-coming thing for many organisations. Now, as the shifting economy pushes more organisations to undertake digital transformation to maintain competitiveness, the need for UX designers has never been stronger. So here are our 12 best UX design books you need to read if you want to get into UX design – and do it properly!
1. The Elements of User Experience by Jesse James Garrett
There's no point jumping head first into the nitty-gritty of how to do UX design from the get-go – first, you need to learn the thinking behind UX. Jesse James Garrett's pioneering classic The Elements of User Experience lays out the fundamental pillars of any UX design process, from conception to completion.
Clear, concise and illustrated to make it easier to engage with, The Elements of User Experience is the bible of UX design. It shows web development and design teams the user-focused ideas behind user needs, information architecture, content requirements, visual design and more. So while it isn't a how-to guide, it is indispensable.
2. Hegarty on Creativity by John Hegarty
Creativity is key to the art of persuasion, so who better to turn to than one of the advertising greats, John Hegarty? Taking 50 talking points to distil the myths behind creative thinking, Hegarty shows you how to communicate your ideas effectively to users.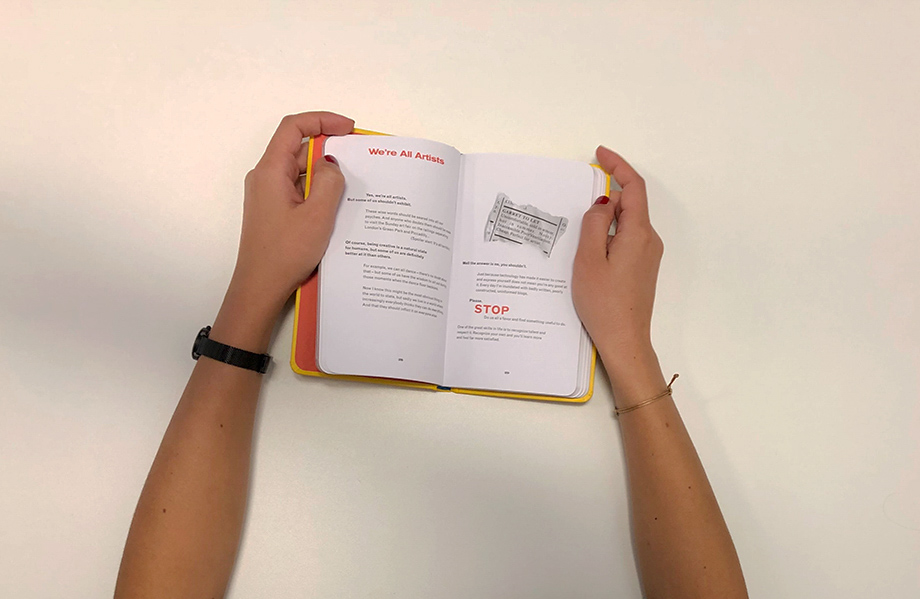 Our Visual Designer, Veronica likes the bite-sized pieces of creative advice.
Hegarty's advice doesn't stop there; it will also give you creative ways to engage with stakeholders to make sure you build the best possible user-friendly designs.
3. Steal Like an Artist by Austin Kleon
When you need to get into a creative mindset, reach out for Steal Like an Artist by Austin Kleon. He reveals that trying to be truly original in your work is a trap you shouldn't fall into. In fact, no artist in history has created something truly original; something influences all artists.
Kleon's insight is to show that you should embrace influences to enhance your creativity. When it comes to UX design, there's no point working in a vacuum; look at how others have created user-friendly products to really thrive.
4. Lean UX by Jeff Gothelf with Josh Seiden
Want to improve your internal UX process but don't know how? Jeff Gothelf and Josh Seiden are here to help. In Lean UX, they show you how to bring the tactics, techniques and principles you need to transform your UX process into a lean and agile framework.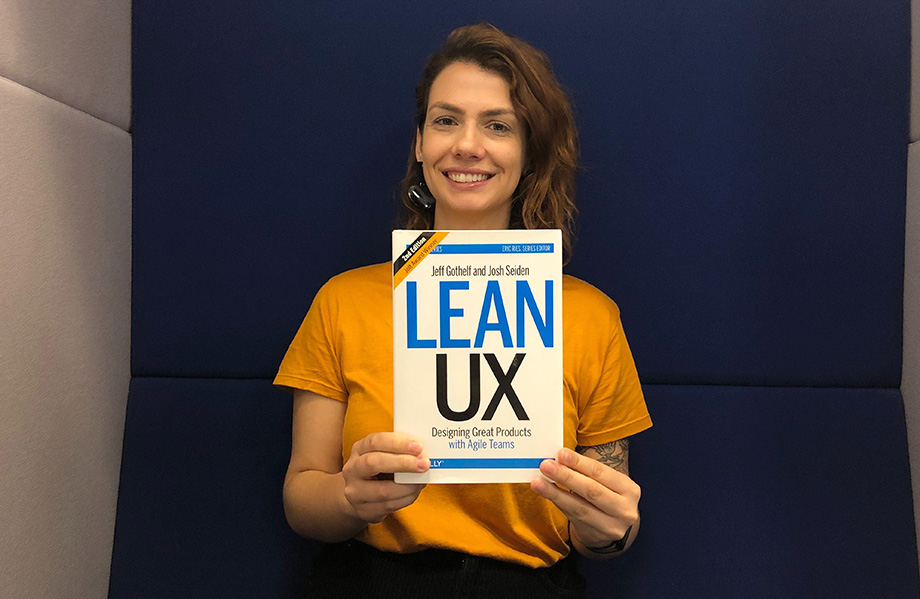 Our UX Designer, Fabiola found this one useful while starting out in UX.
Its biggest draw is the fact that it allows you to focus on the experience you're designing, rather than on individual deliverables. If you enjoy Lean UX, Gothelf and Seiden followed it up with Sense and Respond, which details the importance of listening to customers and creating new products for them on a continuous basis.
5. Purple Cow by Seth Godin
Although he never mentions UX, Seth Godin does talk about remarkable products in his bestselling Purple Cow. For Godin, "remarkable" doesn't have to be the most eye-catching product on the market. In a sector that's renowned for having poor UX, a remarkable product would be the one with a great UX.
But thinking of products as Purple Cows (remarkable products) could help you approach design differently. It's a must read for anyone who wants to make their business or products stand apart!
6. Future Ethics by Cennydd Bowles
You may think that technology is neutral, but Cennydd Bowles argues that it was never such. For a close look at how technology actually impacts our everyday lives, Future Ethics is essential reading.
It offers designers practical advice to negate unintended consequences and dark patterns. Bowles shows us how to build products that are future-friendly and crafted with fairness in mind.
7. The Design of Everyday Things by Donald A. Norman
A landmark in the field of design, Don Norman applied cognitive science to design in the 80s to great critical acclaim. Norman astutely noticed that it wasn't people's fault that they couldn't use products that were supposed to be simple, but rather the fault of poor design.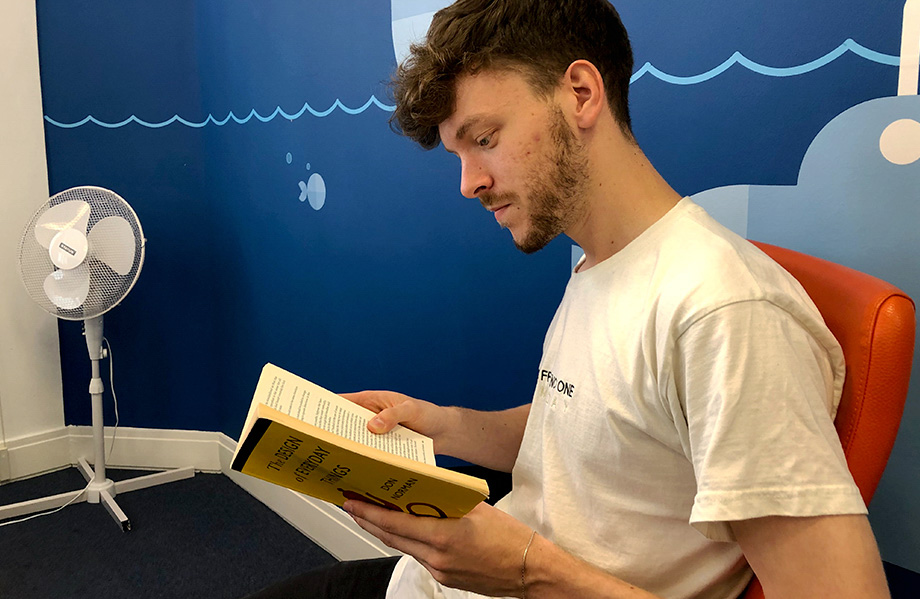 Our Visual Designer, Nick was a fan (can't help it) of this book.
Here, you'll discover the reasons why some products work and some just really don't, and how human psychology affects that.
8. Designing for Emotion by Aarron Walter
Ever wondered how a large tech organisation built its award-winning user-friendly product? Then Designing for Emotion is for you.
Here, MailChimp's former UX design lead Aarron Walter recalls how he and his team helped build a site users would fall in love with. It's all about making human connections through design, and emotions are how you connect with people on that front.
9. UX Handbook by Danny Bluestone
The UX Handbook is our very own guide to UX design. We released it in 2015 to show how our process works and to help others build a user-centred design process that works.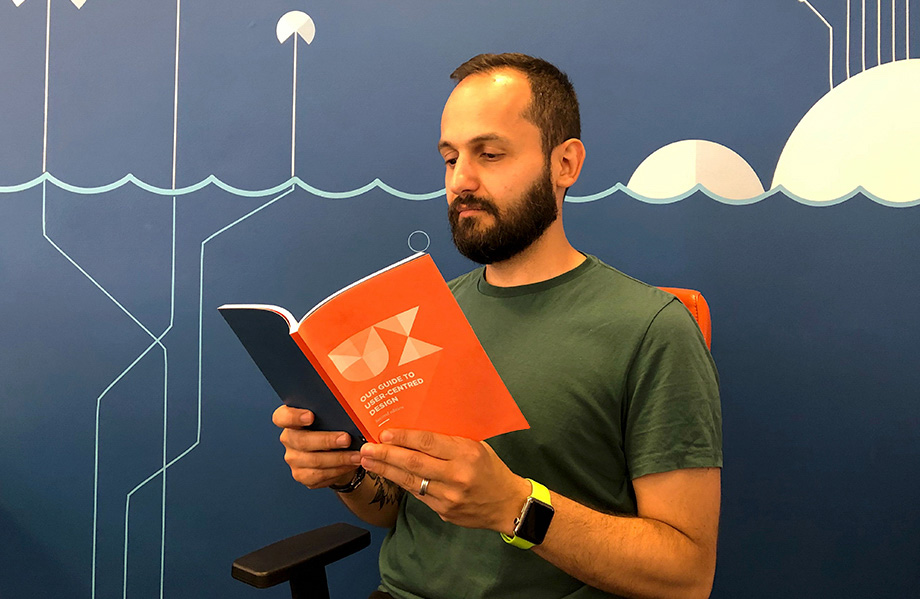 Our UX Designer, Tod catches up on the latest edition of UX Handbook.
In UX Handbook, we offer practical tips for doing the nitty gritty of UX design. Whether it's the importance of content strategies or how test-driven development is essential for delivering a truly user-centred product, we cover not just principles but tactics too. You can download UX Handbook free from our website and it's also available on Amazon.
10. Universal Principles of Design by William Lidwell
It doesn't matter what you're working on, be it a marketing campaign, website, mobile app, AR system or events stand, some form of design will be at play.
William Lidwell lays down the law with critical principles you can draw on and apply in your day-to-day.
11. 100 Things Every Designer Needs to Know About People by Susan Weinschenk
If you want to find out why people act the way they do so you can ensure your designs are more efficient, this is the book for you.
Weinschenk covers a range of topics, including what makes memories stick and how to predict common errors people make when using a product. With Weinschenk's insights, you'll be able to make more engaging products in no time.
12. Psychology for Designers by Joe Leech
No list of UX books would be complete without one dedicated to pure psychology! Here's our recommendation: Psychology for Designers by Joe Leech.
Available on Kindle for less than a cup of coffee, Leech shows you how to take a psychological approach to design that is easy to understand yet transformative to your design process.
Download UX Handbook today
Read this list of the best UX design books and you'll be well on your way to mastering UX design. To help get you on your way, we've made our own UX Handbook available free from our website. Simply sign up to our newsletter to download straight away.
Alternatively, you can buy UX Handbook on Amazon.
If you'd like to work with our expert team of UX designers, marketers and developers, contact us today.