This celestial award season, by far and away the trophy for the biggest fail goes to... The Oscars and PwC. How could they give the biggest award of the night to a different nominee by accident? It's all about typography. Here's how it all could have been avoided.
For those who don't know – anyone who's managed to avoid social media or news sites or THE INTERNET today! – Warren Beatty and Faye Dunaway stepped up to present the Best Picture Oscar and awarded it to musical-throwback 'La La Land'. After many minutes of thank-yous to mums, dads, manicured chihuahuas and the rest, one of the 'La La Land' team was told that it was incorrect and that rival 'Moonlight' was, in fact, the rightful winner.
Now, we know that this is almost as cringey as a good episode of The Office. But the central question is how did this actually happen? The answer is simple. TYPOGRAPHY.
The Hierarchy: Not Warren Beatty's Type
The evidence for this theory came in thick and fast. When the mistake was announced, La La Land's Producer Jordan Horowitz held up the award card to prove that Moonlight was, definitely, absolutely, 100% the right winner. It gave a solid answer about why nobody really noticed something was wrong until it was too late…
Can you see 'Best Picture' clearly?
No? Well, you should be able to. If the designer of this card followed basic typographic hierarchy rules, there's a good chance this mistake never would've happened.
It's all very well using lovely fonts, having a fabulous logo and printing on expensive paper stock. But if the 79-year-old presenter can't see the category they're presenting easily under studio lights, what's the point?
Typographical Hierarchy
For the uninitiated, here's what typographical hierarchy is all about:

Good typographical hierarchy guides the user through content so it makes immediate sense to them. Using all the tools available in the designer's box – fonts, space, line, graphical elements – gives that sense to a viewer. But what if there's only text, like in the case of the Oscar winner card?
Three Is the Magic Number
However much I'd like to talk about De La Soul here (their last album was excellent), I'm talking about three basic hierarchical elements that all designs should adhere to. It's one of those things that's so ingrained in our visual culture that most people don't even notice it. Let's take an example from a newspaper that most people will know. This afternoon's Evening Standard has the inevitable lead story.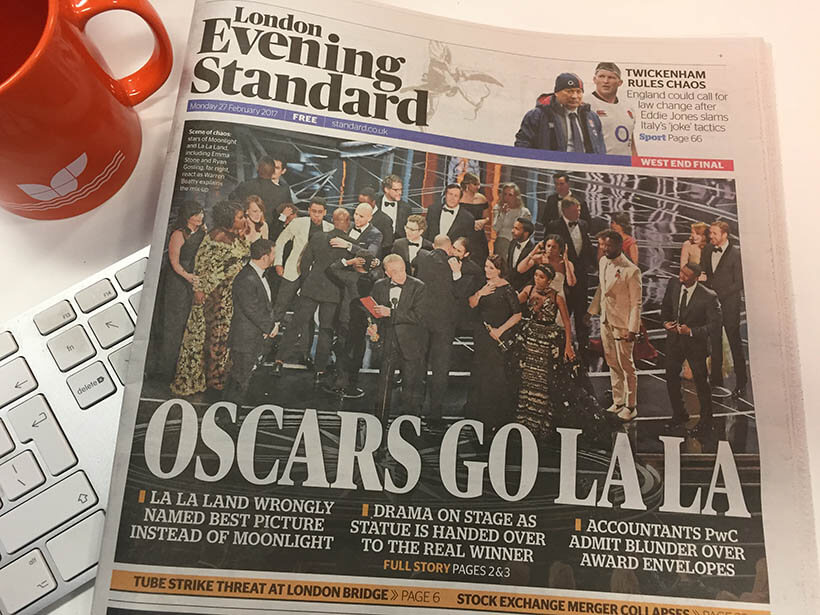 My favourite bit is definitely Emma Stone and Ryan Gosling's reaction. But in that main section, there are three sections of typography that tell readers what order to take it all in.
You've got the headline 'Oscars Go La La' and three subheadings. Then, there's a small amount of body-text – in this instance in the form of a caption in the top-left-hand-corner.
Here's a slightly clearer example from the inside…

The basic rule: place the most important information in the header, add more context in the subheader and follow it all up with your body copy. This article example is even easier to see than the front page, as there's a downward motion in the hierarchy.
As with all design, this is a guideline, a pattern from which to design from. So, there are great designs that may not adhere to this guideline strictly. But, one fact remains. Put the most important stuff where it's easiest to find and understand. And that's true of all design, whether it be good UX design on an app, an article in a magazine or contact details on a business card.
Better Luck Next Year
So where did the Oscars go wrong? Well, it's pretty obvious from what I said earlier. The size of 'Best Picture' should've been bigger. It's presented as body copy when it's actually a heading of some description. Using accepted typographical hierachy, you would use this order of elements
The award being presented
The winner
The Oscars logo
However, this is a case where the winner is also extremely important so I would probably put the winner's name in a bigger font that the award. Here's how I would've designed it: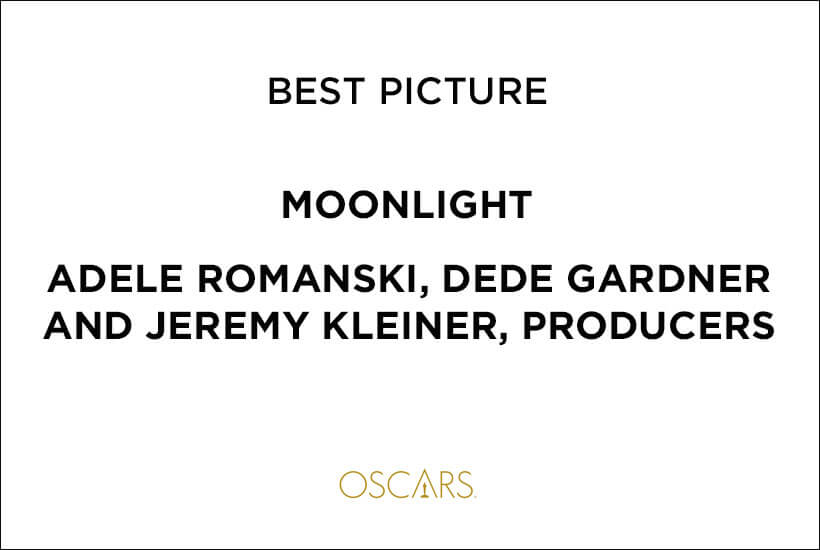 Pretty simple isn't it? Oh, and if you're reading from the Academy of Motion Picture Arts and Sciences, we'll be more than happy to design your cards next year – just click the 'Contact Us' button ;)