The fourth annual Duckies Awards party took place last month at our Elstree headquarters. The extended Cyber-Duck family, including our clients and suppliers, gathered to celebrate outstanding student design—and the company's ninth birthday!
Cyber-Duck has sponsored the UX Associate Prize for User Experience and Interactive Design at the New Designers graduate exhibition since 2010. With an overwhelming amount of young talent in the UK, we started The Duckies as a way of recognising more than just one student each year.
The music was loud, the barbecue was hot and the drinks were cold to celebrate not only the great design work, but also our birthday. Cyber-Duck is officially nine years old! Digital caricaturist James Hodges—better known as The Celtic Feltip, was back again to draw any brave soul willing to have their features exaggerated. And what's a Cyber-Duck party without some high-energy table tennis?
Below are the projects we chose this year as outstanding examples of interactive media.
The Duckies 2014 Winners
Button Bash is a game created by Sinead Dumigan to encourage inclusive play between physically impaired and able-bodied children. Sinead, a Product Design graduate from the University of Leeds, took a user-centred design approach to correcting the way society views disabilities and the development of disabled children.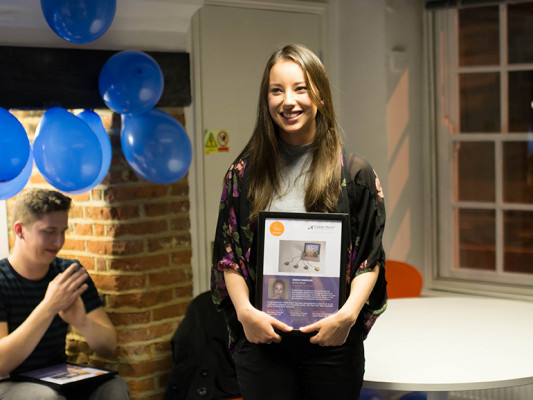 UnderGrowth is a web app for the discovery and documentation of local music scenes created by Calum Potter. After graduating from University of Dundee with a degree in Digital Interaction Design and receiving our UX Associate Prize at New Designers, Calum joined us as an intern. Following a successful internship, he was promoted and made a permanent member of our user experience team.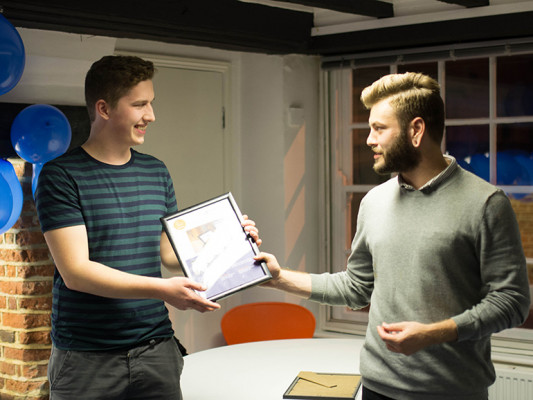 Before Dark is a web app that displays a countdown to the exact time of sunset and allows users to sign up for SMS alerts. Local students Harjot Singh, Jake Sieradzki, Daniel Vaughan, Asha Wills and Maya Wills created the tool for parents who want their children to be home 'before dark'. The project earned the kids a Best in Show nomination at this year's Festival of Code.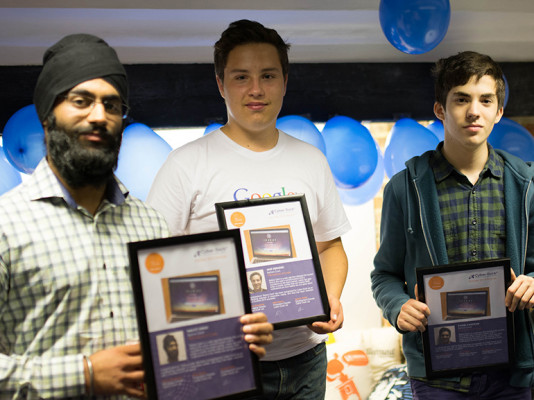 We were delighted to welcome back our YRS team to present their After Dark project.