From Marketing Week Live to TFM&A, trade shows are a great opportunity for us to showcase our unique approach to key digital decision-makers. A striking exhibition stand is the best way to win business. Product Designer Sinead Dumigan tells the story behind our new display, which attracted a lot of attention this year.
We aimed to create an innovative exhibition stand that could encapsulate what we do at Cyber-Duck. Of course, we pride ourselves on creating exceptional responsive websites. This is a highly relevant service, as Google's algorithm change earlier this year is still a hot topic – but it's tricky to visualise and make exciting at a single glance.
Avoiding reliance on sweets or branded stationery to attract visitors, we wrote ourselves a brief that went beyond the basics, demanding interaction through innovative design. It needed to encourage a purposeful conversation, to generate the type of interest that could evolve into leads. Overall, we wanted to be different and demonstrate real agency value.
Approach & Design
Our project team brought together a marketer, product designer, interaction designer, and developer. They each brought unique ideas, balancing marketing value with design and technical feasibility.
During a brainstorm session, we came up with the "Wall of Devices" – a range of smartphones, tablets and desktop monitors that would display how a single website looks to users across contexts. This concept meant visitors to our stand could examine their websites in a completely new way – and allow our exhibitors to highlight the importance of design and development that performs well, across devices.
During the design process, we built quick prototypes using tools like Photoshop, 3D modeling software, and even plain old paper cut to the dimensions of various phones and tablets. These prototypes allowed us to make changes easily and provided a visual for key internal stakeholders, ensuring clear communication. We went to great lengths to get a real feel for the dimensions and arrangement of the stand, taping off an area in our lobby and arranging prototypes.
Build
To get the most out of floor space, each panel clearly presents either who we are, or what we do. This includes a few lines about our company, core services, clients, and key press features. We chose a clean design, sticking to two colours with large text to make sure our messaging was obvious to passersby.
Once we nailed down our concept and design, it was time to make it a reality. Fine carpentry is outside our area of expertise, so we visited exhibition stand specialists to get their feedback and take on our vision. After seeing examples of other stands and discussing our needs in detail, the build began.
We purchased many different sizes and types of devices, as these could be re-purposed for use in our testing lab after the show. To accommodate all these devices, our stand is a combination of framework and bespoke carpentry. The wide middle panel is an entirely custom unit, with cutouts for touch screens. Inside, there's shelving to spec that keeps laptops, chargers, jackets, and everything else tucked away neatly.
Results
The new stand created a great buzz at the show. Many people approached us after hearing about "the stand where they could test their websites", which meant we had hit our objective. Better yet, photos and discussion of the device wall were being circulated on Twitter and LinkedIn, with users commending the idea and innovation – an unexpected but very welcome outcome.
It was great to have people interacting with the phones and tablets at our stand, entering their own websites to test. This made our space appear more active, intriguing, and approachable. The devices' display were personalised for each user, giving instant feedback about how mobile-friendly their websites were. It meant our team could tailor conversations for their digital needs, which increased engagement.
With this, we could explain the (sometimes complex) jargon through a clear visual. For example, some people were unclear about whether their websites were 'responsive'. Using the stand, we could easily clarify their concerns, testing their companies' websites and offering examples of responsive and non-responsive websites.
Overall the stand did a fantastic job in being innovative and attracting attention. It clearly communicated how we could add value to their businesses and digital marketing strategies. Between shows, it's set up ready for clients to explore, at the front door of our Elstree headquarters. We can't wait to bring it out to the next event!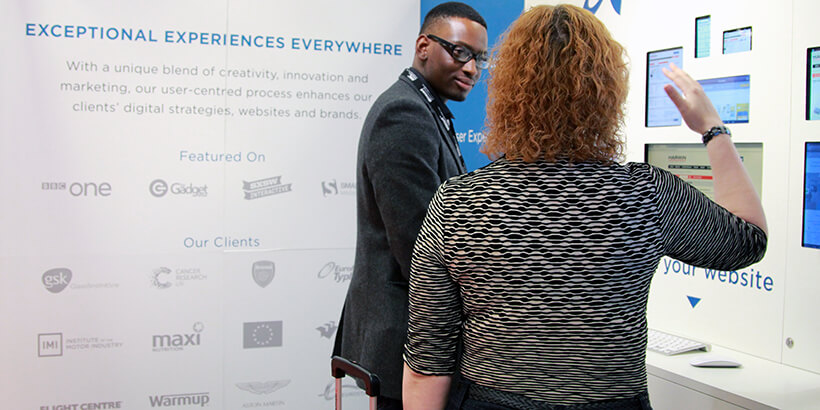 Our Growth Director, Siji explores how a visitor's website looks on our wall of devices at TFM&A.