In April 2019, I was thrilled to be given the opportunity to attend the 18th OFFF conference in Barcelona. With over 10,000 people and 65 speakers in attendance, OFFF is one of the largest design and creativity festivals in the world. Here's what I learned from 2019's conference!
Billed as a community that invites everyone who is eager to learn, participate and get inspired during a three-day bonanza of conferences, workshops and performances, OFFF has been a designer's dream destination since 2001.
Since I became a designer, I've always wanted to go and get involved with the community of offline/online designers, motion designers, thinkers, graphic designs, UI/UX designers, theorists, developers and professionals. I think it feels great when you can share the same passion and goals, the same hunger to learn and the same frustrations as everyone else in a large community.
So how would I describe my OFFF experience in just two words? Very inspiring!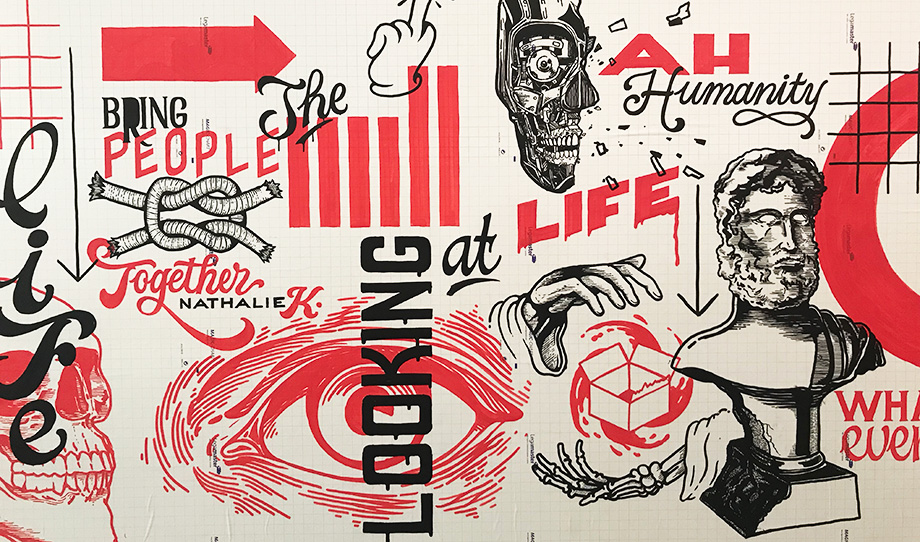 It was absolutely fantastic that Cyber-Duck could give me this opportunity to expand my knowledge. I managed to see a lot of talks, but I'm going to summarise my experiences in a selection of top takeaways.
The first thing that comes to mind is how all the artists at OFFF have one thing in common in their personal and career experiences: all of them are driven by a huge passion for what they do and they never stop learning, they're always curious.
They always try to push their work to the next level. From one idea, another one comes up, like a chain; there is never an arrival point. And their motivation to improve their work comes from loving what they do. They are driven to experiment, to create new things. Along the way they make mistakes, but they always learn from it and take their creativity to new heights.
Creativity
There were loads of designers at OFFF who had something to say about creativity, like Rufus Deuchler, Principal Manager of Creative Cloud at Adobe. He said creativity is:
Situational because you use it to find new solutions to everyday problems
Inspirational because it allows you to solve problems in an unexpected way
Executional because there's no point being creative if you don't do something about it!
Then, Rutger Paulusse, a visual artist and art-director, talked about how much character defines his work. He said that human consciousness affects what we do, but that how we think about certain traits could be wrong. For instance, are we impatient, or just ambitious? He also said that as a designer you should love what you do because that will resonate with the viewer of the work. Above all, the best work is the work we produce in collaboration with others. Teamwork and inspiration are what drive creativity for Paulusse.
Later, David Mikula, an award-winning designer and director living in Brooklyn, said that as designers we all need to be relevant and make progress. The way to do this is to become problem makers so that we can solve the very problems we highlight. After all, if you have all the answers at the beginning and no problems to solve, there is no room for creativity.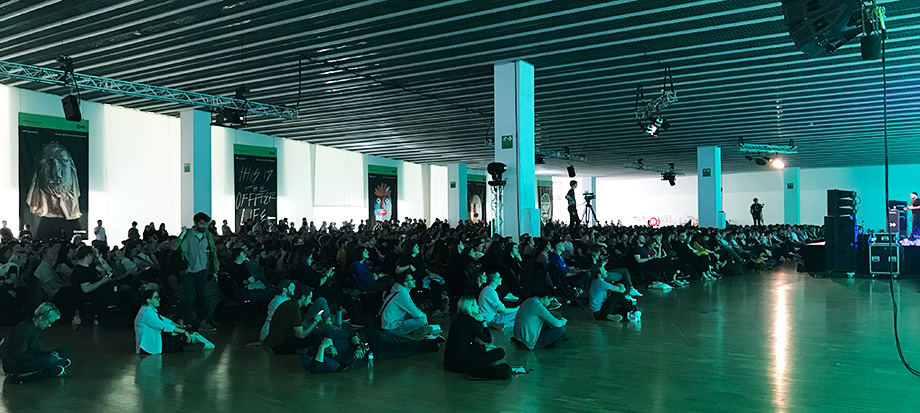 I agree with what Rutger Paulusse said about creativity being about influences. Sometimes random influences are part of the creative process and for this is what makes creativity profoundly human. Because of this, I believe creatives should get involved in as many situations in life as they can, trying to build a creative environment around themselves that is sometimes wild and fun but never dull.
Likewise, I also agree with David Mikula's views. I think creativity isn't just what you create but why you create it. We need to be problem makers and always question what we do and why.
Creativity is about changing perspectives and solving problems in different and new ways. For me, it's about communicating things in a way that's thinking outside of the box, using imagination and original ideas to create something. I'm also a big believer in the idea that creatives should put something of themselves into their work. After all, everyone has the same software but what makes a project unique is the creativity we bring to it – our decisions influence the work and there's no one way of doing something.
Process, strategy, vision and values
Every agency and every designer find their own strategy and process to follow that works for them. What's great about conferences like OFFF is that you get to see how others approach strategy.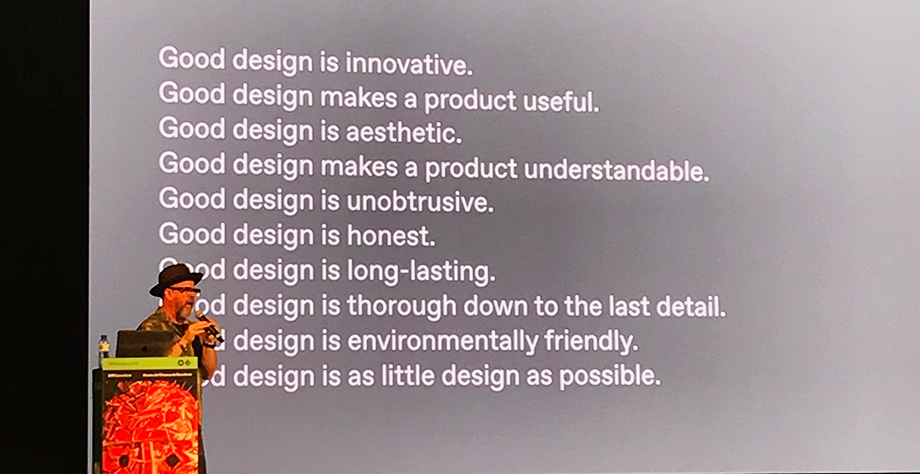 For Halli Thorleifsson of Ueno, great relationships underpin all great strategies. From the people you work with to the relationship you have with your clients, it's all important. The role of a designer is to leverage great working relationships with colleagues and the client to foster closer relationships between the client and their audience.
Thorleifsson taught me to always give something more. If someone asks you to bring coffee, bring coffee and chocolate. This is what we should always do with clients. We should surprise clients with a personal touch or by impressing them by giving something more than they expect that makes it bigger and better.
He went on to say:
Remember: we are all in this together! Sit with your clients and set the same goals as one another
Be raw and honest with yourself and the people you work with
Figure it out: there are always issues we have to overcome, our job is to overcome them with and for the client
Also talking about strategy was Abby Beck, senior product designer at Google for Accelerated Mobile Pages (AMP). While she loves everything about design, her true passion lies in systems and simplifying complex user needs. She said it was vital to go beyond linear thinking, to design for a rapidly changing landscape and to think about how our work impacts things on a larger scale.
Technology
OFFF isn't just about creativity and design, but also about technology.
The most creative and inspiring person I met at the conference was Kim Pimmel, Augmented Reality (AR) Design Lead at Adobe Aero. He's driven by a big passion about creativity and innovation. He never stops learning, he always keeps moving forward, pushing himself to ask: okay, so what's next?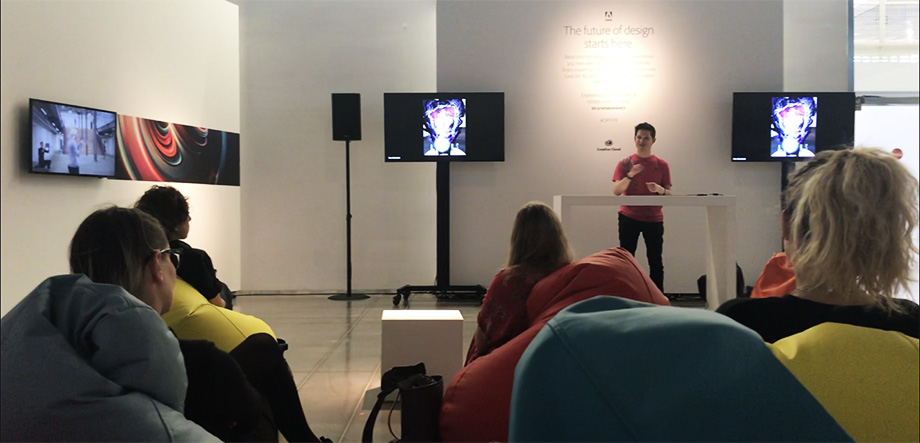 Pimmel experiments widely, using technology to push the boundaries of design. He pushes forwards, always forwards, asking himself: what's next? He experiments and plays with technology to make it do more, particularly when it comes to AR.
Pimmel ran an AR workshop that gave me a brief look at Adobe's new Project Aero. This is a powerful and new augmented reality tool that makes it easier for designers to create immersive content. The great thing about Aero is you don't need to be an AR expert to create this content as it's very accessible. The tips he gave us about AR and Aero before we started using the app involved:
Tracking: understanding and knowing where to put things. For example, Aero doesn't work too well with white objects because the camera doesn't recognise the material or the texture
Occlusion: Aero works with simple surfaces, sometimes it can detect real objects and you risk overlapping the real object with a virtual one
Real world measurements: Although Adobe is still working on this, there are a few measurement apps which are not too high fidelity but can give you a rough idea
Lighting and shadows: at the moment Aero takes the ambient light but in the future, this will be customisable
Geolocation: Aero creates contents from the original pointed context
Aero and Pimmel's workshop around it got me really excited to try out new things with AR in the future!
UXE - User Experience Engineers
Never heard of a User Experience Engineer? Well, these are individuals who combine design skills with an understanding of user psychology as well as in-depth knowledge regarding mechanical implementation. UXEs usually help when interaction models are more complex. They are a mix between a UX designer and a Software engineer, but they also care about design and building better tools.
A speaker I talked about above actually touched on the topic of UXEs, and I was fascinated by it. Abby Beck, the product designer for AMP, shared a few examples of how she and her team had combined UX design with software engineering to build better experiences for users. She highlighted that by understanding the technology and user behaviour, we can learn to consider when users get distracted during the user journey and introduce new features to combat that.
Key Takeaways from OFFF 2019
For all the designers out there, here's what I took away from OFFF and the key things you should remember:
Keep nurturing your creativity; it will help you solve problems you didn't know existed and will make your projects stand out both to users and your clients
Always push the limits of creativity and storytelling to make your projects more exciting
Continuously innovate to support new technologies and bring better experiences to users
Share your knowledge as widely as you can and listen to what other designers have to say so you can grow your skillset even more
Talk about your designs and engage critically with them to see how you can make them better
I was thrilled to attend OFFF, and that's just one of the many opportunities I've enjoyed here at Cyber-Duck.
And for anyone out there who went to OFFF – I'd be happy to reconnect to share more about what I learned, and would love to hear from you. You can find me on Twitter at @77VeronicaRossi and Instagram at veronicarossi.
If you'd like to work with our skilled and talented team, contact us today.
Likewise, if you want to join our team of expert designers and excel your career by attending famous conferences like OFFF (just one of the many Cyber-Duck perks!), check out our careers page for the latest vacancies.