This week Cyber-Duck were finalists at the much anticipated Business Excellence Awards 2012. We also went to the Search Marketing Expo in London and presented a speech on mobile apps at CIMCIG.
The big news this week was Cyber-Duck's participation at the Business Excellence Awards on Thursday night where we had been nominated for the small business of the year award. Being one of the seven finalists was an incredible achievement and a great honour for us. There were many exceptional businesses that had been chosen as finalists this year and we are proud to have been among them. Channel 4 news presenter Krishnan Guru-Murthy was the guest presenter and Nikki King OBE as the guest of honour gave a fantastic and amusing speech about working in a male dominated environment.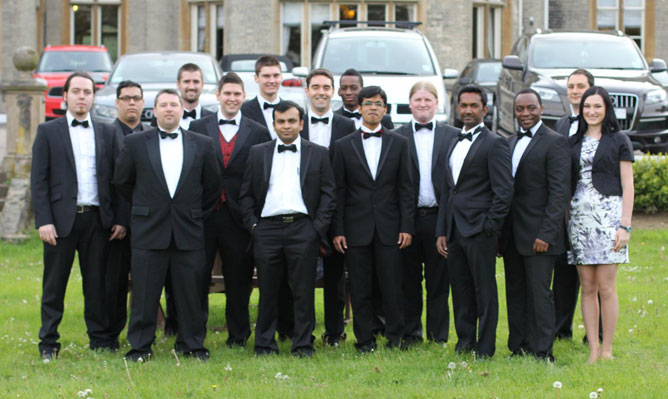 The ducks had a great evening mingling with the other finalists and enjoying the spectacular Shendish Manor in Hemel Hempstead. There were also jokes aplenty as the main course served was roast duck - slightly unnerving, but absolutely delicious!
Search Marketing Expo London 2012
Harry Clark, Online Marketing Manager at Cyber-Duck attended the annual Search Marketing Expo in London this week. He was present at a number of presentations and returned with some interesting points about how search marketing has been progressing recently.
One presentation talked about paid searches and how recent changes to Google's PPC ads have grown to include site links within a single campaign. Although the majority of users do not actually take advantage of those additional page links, the increased physical size of the ad has proven to generate more clicks than without.
Another presentation discussed how additional markup on a site developed in HTML5 can be a useful addition to localised SEO rankings by specifying details such as business address and opening times. A great example of this is specifying your opening times in the markup will rank your 24 hour pizza delivery website higher than others when a user searches for take-away pizza at 2am.
CIMCIG welcome Cyber-Duck
The Chartered Institute of Marketing Construction Industry Group's latest event was held this week to discuss communication in the construction industry. Danny Bluestone, MD of Cyber-Duck presented his thoughts on mobile applications and how web apps could be the future of mobile. Danny is also due to present next Thursday in Bristol alongside Christian Mabey from Optima Products Limited in a CIMCIG talk which explores the relationship between Cyber-Duck and Optima and how they worked together to deliver award winning mobile apps.
Digital Shoreditch starts next week
Digital Shoreditch, the UK's largest digital event celebrating the creative, technical and entrepreneurial talent of East London starts on the 21st May. Cyber-Duck's very own Matt Gibson will be presenting on the 30th May in the Big Top on 'Brands' day, so add it to your calendar and learn about adaptive web design from a true expert. See full details of Matt's talk and book tickets here.