This World Usability Day, we're going big. Usability is a big part of what we do here at Cyber-Duck, which is why we're showcasing our thoughts on how to make society more inclusive through technology. We'll also have special guests from AbilityNet, too!
Today is World Usability Day, a day dedicated entirely to inclusion through user experience. As a society, we've taken great strides in the past to ensure that our world is more open, more inclusive, and more equal, but there's still work to be done, especially where technology is concerned.
What is World Usability Day? It's a day that aims to keep up the momentum towards creating an inclusive society via technology. By raising awareness of all the good we can achieve through effective user experience design, this day hopes to transform the way we approach design to ensure technology creates the conditions people need to live their lives to the full.
What We're Up Against
We live in an age of mind-blowing technology - our mobile phones alone have more computing power than was used for the Apollo moon landings. Overall, we can do more things than ever before with minimal fuss using the latest tech.
At least, that's usually the case – for some people, the latest tech is simply impossible to use. The fact of the matter is that in trying to deliver new and exciting technologies before competitors can, there is a plethora of technology out there that isn't user friendly and meets only a narrow range of ability requirements.
Ironically, taking your time to develop a tool or technology that takes a holistic approach to ability – attempting to make the user experience simple, inclusive and accessible to as many people as possible – will be more successful in the long run than an impenetrable one.
So then, what we need is a complete culture change, and World Usability Day is just one way we're trying to bring that about. User Experience designers the world over are working to create technologies, products and services that are inclusive by design. With World Usability Day, the aim is to promote this hard work and ensure it becomes standard industry practice.
On November 9th, Cyber-Duck will open its doors to all those who want to learn about usability and user experience design. We have several great speakers lined up for you, addressing subjects as varied as:
Usability heuristics
UX friendly forms
Collaborating and empathy to achieve inclusion
Introducing and utilising new technologies to increase interaction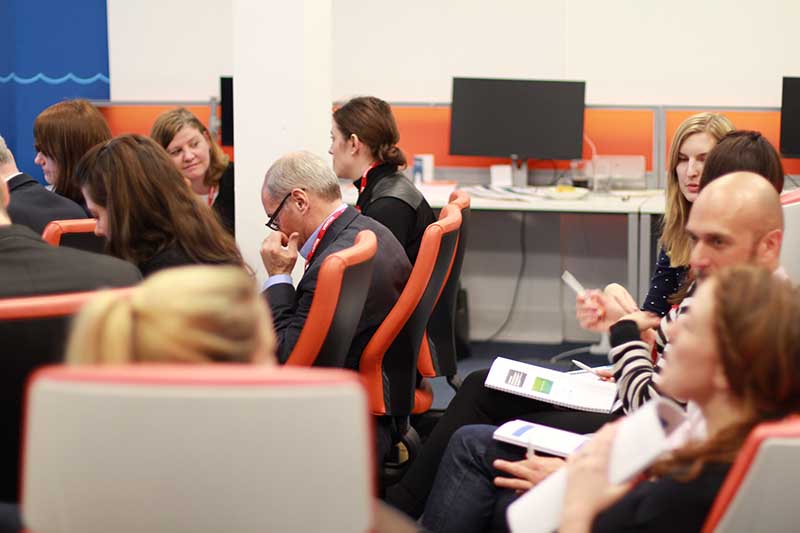 Achieve High Usability in Forms
Filling out forms is part and parcel of many web experiences. Whether you're paying for that Christmas gift for your grandma or signing up to a new newsletter, you'll have to complete a form. But, as users, we all like as smooth an experience as possible. If things are unnecessarily complicated or contrived, we won't put up with it for long – in fact, many of us will simply shut off and go elsewhere. Moreover, if a form has low usability it will see conversions plummet.
That's why Cristina Viganò and Sam Hooper, two of our expert UX designers, are going to address forms in their talk. Over the course of their session, they'll show our attendees some of the worst forms that they've come across in the past. By highlighting the pitfalls of poor form design, they'll demonstrate what it best design practices entail and how you should implement them.
This will include:
How to order your forms
Dropdown menus vs radio buttons
How to present instructions
Accessibility considerations
Presenting error messages effectively
Usability Heuristics
Next up, Ramsay Albazzaz will be showcasing the usability heuristics all UX designers should abide by.
When designing anything, there are some highly pertinent aspects of design you simply can't afford to ignore. Whether that be the visibility of the system status, how you prevent errors and manage them if they do occur, or even considering recognition issues over recall, if you fail to pay heed to these areas you'll be discouraging a large user base from benefiting from your product.
Ramsay will be discussing these areas and more in his talk, and revealing some quick and easy steps you can take to avoid the pitfalls of poor usability.
Special Guests AbilityNet
We'll also have further talks from Raphael Clegg-Vinell and Rocio Calvo from AbilityNet. At AbilityNet, designers are working to ensure that everyone, regardless of their age or if they have a disability, can use technology at home, work or in education to achieve their goals. Ultimately, they hope to build a digital world that all find accessible. This is a subject close to our hearts here at Cyber-Duck, so we're thrilled to have Raphael and Rocio join us this evening.
Raphael will be addressing inclusive design, how we can begin to create technologies everyone can use, while Rocio will show how we can utilise new technologies like voice recognition software to promote innovations in usability.
Cyber-Duck & Usability
Here at Cyber-Duck, we're committed to building and promoting systems of high usability. We believe that the more people can interact with a technology, the more enriching it is for everyone. We've displayed this unwavering commitment to usability across all our projects, most recently on our work for the Bank of England.
On November 9th, we'll be posting insights throughout the day via our social media feeds. Be sure to follow us throughout World Usability Day for even more usability insights and, if you're unable to attend our event, for a closer look at our talks!