On Thursday 1st August, on one of the hottest days of this summer, the Digital Pond community came together for an evening of learning and networking, specifically to listen to the stories of two young, successful entrepreneurs about starting a business in the tech industry, Ted Nash and Nadav Poraz.
The Old Sessions House, Farringdon was buzzing following two inspiring talks from the meetup's guest speakers, Ted and Nadav. Both individuals had tales to tell about how their visions made for an effective and profitable tech startup. Although very different in their journeys to success, Ted and Nadav both expressed how ambition, persistence and passion in what you do are the key drivers to getting your start-up off the ground. The Digital Pond welcomed its regular members as well as many new faces, bringing together a diverse group of tech professionals. The evening started with a few cold drinks that were well received given the day's high temperature. Each attendee bearing their own quirky name badge (courtesy of moo.com)!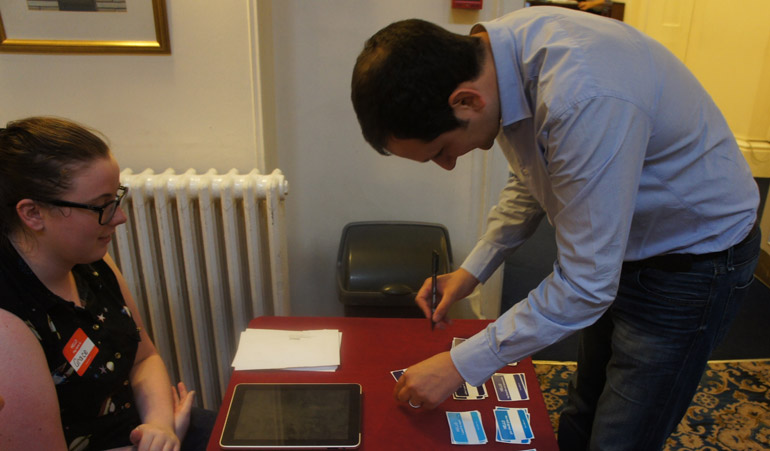 The guests embraced the evening as well as the quirky name badges.
The Ponders then proceeded upstairs for the highlight of the evening – to hear our guest speakers share their experience. The talks commenced with a few words from our sponsors; re:kap, Alliotts, Rackspace and of course, Cyber-Duck. Then, without further delay, the Digital Pond invited Nadav Poraz to the stage.
Nadav Poraz - WhoSampled
Nadav started by introducing his company, WhoSampled, which demonstrated the success he has had in scaling up a business from an inspired idea. What sets Nadav's business apart is the resounding success it has experience through growing organically. The startup had minimal investment and marketing but grew through successfully identifying a niche market of avid music fans. WhoSampled is a vast database with nearly 200,000 tracks featuring 70,000 artists –the world's largest for samples, cover and remixes. The website receives over 1 million visitors a month looking to "explore the DNA of music" as WhoSampled offers extensive insight into the origins or music and tracks repeated riffs and tunes dating right back to the classical era. Whilst record labels try to promote current music (which only accounts for under 1% of all downloadable music out) WhoSample resurfaces old tracks and rediscovers classic tunes. The essence of the company is that music can be connected through various samples, covers and remixes and WhoSampled has collated this information and made it accessible for music fans of any genre.
Nadav's interest in music has stemmed from a young age and WhoSampled's success can be attributed to his passion for what he does. Having been a record collector, DJ, producer and record label founder, Nadav is able to fully immerse himself in the service that WhoSampled provide and relate to its following. WhoSampled relies on the website's users and on social media for people to contribute and continue expanding their database. The company is going from strength to strength and is forecasting 150% growth this year.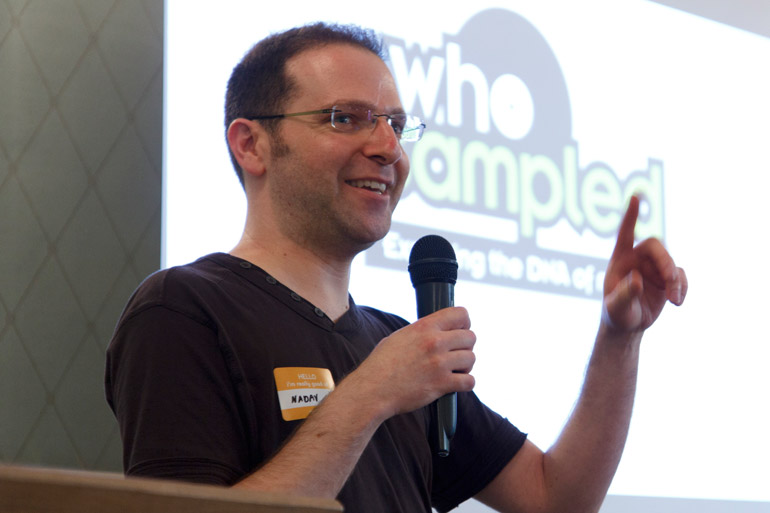 We were able to take inspiring advice away from Nadav's talk. Firstly, that passion is the key to making your ambitions a success. To be able to fully engross yourself in your business; make sure you have a genuine interest and believe in the product or service you are providing so that you wake up excited by what you do every day. Secondly, great benefit can come by engaging your followers and users to help grow your business – in Nadav's case, this lies in contributing to WhoSampled's database which generates a strong community that can also help to market and promote the company. Nadav expressed how he didn't take the typical route through business after completing his MBA in 2007, rather he wanted to apply his software expertise and academic studies to understand how a business is set up and run with material results. Although he was fortunate to have a technical background, Nadav stressed the importance of not letting technical inexperience hold you back from achieving your start-up success.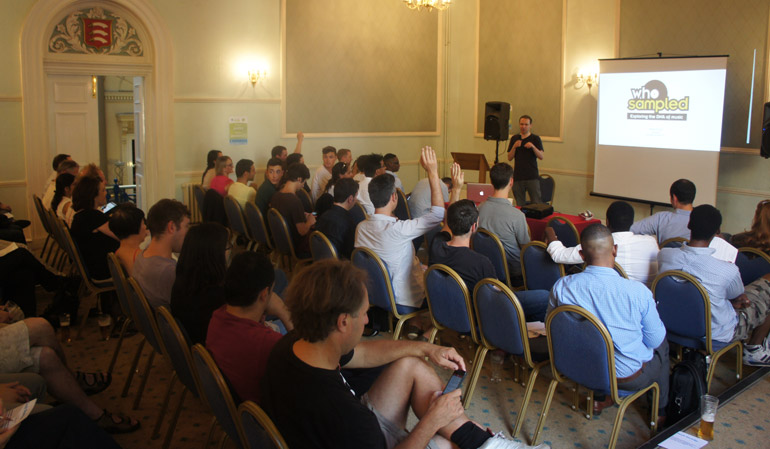 Nadav engaged with the eager Digital Ponderers during his Q+A session.
Ted Nash
Ted Nash told a rather different story engaging in entrepreneurship from a young age and learning from numerous failures. Ted's talk was filled with funny anecdotes and advice – both from the mistakes he made, the success he has had and also the controversial tips about how to reach out to people through social media. Inspired by a neighbour with a website and a scooter, Ted Nash set up his own online shopping portal, Redix, placing logos of online retailers such as Amazon, eBay and Apple. Along with some affiliate marketing, these brands brought visitors to Redix and in turn drove such high levels of targeted traffic to the branded websites that Ted was approached by Apple, warning the illegality of his plan, but also providing him with a valuable business proposition.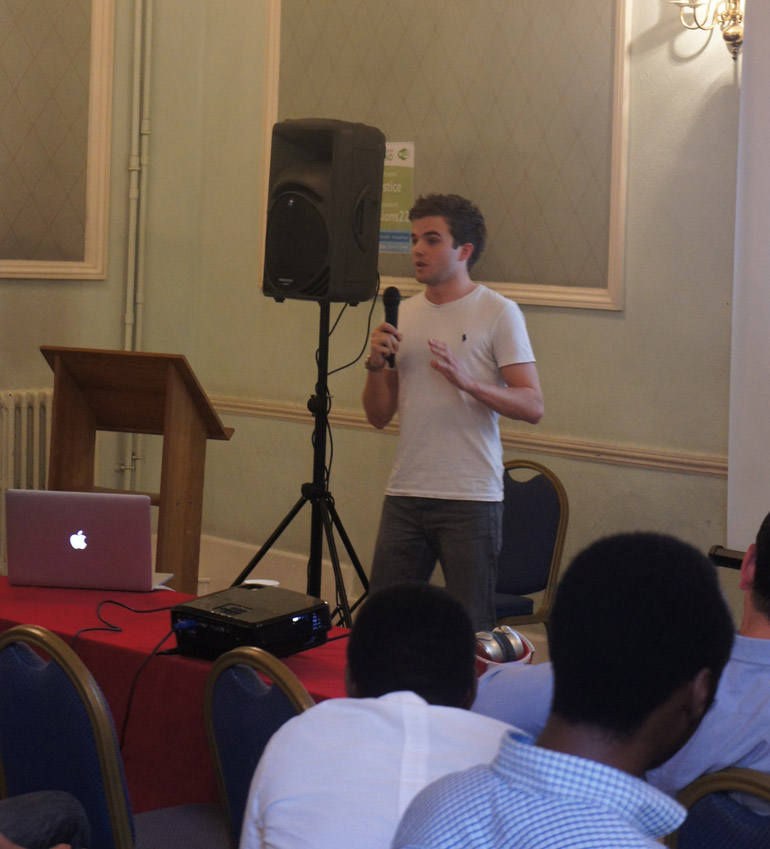 Following from Redix, Ted went on to buy a search engine, surfpony.com using his Redix profits as an investment as well as personal loans. Although he believed there would be more money in this venture, surfpony.com turned out to be Ted's first major failure. This brought up one of the salient pieces of advice for the evening: it's best not to be afraid of failure but to use it to gain an advantage by successfully learning from it, and having already had 25 failures by the time he was 21, was inspiring to say the least. Ted's career took interesting twists and turn in an incredibly short space of time, which eventually resulted in him developing web applications, in fact, he was the first teenager to achieve 1 million downloads from the Apple App Store, aged 19. His app, "Fit or Fugly" has received 6 million downloads since and motivated Ted to develop more apps such as "Rack Stare", "Mum or Dad", "Face Friends", "GF vs BF" and "AppDaq" – the online app trading app! Ted also spent time working within a corporate environment, being the Head of Product Innovation at News Corporation.
The second half of Ted's talk offered advice on how to use social media platforms Twitter, LinkedIn and Facebook to your advantage in attracting the attention of targeted individuals. He explained how he has used these platforms to his advantage in raising his profile by making multiple accounts under different names. This has raised controversy in the split views over this subject as some deem it a "black hat" practice whereas others label the process as highly targeted marketing.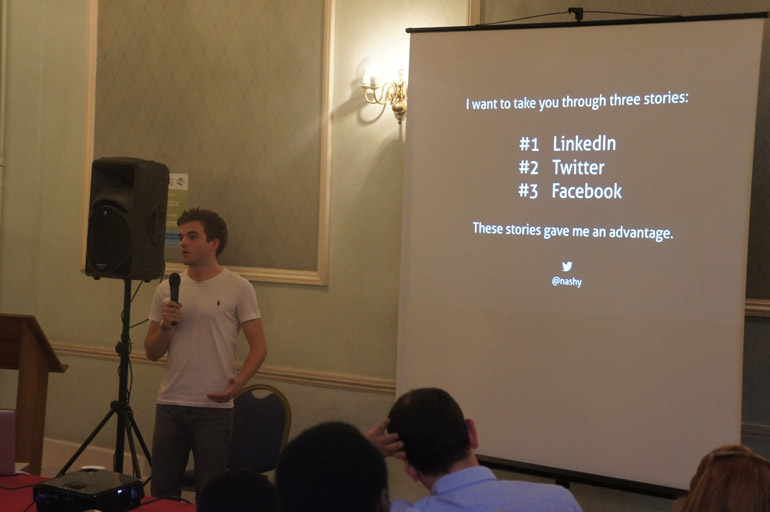 Slides from Ted's talk can be found here.
There were many helpful tips and insightful stories to be taken away from our guest speakers which were discussed by all the evening's attendants over a drink following the talks. The evening went on late as many embraced the opportunity to socialise and network in the bar of the Old Sessions House. The meetup was a great success and the Digital Pond looks forward to introducing their next event.
If you would like to find out more about our events and would like to get involved, feel free to contact the team today.