On Thursday, November 29th at 6:30pm in the Old Sessions House in Farringdon, The Digital Pond is hosting one of the most highly anticipated free panels of the year: What Does 2013 Hold for Digital Marketing?
The panel, organised by the online community founded by Cyber-Duck, is set to answer some of the most pressing questions in SEO, PPC, Social Media and Viral Marketing today, as well as looking forward to next year. From this, guests should be able to make well-rounded, educated predictions on Online Marketing in 2013.
The panel consists of four of the top minds in the game, all coming from different backgrounds with varying specialities:
Mike Essex, Online Marketing Manager from Koozai will be shedding light on the latest developments in PPC and display ads.
Laurence Borel, Digital Marketing Manager at RBS will provide insights into the on-goings of Social Media Marketing giving a client-side and agency perspective.
Liam Corrigan, Founder and Creative Director of RedPill will be answering any questions we will throw at him on Viral/Video Marketing and the best ways to create and share video in 2013.
And our very own Harry Clark clarifies all the changes that have been happening in the SEO industry this year as well as his predictions for the future of search marketing.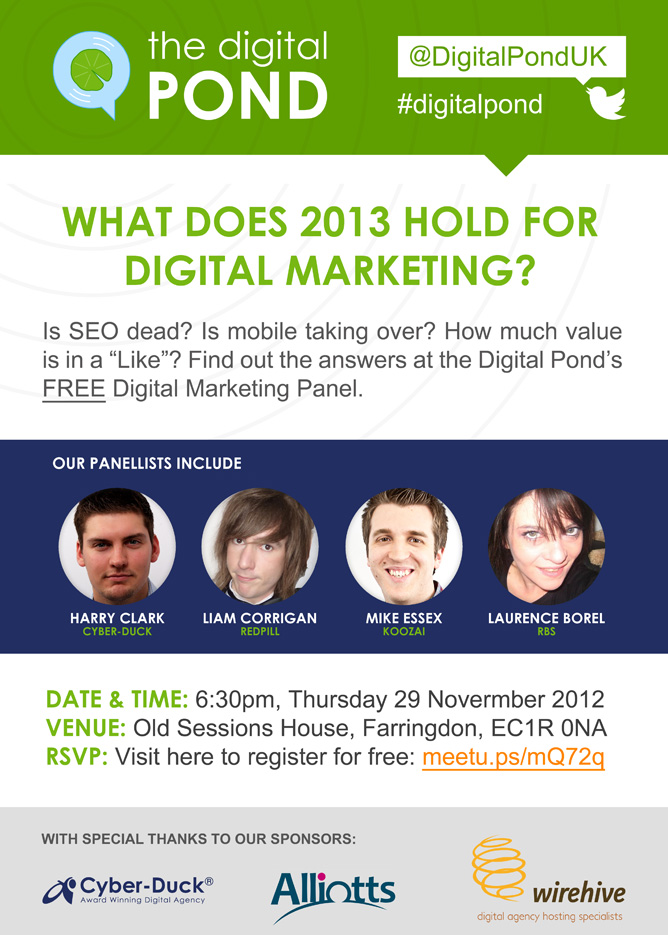 Together, the panellists will answer pre-prepared topical questions as well as any queries posed from the audience of digital enthusiasts and business executives. We will also keep the @DigitalPondUK twitter feed live to answer any questions you may have.
The evening event starts at 6:30pm and continues through to 9pm, giving attendees the chance to brush up on their Marketing and PR know-how and enjoy a drink or two from the bar whilst networking with like-minded professionals.
The evening is set to cap off what has been one of the most exciting years in Digital Marketing, and with only a few places left book now (for free!) to avoid disappointment. See you there!