Cyber-Duck are pleased to announce Quack Hack starting this weekend, a Hackathon event with some awesome prizes to the winners of the best innovative application. We had an interesting introduction to Linux to learn more about how Cyber-Duck utilise the operating system this week and also look into the latest developments in the search engine war.
An awesome name for an awesome event! QuackHack is Cyber-Duck's first hackathon, a full weekend of application development and learning about working in a team to tackle problems. It starts this weekend with live updates on our dedicated new blog.
An Introduction to Linux
Cyber-Duck PHP guru Ben Speakman gave us all a great introduction to Linux this week, an operating system that he calls "The best OS. Fact"! Cyber-Duck make great use of the open source operating system for our servers, but it was interesting to find out how Linux is used in 90% of the world's super computers, as well as being a relative of operating systems like Mac OS X and Google's Android platform. Unfortunately, we still didn't settle the debate about how to pronounce Linux!
RAF Museum Visit
The British Royal Air Force museum has been open since 1972 at the old Hendon Aerodrome and gives a fascinating look into the history of aviation and the RAF. The Cyber-Duck team had a chance to check the museum out this week and brush up on our aviation history. The museum consists of 5 huge exhibition halls containing over 100 historical aircraft. I still can't decide what was more impressive, the modern Eurofighter Typhoon jet or the slightly more traditional wooden aeroplane complete with bicycle wheels!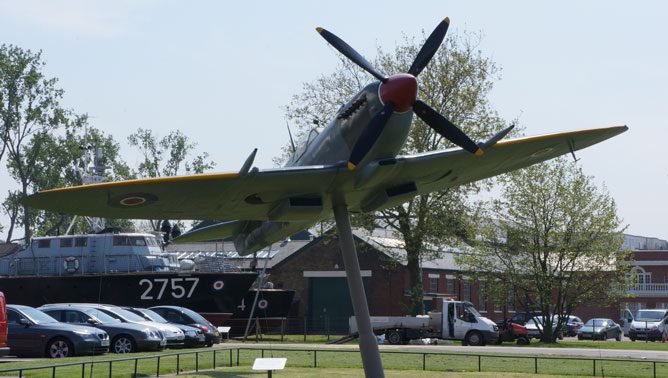 Digital Shoreditch is Live
Digital Shoreditch, the UK's largest event for celebrating the creative and technical talent in London began this week. We have are hugely impressed with what we have seen so far, but we all know that the most exciting event will be Cyber-Duck's Matt Gibson's speech on Adaptive Web Design on Wednesday 30th. Come along and find out more about the latest technology in the world of web development.
Industry news
Yahoo have just released a new search software that hopes to pull back some of the search engine market share by allowing users to search for web pages visually, making it easier to find what you are looking for at a glance. Rather than providing a list of text links, Axis gives page previews for all search results so you can see if the page offers what you want. Available for desktop and mobile browsers, Yahoo Axis looks to be an exciting development in the competitive world of search engines. Yahoo Axis is available for desktop browsers and as a mobile app directly from Yahoo.
It seems that the latest search engine wars are not entirely favouring Yahoo as Google announce their new Knowledge Graph. This update makes Google a lot more intelligent by providing real world results in a faster and clearer way. When looking up a search term, Google Knowledge Graph now displays a new panel to the right of regular search results with detailed information on over 500 million people, places and objects. Along with Yahoo Axis, Google Knowledge Graph is the beginning of a new generation of search engines, providing better quality results faster than ever.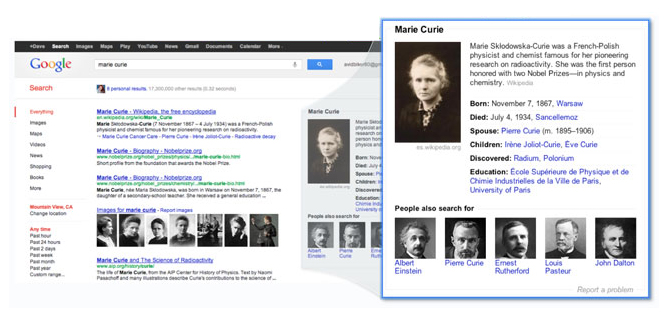 Facebook is hardly ever out of the news these days, but this week has been especially busy for the social media giant. Congratulations to Mr Zuckerberg for his marriage, but unfortunately the reputation of his company is not doing so well after the Facebook IPO fiasco. Everyone was excited when the chance for the public to invest in Facebook started last week, but falling share prices has caused many small investors to become concerned over the future of the company'. It might be wise to wait a little longer before picking up those Facebook shares you have been eyeing up.
That's everything for this week. Make sure to read more about Quack Hack and see you next week for more Cyber-Duck news.