Chatbots and voice interaction technology has the potential to revolutionise how customers engage with our brands. But where do you begin when embracing chatbots and voice interaction technology in your customer journeys? Here's our thoughts on the topic!
Recently, we've talked at length about what the rise of voice assistants will mean for businesses, but there's one thing we haven't addressed yet: how it will impact the customer experience.
We need to seriously consider how voice assistants and chatbots will affect how we interact with our customers. In this article, we'll look at the major areas that this new technology has and will have on brands, and what you can do to improve the user experience.
Voice assistants are everywhere
But first, we need a little background because not everyone thinks that businesses need to adapt to accommodate voice assistant technology. Those people are very wrong, and here's why.
Today's world is becoming increasingly dominated by voice assistants and chatbots – you don't need to look far to see that's the case. Just take the Google Home Mini; in January this year, Google announced that it had sold more than one device every second since launch on October 19th 2017. That's a staggering 7.5 million devices sold in just over two months. If you allocated just one Google Home per household, every home in both Belgium and Portugal would have a Google Home.
But it doesn't stop there. The Google Assistant (the voice assistant technology that powers Google Home) is actually available on over 400 million devices, including Google Home, Google Home Mini, Android and iOS, watches, laptops, and even smart TVs. If we again allocated just one Google Assistant per household, there would be more than one Google Assistant present in every home in the entire G7 (the United States, the United Kingdom, Germany, France, Italy, Japan, and Canada).
None of this takes into account how many Amazon Echo and Apple HomePod devices are out there, which would account for hundreds of millions more devices. Therefore, the simple fact of the matter is that businesses can't afford to overlook voice assistant technology because…
Consumers are in love with voice assistants
That's right, consumers love voice assistants, and it's easy to see why. For one thing, they're fast. In a recent study, 49% of participants claimed that they preferred voice assistants to humans in call centres because it was faster to get answers. But speed wasn't the only thing participants liked; they also cited convenience as a main reason why they preferred using a voice assistant instead of a website, app or even physical stores when shopping. The study also stated that 71% of consumers who use voice assistants are satisfied with the technology.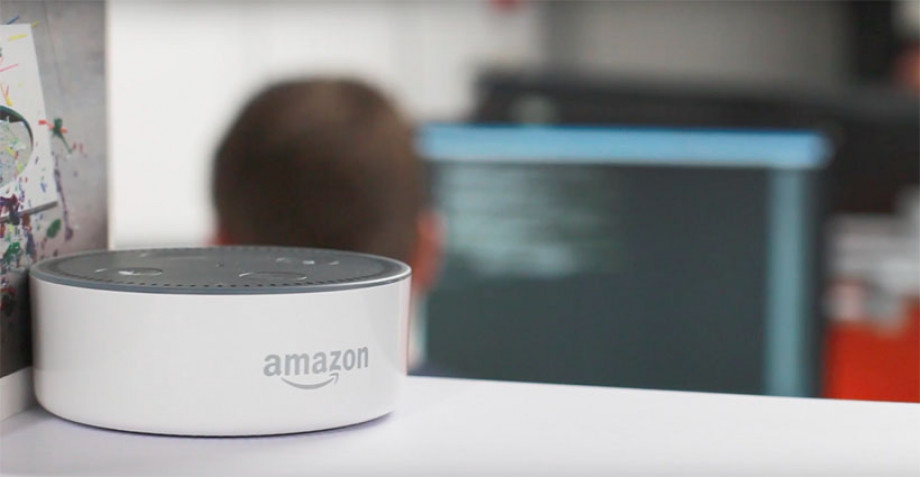 All of this tells us that voice assistant technology is set to take the commerce market by storm. In part, the process has already begun. Currently, over a third of consumers report that they bought products through their voice assistant, but with increasing numbers of users adopting voice assistants this is only set to rise. It's likely that in the next few years, up to 40% of users will use a voice assistant instead of a website.
But why do consumers love voice assistants so much? One theory is that it's because it's far more natural for people to talk to someone (or something) to solve issues. Think about it: from an evolutionary perspective it makes no sense for users to interact with digital products through a screen. After all, language and speech has existed for up to 100,000 years. But screens have only existed for just over a century in the case of cinema (and later television), and since the 1970s in the case of computers. It follows that human beings will respond better to physical inputs rather than digital ones.
It seems likely that this is one of the main reasons why voice assistants are doing so well. But while the current voice assistant trend is on the ascent within the home, the future of voice assistants could see the technology supplement the in-store experience as well. By extension, it will enhance online experiences, too.
How to bring voice assistants to your customer journeys
The question you need to answer is: how will you bring voice assistants into your customer journey and experience?
Start with user research
The reason why voice assistants are taking off is because the likes of Google, Amazon and Apple have a wealth of data to work with. Arguably, Silicon Valley has done a lot of the heavy lifting. However, you need to conduct extensive research of your own to ensure you cater your chatbot or voice assistant compatibility to your audience.
You can't simply write what your voice assistant will say; first, you need to know what users want to know and how they will ask for it. User research – based on personas, user stories and user interviews – will allow you to build up an idea of what your voice assistant will look like. With research, you can begin to define the customer journey to ensure your voice assistant reflects and addresses user needs.
Start by asking yourself:
What do our users want?
What are we offering our users?
What do we want from our users?
Why is this conversation taking place?
Only once you have begun to answer these questions can you seriously sit down to create your voice assistant or chatbot.
Encourage greater cross-team integration
Conversation-based technologies will up-end how we design experiences. You should already have a closely integrated team of designers, strategists, developers and, of course, writers, but here their roles will overlap more than ever before.
That's because there is no one way to create a voice assistant, just as there is no single definition of what constitutes human behaviour. People can be anything: they can be nice or angry, rude or polite, and any other behaviour or emotion in between. As such, your team needs to work collaboratively to build a voice assistant that is as true to life as possible. This will help you build an emotional relationship with your customers.
Emotion is the crux of brand relationships
Brand relationships are all important. How your customer interacts and experiences your brand will determine whether they will make repeat visits or purchases in the future.
Now, some people think that brand loyalty is dead. They claim that millennials killed it. They couldn't be more wrong. Facebook IQ surveyed 14,700 adults in the US to assess loyalty in a range of 'verticals: Auto Insurance, Airlines, Hotels, Grocery and Restaurants.' They found that 77% of people displayed brand loyalty, returning to the same brands again and again, 37% of which were 'Brand Loyalists' and 40% of which were 'Repeat Purchasers'. The main reason customers became Brand Loyalists was because of the 'emotive and experiential qualities' they had with a brand, 'like trust and service'.
Voice assistants hand brands new opportunities to foster and cement the kind of emotional relationships that turn customers into Brand Loyalists and Repeat Purchasers.
Voice assistants are your brand personified. You need to create believable, friendly voice assistants that address the needs of your users, while reflecting the values your brand holds highest. A great way to get the character for your voice assistant correct is to focus on addressing just one need at a time. That way, you can hone your creativity on just one aspect and get that right, before moving on to address others. You may find that your character is malleable, and can be shaped to address other needs in a friendly manner too.
Make sure your voice assistant is conversational
There's no point having a conversational user interface (a posh name for a voice assistant) if it doesn't sound conversational in action. You don't want your voice assistant to sound robotic, so think deeply about the experience you're creating and work to make it more like a real conversation. You're creating a character with depth, and you'll need to develop it further over time to keep the experience fresh.
However, don't go so far in this direction that you forget to address user needs. Functionality should trump the conversational tone of your voice assistant so that users can still get things done quickly.
Test your voice assistant with real users
There's only one way to ensure your voice assistant works, and that's to test it with real users. When users interact with your voice assistant, it will become abundantly clear why some writing for your voice assistant is detrimental to the customer experience. Meanwhile, other interactions that look weird on paper could work well in action. Prototype your voice assistant and then test it with real users to refine the conversational experience to ensure it best addresses the needs of your users and feels natural.
Integrate your voice assistant with your internal business ops
Digital transformation is the be-all and end-all for modern businesses and organisations. In a word, digital transformation is user-centred business transformation which uses digital technology to catalyse your brand, business efficiency and people initiatives.
With your voice assistant, you are in part committing to a digital transformation, but a full transformation can only occur when you revolutionise your entire organisation. To create the best possible customer journey, you need to fully integrate your voice assistant with your internal business operations.
If a customer places an order through their voice assistant, your organisation needs the internal processes necessary to inform your supply chain. A major part of digital transformation is automation, and this is where it would play a vital role. With the right technology, your voice assistant could place orders on your organisation's behalf and get the ball rolling for your customer quickly. As such, the customer experience will be phenomenally improved.
Likewise, you need to change your internal culture to ensure your strategies take the voice assistant into account. Voice assistants provide a great opportunity to transform your marketing strategy, so get creative and use all the technologies available to you.
Cyber-Duck brings digital transformation to global brands
Voice assistants will play a crucial and ever-growing role in customer journeys in the years to come. Here we've explained why and how you can begin ensuring you use voice assistants to improve your customer journeys.
Cyber-Duck is an expert voice assistant development agency based in London and Leeds. We use an open-source framework that allows us to quickly prototype voice assistants. We can then turn our prototypes into Amazon Alexa Skills that can be published on the AWS Skill store. The same API layer we use can also power chatbots; by channelling Alexa we'll ensure all the natural language processing features will make your bot shine!
Moreover, our test-driven and user-centred process means we can create intuitive, user-friendly voice assistants for your organisation. We'll also deliver the digital transformation you need to ensure you make the most from this exciting technology.
For more information on how Cyber-Duck has utilised voice assistants in our R&D projects, check out UX Companion. This is our award-winning user experience glossary that's available on iOS, Android and now as a Skill with Amazon Alexa.
Even more excitingly, there is also JimCare, a conversational user interface that helps with social care. It's designed to help the elderly and disabled in times of emergency, like if they fall, by letting them connect with their family, friends or carers quickly and without the need for a phone. It uses Amazon Dash buttons, Amazon Echo and PIR sensors in a single platform. When alerts are triggered, carers are notified straight away.
We're also able to bring the latest technologies to global brands. We have delivered transformation for the Bank of England, Mitsubishi Electric UK and many more – we can do the same with voice assistants for you. Get in touch today to find out more.
Join us at UX Live, october 2018
This year, Cyber-Duck is a proud sponsor of UX Live, one of London's largest user experience conferences. Featuring a medley of talks, workshops and live panel discussions, there's only one place to be this October 25th to 26th if you're into UX - UX Live. Tickets available now.
Be sure to keep an eye out for Cyber-Duck's workshop on conversational user interfaces for more expert advice on how to build your very own user-friendly voice assistant.
­