As a champion of UX since 2005, it was a great honour to sponsor UX LIVE this year. One of our greatest passions here at Cyber-Duck is giving back to our community. To do that, we took over the Live Stage at UX LIVE and brought a selection of panels and a workshop on conversational design to the conference. Here are our highlights from the two-day event!
Cyber-Duck is no stranger to giving back to the community. Through the Digital Pond, our 2,000-strong community delivers spectacular insights on UX, marketing and technology on a regular basis.
But this year, we wanted to go one step further. That's why we proudly sponsored UX LIVE 2018, taking over the panel stage in the process. Here are our highlights from the Cyber-Duck Live Stage and our workshop on conversational design.
Is the Persona Dead?
Our first panel of the conference gathered to tackle the problems posed by a famed research methodology: personas.
The persona model is one that we as UX designers adopted from marketing, where personas were used to define audience types. Personas have been useful for giving UXers an idea of the types of users we need to design for, but have we been over reliant on them? Have personas in fact been detrimental to UX?
To answer that question, we invited the following to our panel:
Katy Arnold, Head of User Research at the Home Office
Steph Troeth, UX Consultant
Claudia Poma, Senior Service Designer at Hiveworks
Adam Babajee-Pycroft, MD at Natural Interaction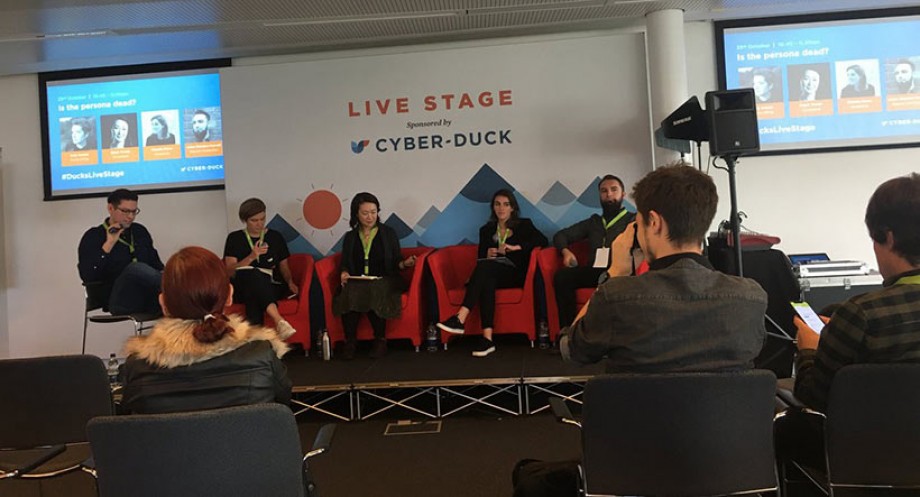 All our panellists clearly understood the limitations of persona research. Adam Babajee-Pycroft championed looking at business lifecycles and constructing empathy maps as a way of meeting real user needs.
Our panellists also discussed the fact that personas can create a false sense of safety that this is the person we're designing for. UX designers can fall into a trap where they only design for one ideal user, and therefore fail to take into account the diversity of user needs.
Instead, our panellists agreed that we must use the right tool for the job. We should put away personas and prioritise iterative research to find out how people complete tasks. We should only use personas to identify a specific need and to help workshop participants work towards solving that need.
Conversational UI: From Personas to Building a Bot
Meanwhile, in one of the workshop rooms our UX designers Sam and Ollie were hosting a session on designing conversational UIs. They led a session where participants would learn how to design and test conversations for a chatbot.
The workshop was a very hands-on experience, where Sam and Ollie taught the participants how AI understands natural language using intents, entities and dialog states to fulfil user requests. They then directed the participants to use all they'd learned to design a conversation for a bot and test it with users. That meant the workshop descended into a spot of role play, with one member of each team taking on the role of the bot!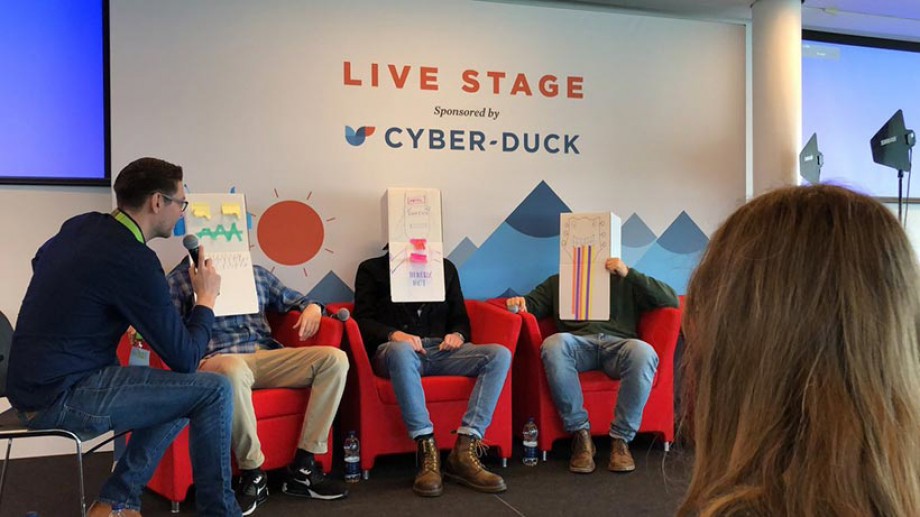 The workshop was great fun, but the learning doesn't stop there. For more on CUIs, download our free white paper today. We're also open to bringing this workshop to your organisation – contact us today for more information.
Let's Chat About Conversational Design
In the afternoon of the first day, we then had a panel on conversational design. Matt took to the stage once again to host a panel that included:
Tom Castle, Director of Artificial Intelligence at RBS
Sam Hooper, UX Designer at Cyber-Duck (fresh from hosting a workshop, no less!)
David Attwater, Senior Conversational UX Engineer at EIG Inc
Sophie Hebdidge, Founder & CTO at Project Kitchen Table
Here, we talked about the way that users don't yet trust conversational UI in the same way that they trust apps. There's user worries for a reason. Google Assistant and Alexa currently store recordings of the conversations we have with them. This revelation led to Sophie Hebdidge abandoning Alexa for her conversational UI project. So when the designers aren't trusting conversational UIs currently, how do we make our users trust them?
We also chatted about the opportunities for AI and conversational UI in the future. One opportunity was that conversational UI has the potential to revolutionise how we use manuals – we could simply ask a UI for the relevant information. Social care was another major area of interest, something that especially warmed our hearts. In the summer, we designed a conversational UI using Alexa to help the elderly who lived alone. We called it Jim.Care, and you can learn more about it here.
We then briefly chatted about the ethics of bots and AI. The problem with AI currently is that isn't emotionally intelligent, so cannot fulfil the social contract that participants of conversations usually adhere to. Designing a conversation that draws on emotional insight is difficult, so we shouldn't try to give chatbots a personality that purports to have that insight. Ethically speaking, the panellists agreed that it is wrong to pass off a bot as a human – it should identify itself at all times.
But there was much excitement about where this technology would go in the future. There are great things to come.
Demystifying Design Leadership
Day two on the Cyber-Duck Live Stage began with demystifying design leadership, a panel that would address the latest thinking in leadership and management in our industry.
Joining Matt on the stage was:
Stephen Gates, Head of Design Transformation at InVision
Michaela Tedore, Product & Motion Designer at Netflix
Lauren Pleydell-Pearce, Executive Creative Director at PwC UK
Darci Dutcher, Head of User Experience at LexisNexis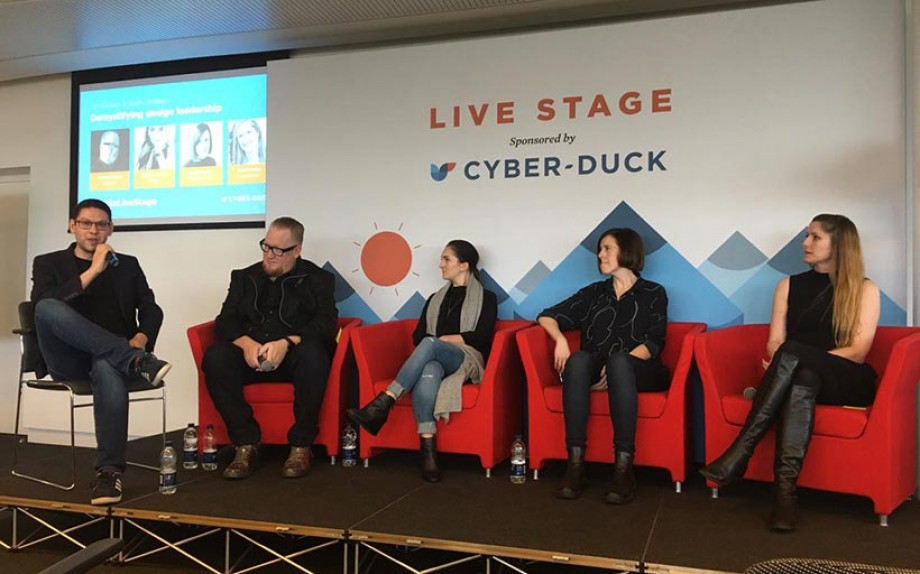 The panel had a lot to agree on, but it was good to cement the foundations of valuable leadership. Michaela was keen to champion how a great team will be able to function with authority and clarity even without the leader present.
Stephen pointed out that an efficient way to work was to empower your team by taking an authority down approach, rather than an authority up approach. In this system, responsibility can be found at all levels of the organisation – decisions are taken at all levels, not only by leaders. It is only exceptional leaders who can support this organisation, because it is exceptional leaders who can surround themselves with people who are better designers than themselves.
The panel also pointed out further key things to understand, including that a great leader sets aside their own pride and ego to transform how they approach work. Instead of thinking of a project as their work, assisted by a team, the work must always be the team's work first. A leader's quality is found instead in the maturity that is required to push people to perform highly and to develop as individuals.
Ethical Dilemmas in UX
What a conference it had been so far, but it wasn't over yet!
For our final panel, we were going to tackle the major ethical dilemmas faced by UX designers. But we weren't up for a general discussion – we wanted to put our audience on the spot, too!
This was a panel with a difference. Not only did we ask our panellists the hard questions, we also asked our audience what they would do in various situations. One situation was whether you would design a location tracker so parents could track their children. Another asked whether you would, upon noticing a design flaw in a product just prior to launch, forego a £10K bonus and raise the issue with your client and delay the launch, or if you would let the product launch and take the money anyway – nobody else had noticed the issue, so who cares?
At times, the discussions were heated. However, it was important to put the panellists and audience in these situations. Everyone claims to be ethical, but it's only when we find ourselves in a sensitive situation that we discover our true thoughts on matters. It's at times like these that we discover that there is no universal code of ethics. In actual fact, it takes constant deliberation and debate to settle on even a handful of ethical foundations.
Joining Matt to address these issues were:
Sandra González, Founder & Director at UX for Change
Cennydd Bowles, Digital Product Designer & Writer
Mike Monteiro, Design Director & Co-Owner at Mule Design Studio
Dr Marta Cecchinato, Lecturer at Northumbria University
Rolf Molich, Owner of Dialog Design
We'll see you next year
We were really proud to sponsor Tech Circus' UX LIVE this year, and especially proud to run our own stage too. It was an invaluable experience, and we certainly learned a lot – we hope our audiences did as well!
If you'd like to find out more about the UX related events Tech Circus runs, follow UX Crunch and UX LIVE on Twitter for more updates. They're a great bunch, with some stellar connections throughout the industry. We're very lucky to have partnered with them for UX LIVE and will continue to work together providing workshops for their UX Crunch series next year. So with that said, we'll see you then…