Planning holidays isn't easy. Many customers still find it hard to know how's best to spend money abroad. Yet, financial technology is evolving faster than ever. That's why Thomas Cook Money conceived a brand-new product to help meet the changing needs of holidaymakers: Lyk, a prepaid travel card from Mastercard©.
The idea behind Lyk is that people enjoy a modern digital customer experience, with safety, security, convenience and value for money. It's a prepaid travel card that gives holidaymakers the control of their money, and at the best rates.
Cyber-Duck was called in to help develop and deliver the website for this revolutionary new product. Our task was to assist with the design of the product itself and its marketing assets. Our expert UX designers and developers worked round the clock to deliver exactly that.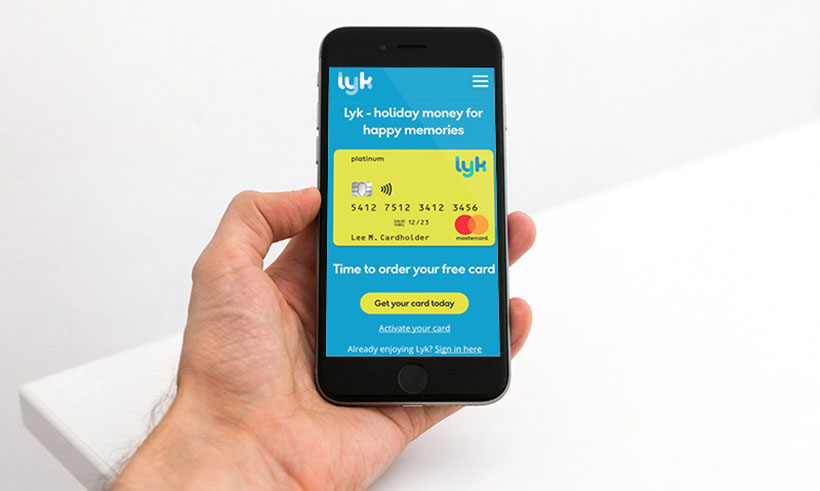 The Lyk microsite is fully responsive - it works great on mobile, so you can sign up to Lyk on the go, whenever it suits you.
Lyk's Focus? You
At Cyber-Duck, we're dedicated to creating amazing experiences for end users. We believe that if a user has a great time using your platform or product, they'll return time and time again and you'll see a substantial return on investment.
It's this outlook and a tried-and-tested UX design methodology that we bring to every project, and it's why Thomas Cook Money brought us in to help develop Lyk's website and user experience. We were commissioned to create a platform that was designed to provide a brilliant experience for the end user. To do that, we needed to research who those end users are, how they think and behave, and what they expect of a prepaid travel card.
User research is crucial in establishing answers to these questions. First, we create personas that detail who it is that we're targeting with the product. Then, we conduct user interviews with a representative cross-section of these persona groups, to discover customer intent and motivations when they use travel money. Designs are built from the ground up with this user centricity in mind.
Simple, Fair, Secure
Lyk is all about transparency and simplicity. We settled on this approach after our user research identified that most users are largely unaware of the optimal way to acquire and spend money abroad. A lot of users didn't want to stress over it – they preferred the simplest route, even if this wasn't the best deal.
But with Lyk, Thomas Cook Money wanted to do one better – to make holiday money as simple as possible and offer great value, making holidays happier for customers. Thomas Cook Money was keen to ensure customers continued to use the product for all future holidays, so getting your hands on a card had to be seamless.
Through a bold design, based on branding that was friendly, simple and open, we aimed to make Lyk stand out from other options on the market. This is where a robust competitor analysis came in.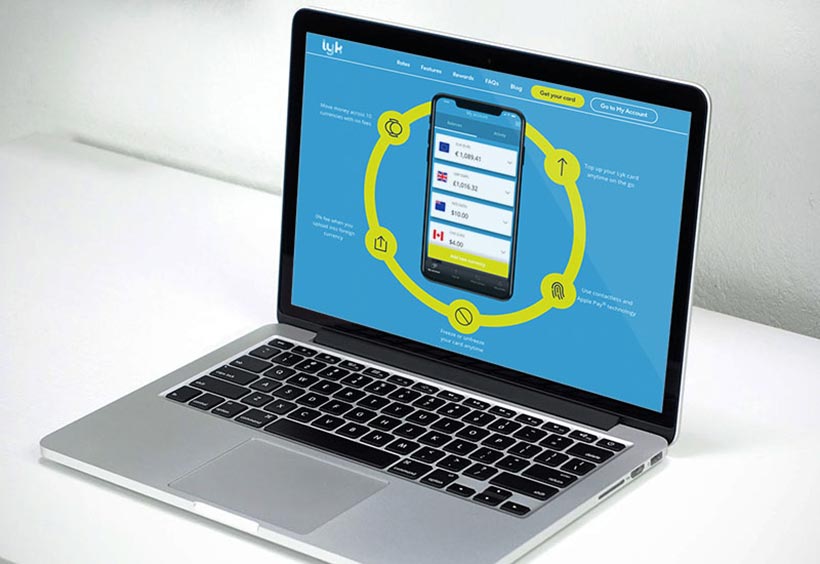 Lyk has many benefits that other prepaid travel cards on the market don't. Be sure to visit Lyk to find out more.
A Highly Competitive Prepaid Travel Card
A major aspect of our work for Thomas Cook Money also came from our comprehensive competitor analysis. We identified and compared numerous competitors from the prepaid card sector and assessed the benefits they offered their consumers. In this way, we learned where there was room for improvement in the market, allowing us to position Lyk leagues ahead of the rest.
Just some of the benefits customers can now enjoy with Lyk include:
Top up on the move, using a customer's stored payment card
Great rates and easy transfer between 10 currencies, with no fees
Emergency cash up to the available balance on the card
Contactless and Apple Pay technology, wherever available
Customer service 24/7
Lyk: Innovative to the Core
Our work with Thomas Cook Money wasn't only centred on developing an exceptional user experience strategy and design; it was also about implementing the technology to allow Thomas Cook Money to market Lyk. For that, we defined the performance and security requirements to build and host Lyk's marketing website.
At its core, Lyk's website was built around a content management system that would meet and exceed the needs of Thomas Cook Money. Through this, Thomas Cook Money's marketing team could push editorial content across the web and mobile app from a central content repository, via a secure API.
We also built the front end of the website using the latest technology – React was crucial here and combining this with the amazing hosting capabilities of Amazon AWS, we delivered an ultra-fast and very secure website for Thomas Cook Money.
Lyk Is Live
Lyk launched on November 20th 2017, but the story doesn't end there. Following launch, we'll be working closely with the Lyk team to create even more outstanding features for holidaymakers.
Once again, our UX designers and developers are looking for the next big project to sink their teeth into. We're eager to bring our expertise to you, so if you're looking to provide your customers with an exceptional user experience, be sure to get in touch with our friendly team!
Legal
Mastercard is a registered trademark, and the circles design is a trademark of Mastercard International Incorporated. Lyk is issued by Wirecard Card Solutions Ltd ("WDCS") pursuant to license by Mastercard International Inc. WDCS is authorised by the Financial Conduct Authority to conduct electronic money service activities under the Electronic Money Regulations 2011 (Ref: 900051).