This summer's installation of The Digital Pond attracted our biggest crowd yet. Close to 200 user experience designers, web developers, product managers, marketers and other tech industry professionals packed the Clerkenwell Centre near Old Street. Speakers Jeremy Keith and Sally Jenkinson rewarded the audience with their expert insights on the responsive web.
The Digital Pond is Cyber-Duck's meetup community that hosts several events each year about all facets of the digital world, including design, development, marketing, business and beyond. Positive reviews of last year's responsive design meetup inspired us to revisit the theme of 'Responding to the Responsive Web: Insights on Reshaping User Experience' for August's event in Shoreditch. Web enthusiasts of all stripes returned again to hear about the technique's evolution and find new inspiration.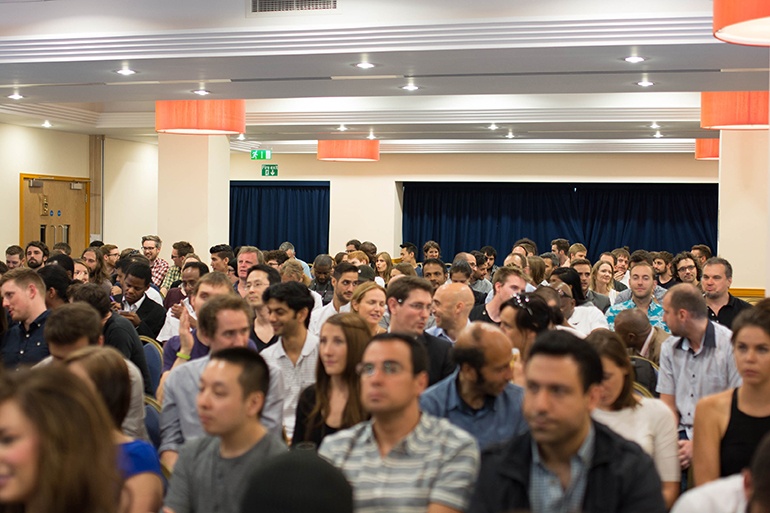 A large crowd awaits responsive web design keynote speeches at The Digital Pond.
More Than Media Queries
After enjoying post-work beverages and filling up on complimentary canapés, everyone crowded into the main room in anticipation of Sally Jenkinson's opening talk. Sally is a freelance technical consultant who has worked with the likes of Nokia, Electronic Arts and BT. Her talk emphasised that designers and developers should use technology to enhance experiences. She reminded us to make choices for the right reasons—not just in terms of user experience, but also considering ethics.
Responsive Design
Jeremy Keith, co-founder of Clearleft, then took us on a journey through the past, present and future of web design. Jeremy believes designers are held back by the printed page and he encourages us to shed this mental model and embrace the unlimited possibilities of the web. Another key takeaway was that designing for every device doesn't have to mean creating an identical experience for each. With that in mind, he ended with the controversial statement that "if you're building a website today and it's not responsive, it's broken".
After Jeremy spoke, Sally joined him to field questions from the attendees. Both spoke candidly and passionately about user experience ethics, bringing bosses up to date with the web, and resolving one poor guest's existential design crisis. The extended QA session even saw Sally venture into the audience with a microphone to give an audience member some personal advice.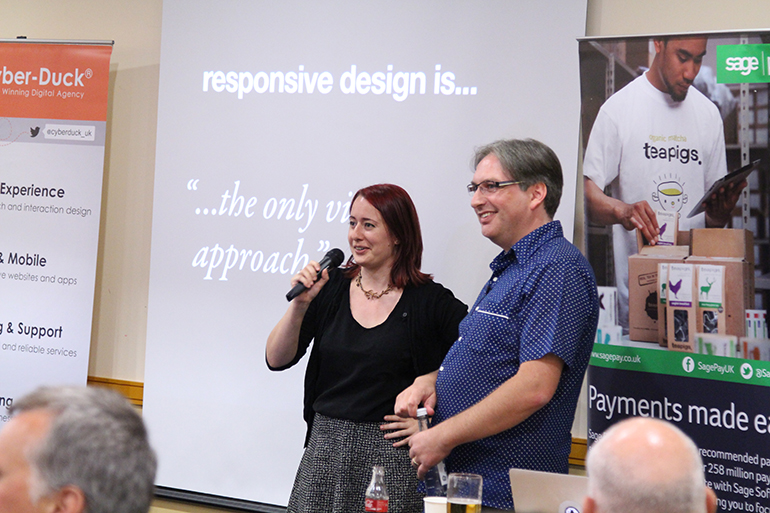 Sally Jenkinson and Jeremy Keith engaged the audience in a high-energy QA session.
As always, we want to thank our wonderful sponsors for backing yet another successful event. Guests were treated to food, drink, discounts, goodies and an all-round great night by our friends and partners Rackspace, Sage Pay, Red Gate, Campaign Monitor, Alliotts and Front Row Picturehouse.
Join our Meetup group or follow The Digital Pond on Twitter for announcements about future Digital Pond events. If you would like to get involved as a speaker or sponsor, please contact our team.