Danny returned to the University of Hertfordshire to give a keynote on the importance of project management. He shared his expertise with the National Centre for Project Management on how to deliver the highest standard of work and achieve happy clients through applying the user-centred design (UCD), lean, agile and ISO-9001 systems.
The design process and certain aspects of project management are guided by the principles of user-centred design (UCD): a qualitative process and methodology where the desires and experiences of users are placed at the centre of the web design project. This is achieved through conducting business and consumer research at each stage of the project. It ensures that the key stakeholders and users from the individual project are consistently involved, from design all the way through to development.
This broad user-centred approach to project management also incorporates key ideas from the lean methodology; these include the Kanban board, Andon cord and the philosophies of build, measure and learn. A minimal marketable feature set (MMS) and valid learning / actionable analytics should be well established before new (or more) features are incorporated into a project; this fulfils the Cyber-Duck ethos prioritising an effective 'less is more' approach. Here, Danny advised the crowd to avoid a 'Bruce Willis' management style, as "heroes only live in the movies"; remaining realistic on deliverables, or managing stakeholder expectations by saying "no" to impossible deadlines, is key. This approach has been perfected across years of practical experience; it further borrows established, agile principles from Scrum. Requirements should be outlined from the outset; working on projects that have a set price and deadline, yet remain adaptable in response to user feedback throughout the process, will increase productivity.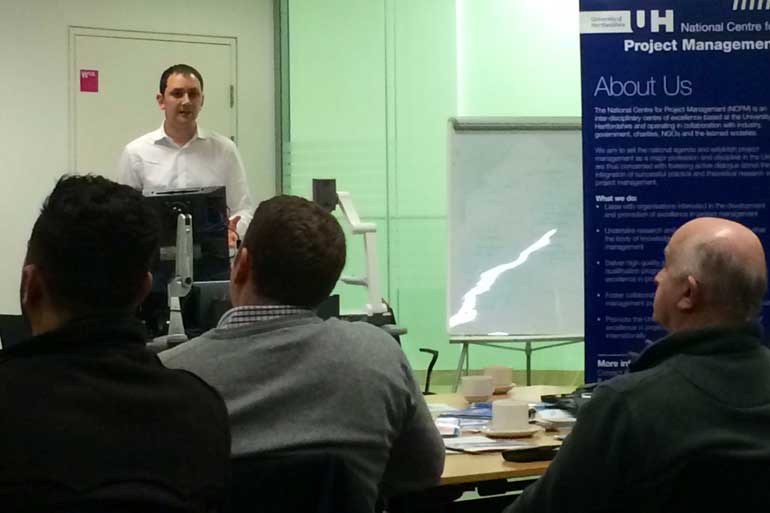 Furthermore, Cyber-Duck thrives on pleasing clients; ISO-9001:2008 established a firm quality management framework, which resonates with the sole focus of the agency outlined earlier. This framework includes constant analysis and improvement to internal processes as the business evolves, as well as ensuring that staff are provided with sufficient and up-to-date training to deliver the best possible results.
To finish, Danny highlighted how "it is not the strongest of the species that survive, nor the most intelligent, but the one most responsive to change" (Charles Darwin, 1809).
This emphasises how learning should never end, or the importance of gaining and developing further knowledge in our chosen field of expertise. After all, change is the only constant, and learning to adapt is the key to success. To live by this philosophy, senior members of the Cyber-Duck staff are currently undertaking the Project Management (MSc) course at the University of Hertfordshire to push their skillset further.