Our project with Cancer Research Technology has earned a third accolade! Ximbio was shortlisted for the UXUK Awards this year, amidst tough competition from household names including HSBC, NatWest and Amnesty International. As yet another benchmark for UX excellence in user-focused design, this collection of nominations demonstrates the power of our proven UX process.
The UXUK Awards recognise digital designs that are truly powered by people. Across a diverse range of projects, the agencies shortlisted excel at offering rewarding, delightful experiences for the end user. The judging panel carefully score each detailed submission against lengthy core (and category-focused) criteria: from clear research and purpose right through to visual, interface, cross-platform consistency and more.
Last year, our work with the UK's leading independent debt recovery firm wowed the judges. Our personalised customer payment portal won the Best Transactional Experience, and was narrowly finalisted for Best Effect on Business Goals.
UX UK Shortlist: Ximbio
We're delighted our work with Cancer Research Technology has earned another nomination from UXUK for 2015! Building on recent success with BIMA and The Drum's DADI, our project is shortlisted amongst great company; up there with HSBC, easyJet, Amnesty International and more.
The commercial division of Cancer Research UK chose us to brand, design and develop Ximbio: a portal for scientists to source and share research tools, or 'reagents'. Only a research-driven, personalised experience could draw three complex user groups to a single marketplace: from research scientists and universities, to commercial companies. This combination was critical, so Ximbio could overcome historical boundaries and streamline how materials are shared; thus supporting vital scientific and medical research around the world.
Combining user-centred design with Agile methodologies, Ximbio was built in just three months. At launch, Ximbio listed 900 reagents developed in universities around the country. Find out more about how it's done in our case study.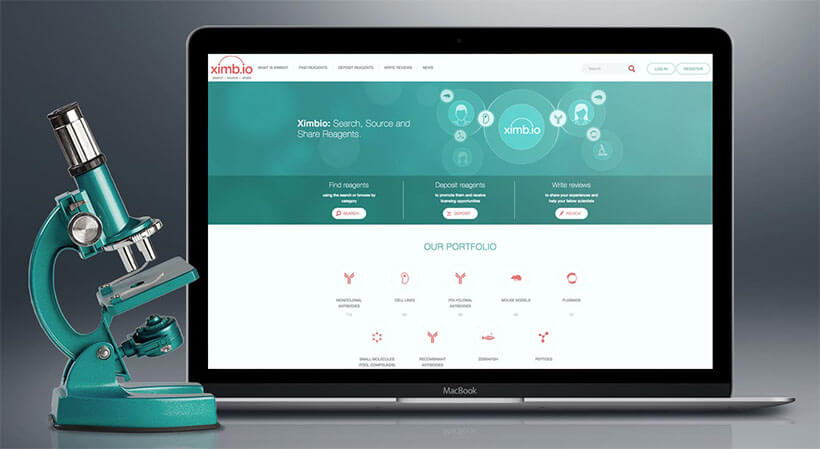 The Ceremony
Held last week at the central Sapient Nitro offices, the UX UK ceremony celebrated the best user focused designs in the business. Up against stiff competition, we would like to congratulate the further finalists and winners on the night.
Our team particularly enjoyed hearing from guest speaker Dr. Patrick Gordon – a strategic advisor to the UK Government – about how the UX discipline really does have the power to increase quality of life: increasing charities' emotional engagement with users via storytelling, or saving lives by replacing doctors' rushed handwriting with targeted apps.
This resonates with our mission at Cyber-Duck. By applying a proven user-centred process, our team can establish a seamless experience that resonates with users' desires, needs and expectations across sectors. We're also committed to giving back to the community, working with charities including Teddy's Wish and Goods4Good, supporting refugees and SIDS research.
Ximbio is just one of many award-winning projects, launched by working closely with our clients. Get in touch today, if you'd like to find out more – or work with us, to solve a digital challenge for your business.