The nominations for awards keep flooding in: Cyber-Duck has now been shortlisted for the UXUK Awards and as a finalist in the Drum Agency Business Awards. This is a major achievement for Cyber-Duck this year – we're so proud of all our staff who made this possible.
It's with great pleasure that we can announce our nominations for several awards over the last fortnight. Cyber-Duck has been shortlisted in the Best Information Experience category at the UXUK Awards for our work with Mitsubishi Electric, and for two awards at the Drum Agency Business Awards: Production Team of the Year and Design Agency of the Year.
UXUK Awards – Best Information Experience for Mitsubishi Electric UK
Since 2017, we've worked closely with Mitsubishi Electric UK to deliver exciting new digital products. First, we created a new marketing content site called The Hub, which garnered a monthly audience of 5,500 visitors in its first few months, and an increase in page views of 115%. We then went on to develop a user-friendly website for Mitsubishi Electric, one that would transform their online presence and make it far easier for their customers.
In just six months, the new Mitsubishi Electric website enjoyed a 37% fall in the bounce rate, and over a 60,000 increase in average page views per month. These results are a testament to the quality of our user-centred design process.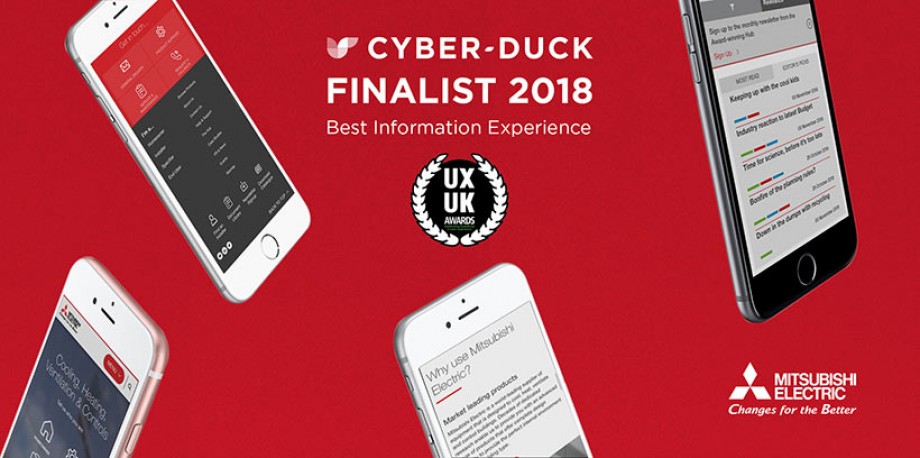 But it isn't just we here at Cyber-Duck that believe in this process – the UXUK Awards has also seen its value this year.
Our work for Mitsubishi Electric has been shortlisted for the Best Information Experience Award. It's a great honour, and we're really proud of the whole team that worked on this project. We have our fingers crossed for the award ceremony on 22nd November.
The Drum Agency Business Awards
But there was more good news that preceded the UXUK Awards nomination: we became a finalist for two awards at the Drum Agency Business Awards.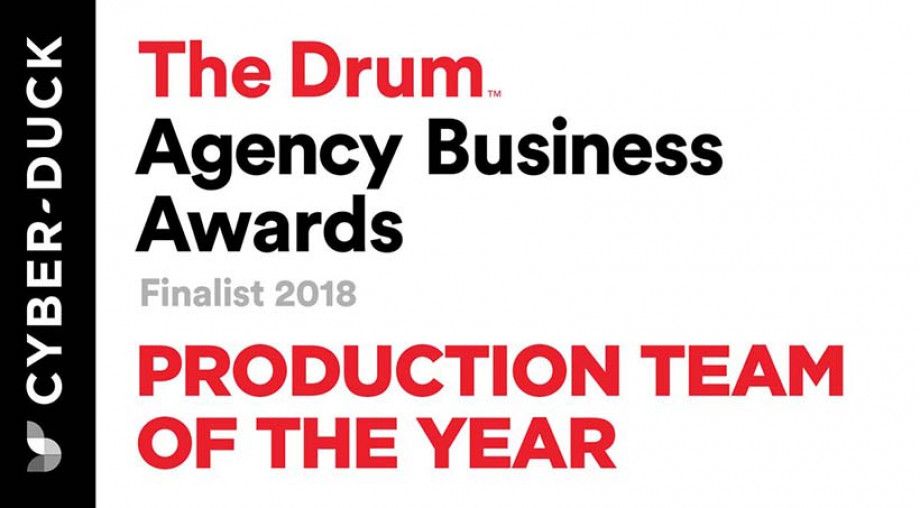 First up, our production team was recognised for its efforts throughout the year. We were nominated as a finalist in the Production Team of the Year category for our client work. It recognises the talents of our designers, developers, and project managers. In particular, it highlighted our great work for clients like the Bank of England and Mitsubishi Electric UK.
Secondly, we were nominated for Design Agency of the Year. Of course, this especially recognises the calibre of talent we have in our UX and visual design department here at Cyber-Duck.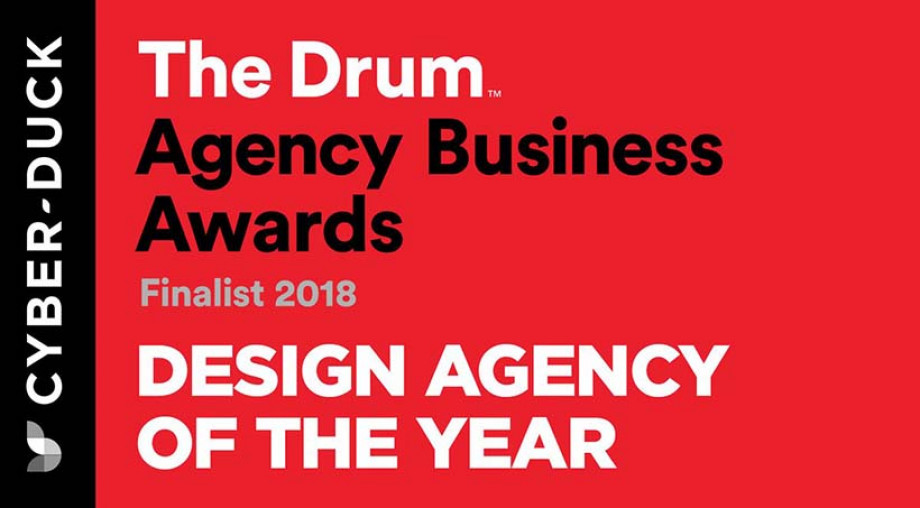 There's a lot to be proud of here at Cyber-Duck at the moment – wish us luck for the ceremony on the 27th November.
BIMA Digital Day Participants
While you're here, we have another piece of news to tell you. A core value of Cyber-Duck is giving back to the community. It's why we got stuck in with sponsorship at UX LIVE at the end of October, and it's why we're also a part of BIMA Digital Day this year.
BIMA Digital Day is all about connecting digital professionals with tomorrow's generation. It aims to inspire 13-16 year olds over the course of a day, namely by getting them to work on exciting projects and challenges from global brands like the BBC, the FA and Vodafone. Ultimately, the day gives pupils an idea of all the career options available to them in the digital industry.
We were at Bentley Wood High School on 13th November to get the next generation of talent into the digital industry. To see more about the day, head over to our Twitter.
Sign up for our quarterly newsletter today
There's always something going on at Cyber-Duck, so if you're current client, a prospect, or simply just interested in what we're up to, why not sign up to our quarterly newsletter today?
You'll learn all the latest Cyber-Duck news, and we'll even highlight the best of our insights from the past three months. Expect hard-hitting content like our new white paper on conversational UI, the Complete Guide to Building a Bot.
If you have any questions about our award-winning services, you can also get in touch with our team – contact us today.