Four of Cyber-Duck's intrepid designers and developers spent this weekend at MozFest. The Mozilla Festival, now in its third year, aims to create a space over a weekend for interested people to come to learn, share and talk about digital and web technology. The event is aimed at anyone looking to discover and learn something new.
Neil, Ramon, Andrew and Gareth represented Cyber-Duck this year, hoping to meet some fellow passionate web makers and maybe learn something new along the way. The major theme of this year's festival was moving people "from using the web to making the web"; giving people the knowledge, tools and attitudes to make and change the web as they like.
The first session the guys attended was an HTML5 mash-up with web games company Mind Candy. The aim was to create a playable web game in just 2 hours utilising JavaScript framework CraftyJS. So after a short brainstorming session team duck decided to use http://videogamena.me/ to give us our name and concept.
Neil and Andrew started to push pixels like men possessed, and after a short while our first soviet character was born for our game. It wasn't long before we had all our characters and "flatules" designed. Meanwhile, Gareth got cracking with CraftyJS and had created some simple game logic along with aspects like collision detection and score counting. Not only did the team learn some new skills and find out first-hand just how powerful HTML5 can be for producing in-browser games, but they also had plenty of fun in the process of making the game.
In just two hours, Cyber-Duck's finest created a complete game, "Soviet Flatulence Roundup" – feel free to have a go! Gareth Drew, Cyber-Duck developer commented: "This session really got our creative juices going and after some small tweaks we decided to work on some other hacks; such as an Instagram time-lapse gif maker based on locations of photos."
Elsewhere at MozFest
Mozilla reps were promoting their new FirefoxOS, an open source operating system for mobile. One of the main features of this new system is that it's supposed to work on low capability devices (low memory and slower processors) whilst maintaining good performance. The operating system is not finished yet (for instance the back button didn't work on any of the test devices) but it does look very promising indeed. Firefox OS is built with HTML, CSS and Javascript making it supremely customisable and hackable.
At the end of a weekend of thinking and hacking, many of the projects were shown off at the demo and drinks session on Sunday night. Many projects utilised the open source project PopcornJS, where videos become interactive and an especially impressive project by Joe Dytrych & Alasdair Blackwel called "code cards".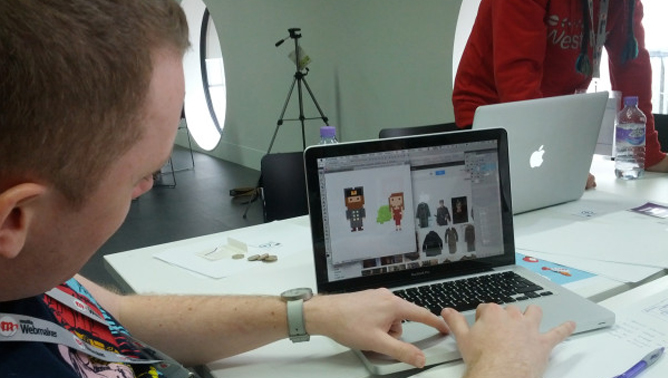 Mozilla is a true pioneer open source space and clearly have a goal for web making to be as accessible to as many people as possible. They continue to pursue this goal by throwing sponsored code parties and through educating tomorrow's generation of designers and coders. This can only be a good thing, ensuring the internet remains a powerful and open resource for years to come.