If you are a business that holds online information about individuals, then be prepared to potentially receive notifications from Google at any moment. Why? Well, an individual may be exercising their 'Right To Be Forgotten' for the first time, which has resulted into the removal of certain links to your website on Google's search engine results pages (SERPs). Here, I recap the ruling, reveal how it will affect business leaders, and debate its significance for the future.
What Is the 'Right to Be Forgotten' Ruling?
The European Court of Justice (ECJ) enforced this new ruling in May, giving people the 'Right to be forgotten' (RTF) by all the major search engines in Europe. Essentially, an individual can demand the eradication of old, misleading or irrelevant data that breaches their right to privacy. This ruling was provoked by a request from Mario Costeja Gonzalez to take down any links found on Google containing personal information about how his home was auctioned due to financial hardship 16 years ago. To comply with the ruling, Google has devised a rigorous process of analysing each individual case via their web form. Two months on and a considerably shaken Eu-rope is filled with animosity between all parties involved, with critics arguing the absurdity of a newspaper being able to publish information that a search engine can't link to. Around 70,000 'take down' requests have been made and Google HQ is incredibly distressed.
How Could This Affect Your Business?
Google began to officially remove links from its search results at the beginning of this month, and as predicted, businesses that hold online information about individuals have taken a huge hit. Ironically, Google itself is the perfect example of a company that has been stricken by the ruling, the other being those that work in the media industry.
One of the first and most controversial RTF removal cases, which came from the BBC, exemplifies exactly how the RTF ruling can affect an information-centred business. Robert Peston, business editor of the BBC, received an email from Google informing him that links to his article from 2007 about Stan O'Neal (former boss of Merrill Lynch) were about to be removed from Google's search results.
The diagram below demonstrates how the RTF ruling had the BBC journalist questioning "Why has Google cast me into oblivion?" and how its implications can be applied to your company (if having online information about others is a part of what you do). Removing popular links to your website within search engines will have a negative impact on your SEO rankings, reduce traffic to your website and could impact your business' credibility, if the link removal is extensive. Clearly, for media platforms such as the BBC, and in fact the media industry as a whole, storing and providing information to the public is vital for the viability of their business.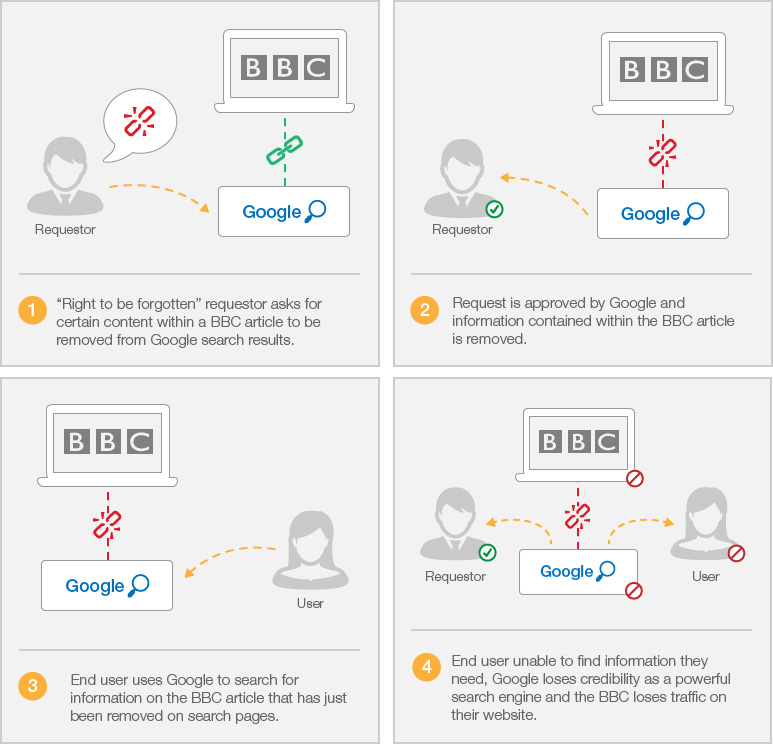 How the RTF ruling affects businesses that have online information about individuals
Google's Overreaction: A Publicity Stunt?
After the first few links have been removed from several British news websites such as the BBC and The Guardian, it has been questioned whether Google's tactless approach to removing such links are all part of one big 'publicity stunt' to stir up outrage from key members of the press; all for the sake of publicly ridiculing the RTF ruling.
Shortly after the first batch of links were removed, Reuters reported that Google has decided to reverse its decision to take down links from several articles flagged up by The Guardian. All this uncertainty has resulted in the public doubting Google's real agenda behind the RTF debacle – are they genuinely trying to fix the mess and find balance between an individual's 'Right to be forgotten' and the public's right to know? Or, are they really the "self-interested entity behind the scenes pulling the strings"?
Summary
As of last Friday, Google has entered the next phase of their strategy to deal with the ECJ's ruling by setting up an 'advisory committee' to help with the decision making process behind the RTF ruling. Now that Google is outsourcing help from external parties, the heat they are receiving about alleged 'publicity stunts' has somewhat dissipated. Their advisory consultations will officially begin this autumn, and will be streamed live for the public to witness. Let's face it; there is no way of simplifying this digital European fiasco. Its complexities will be sure to keep us all gripped as the saga continues – a saga which will most definitely be difficult to ever be forgotten.