It's been another busy week at Cyber-Duck HQ as we officially announce the launch of the new EGS website. On top of that the Ducks have also made their presence felt at the University of East London, Matt Gibson was allocated a date and time for his presentation at Digital Shoreditch and the Ducks are thrilled to have a new ping pong table in the office.
Latest Projects
­Cyber-Duck are pleased to announce the official launch of a new web venture for Essex Governor Services (EGS). EGS offer complete governor overhaul's among other services to a variety of sectors including the marine, rail, petrochemical, industrial and utility industries. EGS have developed an envied reputation for high quality products and a precise, expert service and Cyber-Duck have completely revamped their web presence to portray their stance as industry leaders.
Cyber-Duck has also rekindled their relationship with PR expert Harry Cymbler from Hot Cherry, who will be promoting Cyber-Duck over the coming months. Hot Cherry and Cyber-Duck have previously worked together in order to promote the successful launch of one of Cyber-Duck's earlier projects.
Inside Cyber-Duck
Cyber-Duck recruited some new ducks this week with the arrival of Nyasha Mukonoweshuro, a QA professional who is managing the quality of all Cyber-Duck projects. We also welcome marketing expert Nik Newman to help push Cyber-Duck forward as London's top Award Winning Digital Agency.
This week marks the end of any lunchtime productivity as a new ping pong table was delivered to our fantastic Elstree office. Tension is already high as everyone lays claim to the title of "Cyber-Duck Ping Pong Champion", although an official tournament due to start soon will surely separate the pros from the dreamers!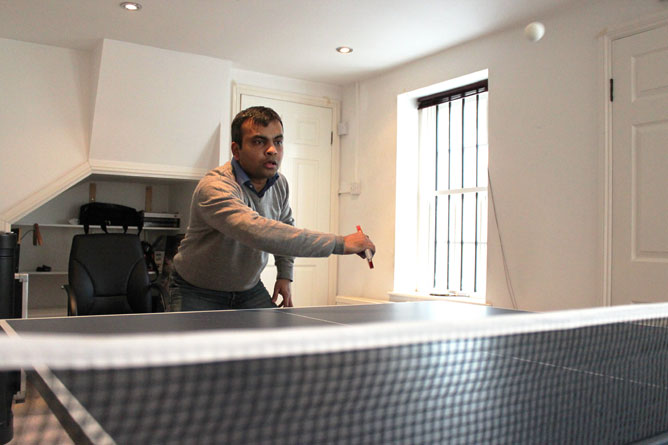 LeWeb is one of the leading technology seminars in the world and will be at London on the 19th and 20th June 2012. Danny Bluestone, Managing Director of Cyber-Duck, will be attending to listen to a number of presentations from leading figures in the technology industry, including LeWeb Founder Loïc Le Meur, Financial Times Media Correspondent Tim Bradshaw and Michael Arrington, the founder of Crunchfund and TechCrunch, a blog covering startups and technology news.
We had a great talk this week from Eran Zinman of Conduit, a company dedicated to providing tools for publishers to get the most out of mobile apps UE. He talked about mobile app design and how the correct distribution of apps can help them get the right exposure. It's not all just the Apple App Store and Android's Google Play – publishing apps on the Amazon App Store for example can get a great way to reach out to different users who are already familiar with, and trust, the Amazon name.
Some of our pro developers at Cyber Duck have recently been involved in a competition at the University of East London. Students were challenged to create a selection of infographics and games around a theme of ducks and zombies – two of our favourite subjects! We went to check out some of the submissions this week and were hugely impressed with the quality and creativity that went into the students' projects. Next week will be the final judgement with the winners receiving some cool prizes such as Amazon vouchers and visits to design conferences.
Don't forget to add Digital Shoreditch to your calendar which runs from 21st May to 2nd June to celebrate the creative and technical talent from East London. Our very own Matt Gibson, Production Director at Cyber-Duck, will be presenting his thoughts in a speech on Adaptive Web Design on Wednesday 30th May 2012 at 1.45pm. This will make it an event that definitely cannot be missed.
Industry news
The big news in the world of technology this week is the launch of Google Drive, a brand new cloud hosting service offered by Google which allows you to store, share and sync your documents through a web app.
Google already has a number of established companies competing with similar cloud storage services such as Dropbox, iCloud from Apple and Microsoft's Skydrive, so what is going to be the killer feature to make people switch? Where Google Drive really shines for me is its close integration with Google Docs, which has now been merged with the new cloud service. This means that unlike many of the competitors, Google Drive offers all those convenient document editing software tools so you can manage and edit your files wherever you are, no matter what device. It even supports file types such as PSD, so you can open and view Photoshop image files without having Photoshop installed on your system!
New users get 5GB of free storage space when they sign up for Google Drive which is generous, and the additional storage plans are also reasonably priced for when you hit that 5GB limit. I signed up for Google Drive and can't wait to get stuck in… if only I wasn't still on the waiting list for my account to be activated!
There is always something going on at Cyber-Duck, so make sure you come back and read our weekly blog post every Friday to catch up on all the latest news.