At the annual Spring Hackathon with Google Campus, our team was challenged to create a digital product to benefit local communities over just 30 hours. The result was CrimeTimeline, an interactive map for users to search, filter and visualise local crime.
Here at Cyber-Duck, we like to innovate. It's what gets us going, and there's no time better to innovate and create exciting, new products that push our boundaries than at a hackathon. You'll find a lot of information about our past projects on our website, but today we're going to talk about just one: CrimeTimeline.
During Google's Campus Spring Hackathon in 2013, we were challenged to create a digital product that could make public service information more accessible for local communities. After much deliberation, we settled on a user need and began work. We wanted to be able to make access to crime information easier than ever, so we created an interactive web app that monitored levels of crime throughout the UK. Drawing on the Police UK API, users would be able to search, filter and display crime levels in neighbourhoods. This would increase the accessibility of this data for potential or current residents.
But it presented a technical challenge. In just 30 hours, our developers had to learn how to use the API and integrate heat maps with the Google Maps interface. They also wanted to build a complex feature, which would provide specific data about crime types in visual nodes, with just a single click or tap.
Winner: Best Use of Geographic Data
It was a tight deadline, but our team delivered a brilliant, interactive map that could help users search and filter crime in their area. The categories included violence, burglary, vehicle, drugs, anti-social behaviour and more.
Its heat map displayed insightful data that could educate the public about crime in any area within the UK. The interface was particularly complex to build, but worked great once implemented. Users could scroll through months of the year, and learn about the changing patterns in crime volume and severity where they live. It can be quite interesting to see the hot spots for shoplifting around shopping centres, and anti-social behaviour around pubs and clubs.
The project was featured in .net Magazine and Creative Bloq for the innovative use of Javascript. The heatmap, street map and location search were built using the Google Maps API v3, while the jQuery and jQRangeSlider plugin were used to generate the date slider and manage the AJAX calls. And finally, we were also thrilled to pick up the award for Best Use of Geographic Data during the weekend too.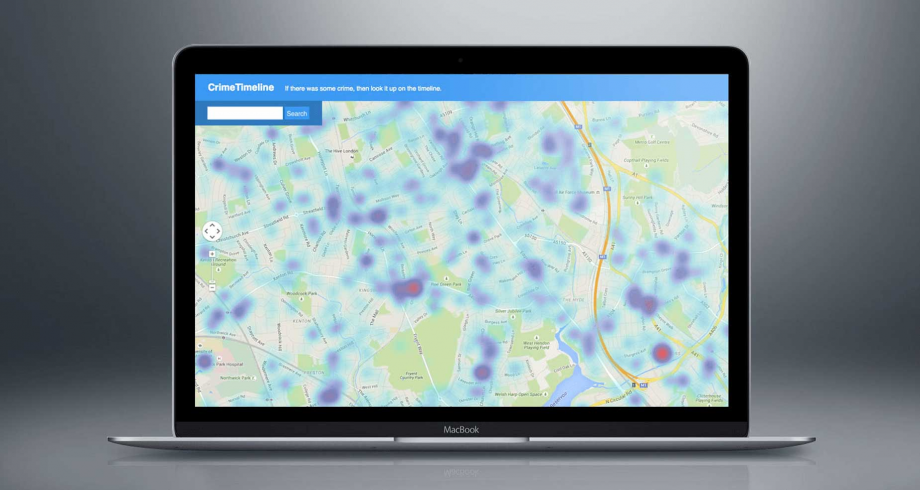 Want to Work with Us?
Innovation is the core of what we do here at Cyber-Duck. It's our dedication to user research that enables us to create exciting new user experiences for our clients and their end users. We have worked with high profile organisations like the Bank of England, Thomas Cook Money and many more.
If you think we could help with your digital transformation or R&D project, be sure to get in touch with our friendly team today.