We're extremely proud to announce that several members of our awesome creative and development teams have entered their talks for the SXSW panel. If chosen, they'll get to present at SXSW 2018 in Austin, Texas.
SXSW is an annual conference that brings the best of design, media, marketing, music and technology together under one large roof! Their aim is to uncover new and wonderful discoveries to share with attendees. A few members of the Cyber-Duck family jumped at the opportunity to create talks they're passionate about.
The great thing about SXSW is its groovy PanelPicker process. This allows you to browse various topics, speakers and talks across different categories – namely culture, entertainment and technology – and vote for the ones you'd like to see most.
Our ducks have put forward talks on a few fascinating topics, including positive design friction, age-inclusive design, evil UX, the evolution of search engines and digital transformation. So without further ado, we're thrilled to introduce our team members who'd love to attend SXSW:
Get Match Fit! Culture & Digital Transformation by Danny Bluestone
Evil UX - Create Better UX Through Evil Thinking by Matt Gibson
Design Friction: Make Me Think by Cristina Viganò
The Evolution of Search Engines by Ramon Lapenta
Age Inclusivity: Design for Our Future Selves by Paul Woodley
UX Playbook: User Driven Digital Transformation by Ramsay Albazzaz, feat. Cristina Viganò
We hope you'll take a moment to read through their talks and vote for your favourites!
Get Match Fit! Culture & Digital Transformation
First off we have our Chief Duck, Danny Bluestone. Danny began his career with a focus in user experience and design, before moving into branding, growth and marketing. He drives our user-focused philosophy and has always been an avid advocate for digital transformation. He helps clients make the most of a digital overhaul, allowing them to offer the best user experience.
He'll be teaming up with Abby Thomas from BT to deliver a fascinating talk called Get Match Fit! Culture and Digital Transformation. They'll cover all the special ingredients of digital transformations – from UX to technology – that help you through an effective and successful digital transformation.
Evil UX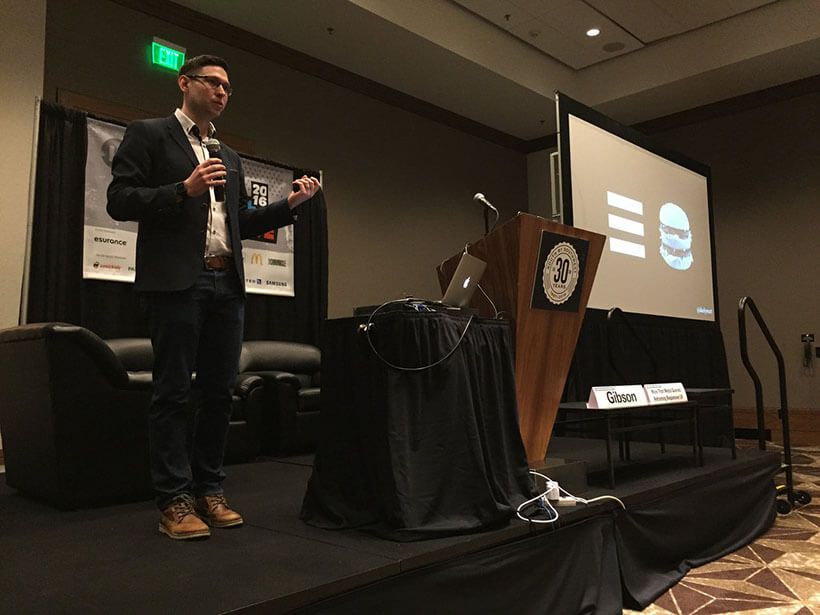 Then we have Matt Gibson, Chief Production Officer here at Cyber-Duck. Matt is a UX wizard, casting magic on our projects to make them user-focused and cool. His talks have taken him around the world, and have ranged from elevator pitches and designing for the mind to responsive web design.
This time Matt is delivering his talk, Evil UX: Create Better UX Through Evil Thinking. He's focusing on how we should tackle the design process by asking ourselves what Dr. Evil would do. By channelling the evil genius that lies within, you can achieve more efficient and creative solutions to make things easier for the user!
You can vote for Evil UX here!
Design Friction: Make Me Think
Stepping up next is Cristina Viganò, our Senior User Experience Designer. She enjoys combining her fascination and prior study of psychology with her passion for enhancing user experience. Cristina uses her UX superpowers to benefit both brands and users. Her latest interest covers the idea of Positive Friction in design.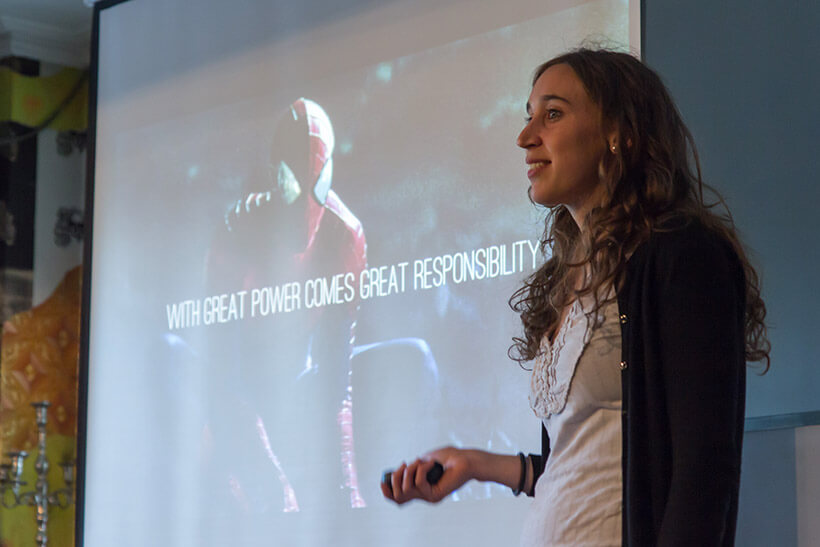 While it is important to maintain and prioritise a streamlined user journey, Cristina puts an interesting spin on this to highlight that sometimes friction is beneficial. By allowing the user time to reflect, they can avoid a potentially negative action they may otherwise have taken, among other useful results.
To help Cristina discuss positive friction, you can cast your vote here.
The Evolution of Search Engines
Next, our Senior Developer Ramon Lapenta has a strong interest in digital marketing and SEO. His background in front-end development extends to UX, CMS implementation and SEO. Using these three disciplines he crafts complex and intricate websites for our clients. Ramon enjoys keeping up-to-date with all the new tech, ideas and trends – especially any changes in the industry, hence the topic of his talk.
He has presented at SXSW before about the myths concerning CSS pre-processors. This time, however, Ramon has chosen to focus on SEO. He wants to offer his tips and advice to marketers, who must deal with the constant evolution of AI, machine learning and all the other intricate technology behind search engines.
His talk, the Evolution of Search Engines, combines his knowledge of UX and SEO to tackle search engine updates and provide better designs and experiences for our users.
You can vote for his talk here.
Age Inclusivity: Design for Our Future Selves
Our penultimate duck is Paul Woodley, UX Designer! With experience as a graphics/visual designer, Paul switched paths in his career to focus more on UX. Now, he combines the three disciplines to deliver unique and beautifully crafted designs that enhance user journeys.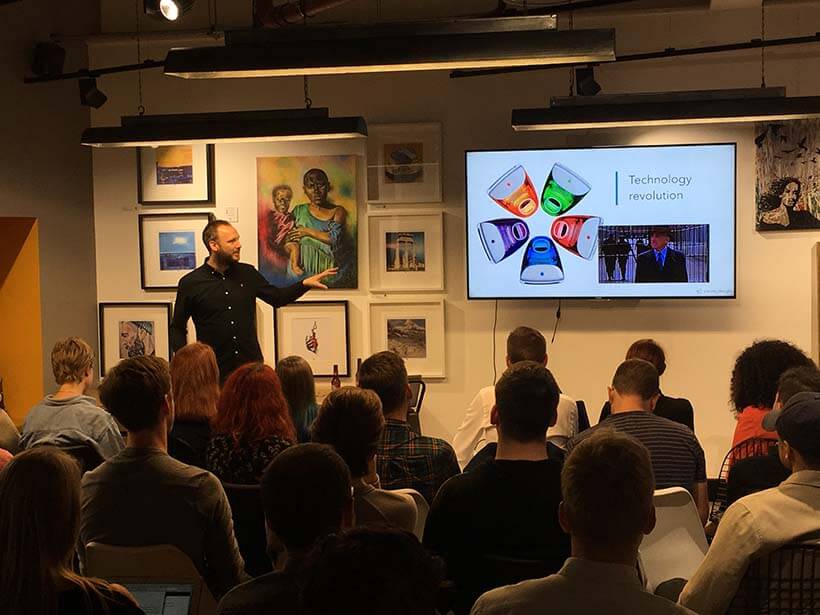 Not just a UX Designer, Paul also teaches at General Assembly and is an extremely talented orator!
As someone whose always been fascinated by the future of design and what boundaries we can push, Paul would love to discuss the importance of Age Inclusive Design. Here, he uncovers the importance of keeping the elderly in mind when we are designing, seeing as we are essentially designing for our future selves!
To cast your vote for Age Inclusive Design, head over to PanelPicker.
UX Playbook: User-Driven Transformation
Finally, we're thrilled to introduce is Ramsay Albazzaz, another of our awesome UX Designers – he's teaming up with Cristina Viganò. Ramsay originally worked in the business and finance sector for several years, but changed his career path. He now uses his experience in UX to craft unique and intricate user journeys, or design complex user-centric websites.
He's extremely passionate about all things UX and is keen to deliver his first public speech, alongside experienced orator Cristina. Their talk, UX Playbook: User Driven Digital Transformation, focuses on how UX can totally revolutionise an organisation's digital roadmap by putting the user at the centre of a digital transformation.
You can place your vote for their talk here!
As you can see, we have a wide range of talented ducks in our family! All of them would love the opportunity to attend SXSW to share their passion and knowledge for their chosen subjects. Be sure to vote for your favourites over on PanelPicker.