We require a dynamic individual with 'hands-on' digital experience to act as the resourcing, forecasting, planning 'brain' and catalyst primarily for client projects such as Cancer Research Technology, College of Policing, Mitsubishi and Sport England. As well as client work, you will help to plot the team's time against our own business plan objectives including Cyber-Duck marketing.
The role requires the ability to understand our priorities as a business, deal with the service level agreements, juggle multiple requests and understand team utilisation to 'level the load' and relieve bottlenecks through using project management tools such as Harvest Forecast and ClickUp. A key part of the role is to be aware of the main projects and understand the business logic so that you can brief over 40 or so team members on their role and mission.
Part of the role involves working closely with HR to source contractors, liase with HR about new hires and review the efficiency and tumescent so that timesheets are filled in properly.
The day to day of the role
The Team Traffic Manager is responsible for forecasting, coordinating and scaling the allocation of staff members to projects to ensure delivery on time and profitably.
Working closely with our production team, Project Managers and New Business to plan work ahead of time and report on overall efficiency, the Team Traffic Manager works to continually improve and optimise agency workflow, ensuring all of resourcing needs are being fulfilled and that all the teams are correctly aligned.
Why is this role important?
The position is key in ensuring that both existing and new employees are allocated into the right project delivery teams and given the best chance to succeed in their respective positions.
Why relationships are so important
As planning and organisation is key with this position, we need you to not only be dynamic in responding to shifting priorities, but also maintain great relationships with our Project Managers, Account Managers, New Business, Departmental Heads and the Production team in order to act proactively to resource requirements and potential gaps in our delivery teams.
Where is it based?
You'll be primarily working from our main HQ in Elstree, Hertfordshire, but expected to travel from time-to-time to our London office in Farringdon.
What you'll do
Support Project Managers with the resource schedule, ensuring we are well staffed for future and current projects and business plan objectives. You will need to coordinate over 20 projects' timelines, understand the scope of each to ensure the right team members are allocated at the right time of each project.
When there are gaps, you will liaise with our Senior Management and Internal Recruitment team to ensure a healthy pipeline of talent to support business growth
Support the Production team with their workflow and escalate issues to Project Managers and Department Leads.
Control, to monitor production progress on both internal and client projects in adjusting resource scheduling to deal with any pushbacks or potential problems on delivery.
Continually monitor our in-house project teams to ensure each team has the right skills and time allocation to meet their goals
Manage holiday/sickness and absence system for the teams, ensuring there are no conflicts with the projects delivery
Schedule resources to achieve operational Business Plan objectives and internal projects
Monitor time sheets for staff and contractors, billable and non-billable hours logged on both production and internal projects as well as utilisation rates. Communicate to the relevant stakeholders, line managers and PM
Supporting the leavers, movers and joiners process and liaising with our lovely HR and IT teams
Attend and support interview processes with external and internal candidates
What are we looking for
Essential Skills and Experience
What we'll need you to have:
You have a proven track record in a similar role within a Digital Agency environment with at least 2 years' experience
You have experience scheduling multi-disciplinary teams and in using scheduling software to maintain an up to date view of current and upcoming work
You're extremely well organised with a proactive approach
You have experience in sourcing, briefing and onboarding new staff or contractors onto projects
You're approachable, calm, adaptable, flexible & self-motivated. Things are changing and evolving on a weekly basis, so you can keep a level head to ensure smooth delivery of projects
You have a good understanding of digital delivery and processed around UX, UI, CMS/eCommerce, QA and Marketing services
You're a strong communicator and capable of building strong relationships and rapport with people from all levels of an organisation
You can effectively negotiate, persuade and lead - three things that'll be key in making the role a success
You're a people person. You care about the teams you work with and can build collaborative relationships with them in order to understand problems and overcome them together
Desirable Skills and Experience
We'd love you to have;
Experience in and understanding of Agile environments
Previous experience and proven track record of managing, leading, mentoring and motivating a team in an agency environment
What are the benefits?
A competitive salary depending on skills and experience
Family-friendly and flexible working hours and the ability to work remotely from time to time
30 days annual leave as standard (including bank holidays), along with 1 extra day for every year of service
Pension contributions
Private health insurance package
Life insurance
Budget for training and conferences to help you develop
Support to grow in areas you're interested in, whether it's becoming a public speaker, or creating your own side-projects
A laptop and a (discretional) mobile phone
EMI share option scheme
A welcoming and supportive work environment surrounded by a diverse team of creative and talented people
As well as these universal benefits, we have a generous pot of flexible benefits that you can pick and choose from:
Gym membership
Childcare vouchers
Cycle to work scheme
Car leasing scheme
Medical insurance upgrades
Additional pension contributions
Additional holidays
Mental health and wellbeing support
Discounts on everything from shopping to cinema
Access to independent financial advice
Oh, and our coffee's pretty good too.
Sound good? How to apply...
Simply send us a short email to apply@cyber-duck.co.uk, telling us why you'd be a great fit for this role, and a link to your CV and if you have one, your portfolio.
What are the next steps?
We'll aim to respond to you within 1 week of contact.
The interview process starts with an informal phone call, before a more formal interview process.
We look forward to hearing from you.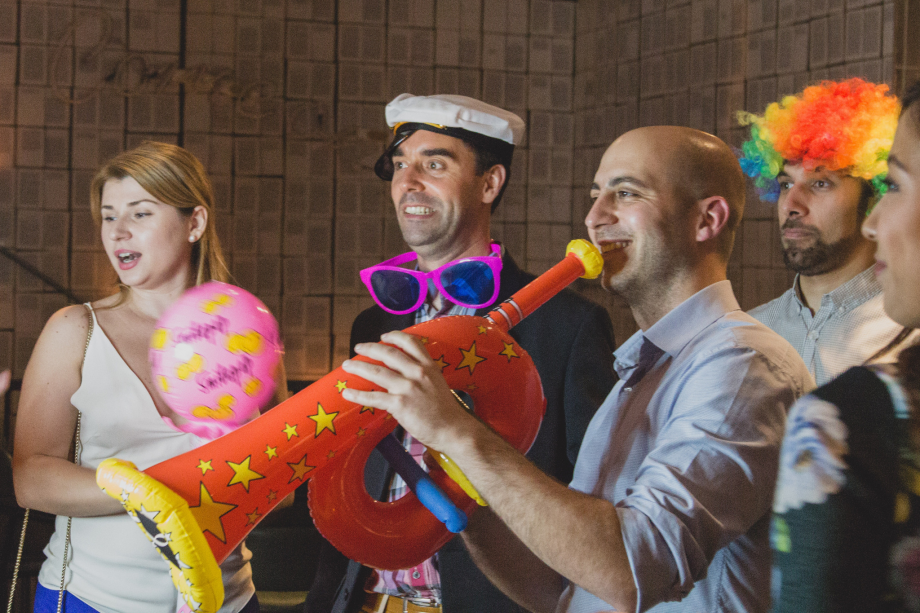 We host annual parties to bring our family of clients and Ducks together. None is complete without our photo booth!
---
Who are we and what do we value?
Over the past 14 years, Cyber-Duck has built up a reputation and won awards for delivering exceptional work for clients, and as part of our R&D labs. The reason for this reputation is our fantastic and diverse team of 45 passionate experts.
We run the popular meetup The Digital Pond, speak at and attend conferences all around the world, and share our knowledge through the UX Companion app.
We are and have always been 100% independently owned. We have an EMI share option scheme which we offer to all team members.
The things we really value in our team are:
Excellence at the core - Consistently delivering to a high standard
Adaptive to change - Calm and positive in the face of adversity, and open to new challenges
Relentless - Dependable and willing to go the extra mile
Selfless - Value your impact on the bigger picture above all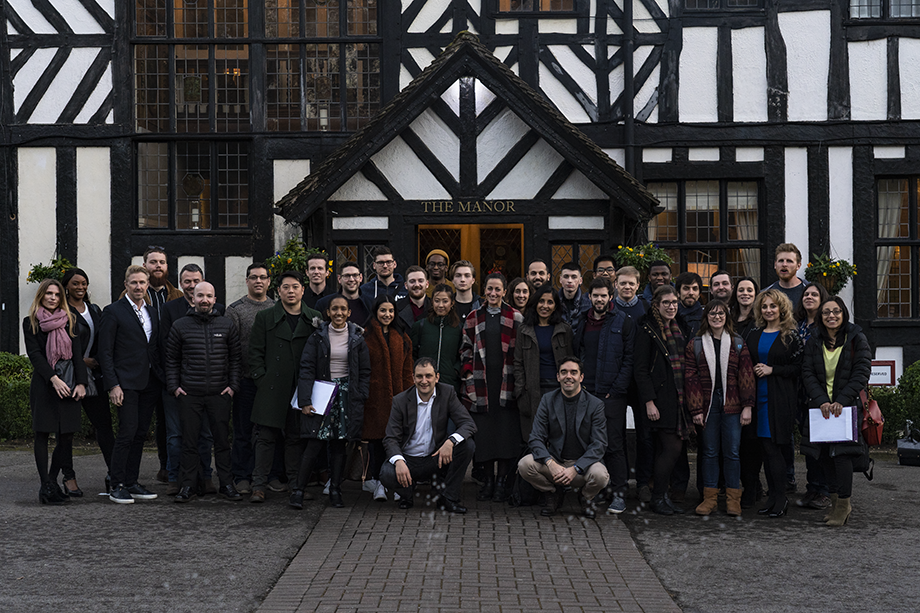 If you think you fit the role of a UX Designer, we would love you to join our friendly team.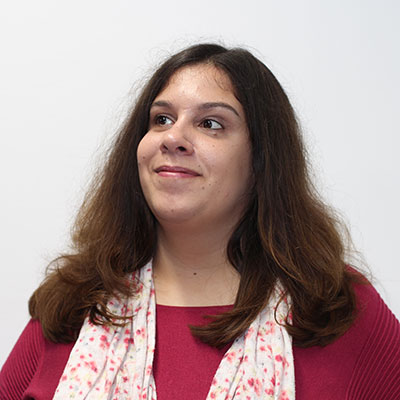 Join us
Sara, our HR Assistant would love to hear from you. Tell us why you'd be a great fit for this role with a copy of your CV and if you have one, a link to your portfolio.