Like many organisations, Essex County Council (ECC) faced challenges with its intranet. Some employees struggled to access resources and others struggled to find what they needed when they needed it to perform their jobs.

Cyber-Duck was brought on board to work in close partnership with ECC's service transformation team to develop a deep understanding of intranet users right across the organisation. Who they are, and what resources and information did they need? Our user experience discovery, completed in-line with GOV.UK service standards, took place over 10 weeks and combined qualitative/quantitative research methods to answer these questions; to understand how the current intranet was and was not meeting user needs, to identify the assumptions to test through the subsequent alpha phase.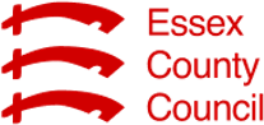 The best intranets are not a storage space, but a 'hivemind'. They're a crucial internal communication channel. With the correct approach, they become a one-stop-shop: linking departments and people that might otherwise struggle to come together.
ECC had a disparate intranet spread across multiple websites/platforms. For their 8,000 employees, information was difficult to access and find. Ultimately, it had lost its status as a reliable information source. Accelerated by the pandemic and adoption of remote-working, the lack of dissemination of information risked wider-scale issues for ECC.
Before committing to building a service/product, it is always best-practice to generate a deep understanding of the problem that needs to be solved. ECC needed to partner with an agency that specialised in inclusive design and would, importantly, be open to working with their researchers as a blended partnership.
Cyber-Duck was more than happy to do just that. With ECC's own UX expertise and subject-matter-experts, we formed a multi-disciplinary team to tackle this issue, we conducted a 10-week Discovery. Our objectives were to:
Understand who uses the intranet and how? What do users need? Where are the current pain points?
Create a set of insights, that could drive potential solutions to be tested in an alpha phase for a more accessible and intuitive intranet experience, that works for all employees and council workers/partners
Landscape, audit and survey analysis
We kicked-off with a joint workshop between ECC and Cyber-Duck that established a shared understanding of the project goals, risks, and proto-needs of ECC's users. During this, we explored a first take on what's going well; what could be improved; and what hasn't worked well in the past for the intranet.
Our team first took the time to establish the best tools/rituals to run the project, in an agile way. We encountered initial challenges around the best meeting rhythm and access to ECC's intranet. By collaborating closely, we found workarounds to quickly solve these challenges; for example, ECC enabled screen-sharing so we could explore their existing Intranet.
We used this access to audit the ECC intranet, which consolidated our initial understanding from our early immersion workshops. This established common issues – such as 'tool overload' and 'access' to be explored further through user research.
We ran two surveys – with two branches of ECC staff – and conducted thematic analysis of 400+ responses. This raised more challenges, such as the lack of an overall 'map' of what content the intranet contained.
Final deliverable
Cyber-Duck presented a final discovery playbook to ECC Council which we had worked on in true blended collaboration with their research team. It combined data from qualitative user research alongside quantitative analysis of data from Google Analytics and HotJar to deeply understand employees' needs, with regards to the intranet.
Together, we expanded upon the brief by diagrammatically exploring the intranet not only as a core system, but how it interacted with their entire ecosystem. We drew key user journeys for each persona type.
Overall, we provided a summary of the research completed and even identified some 'quick wins' (e.g. content audit) that could be started immediately. Our discovery playbook explored and evaluated some ideas that would be taken to Alpha, for further development.
For instance, we analysed what a truly open and public information and resource platform might look like; we thought a well-structured, unified, and inclusive platform might enable knowledge-sharing with other councils, residents interested in joining the organisations, and increase employee satisfaction.
Lastly, we provided design principles for Alpha: ensuring that Discovery drove future design/development decisions. An example of this was Inclusivity: promoting equal access of information and resources to all employees, breaking down barriers that some employees currently face.
Our senior UX designer Fabiola worked closely with ECC's user researcher Narelle Ong to develop a strong business case for the alpha, which allowed ECC to secure funding for the next phase. In November 2021, Fabiola and Narelle used the experience as the basis for an inspiring talk at UCD Gathering, an event for user-centred design and research practitioners, entitled "From Tension to Trust: How to Form a Partnership That Works".
ECC wrote a fascinating blog about their experience working on the intranet discovery with us; we were pleased to find out that the "greatest benefit was the human connection we made, as a group of people working towards a common goal.
By adapting how we worked together throughout the discovery, we found ourselves better equipped to meet deadlines, to work more efficiently and deliver within budget. We also delivered comprehensive and sound research that provided a clear direction for the next phase of work, which will lead to better work-based resources for ECC employees."