HF Holidays is a leading provider of walking and activity holiday packages in the UK, with over 100 years of experience organising outdoor holidays. While HF Holidays arranges holidays in the UK and across the world for over 60,000 guests a year, they aspired to promote their trips to even more people. Cyber-Duck was chosen for our marketing expertise to help spread the word from 2017-2018.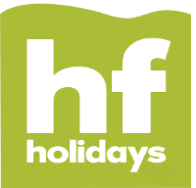 Key stats
22.7%
increase in revenue
24.8%
increase in organic traffic
13%
increase in transactions
As a provider of exceptional walking and activity holidays for over 100 years, HF Holidays is one of the UK's top holiday specialists. Their holiday packages span the entire British Isles, with 18 country houses and a range of activity holidays available. Their trips extend to the continent and beyond too.
But a selection of high-quality holiday packages alone isn't enough to succeed in this digital age. You also need to connect with users and get your services out there. That's where we came in. During 2017-18, Cyber-Duck was tasked with revolutionising HF Holidays' marketing activities in a bid to drive growth and awareness of the business.
Optimise HF Holidays' website to achieve high search engine rankings.
Create and deploy high-end and engaging social media content.
Generate growth both organically and via targeted PPC.
Utilise Google Tag Manager to tailor marketing to individuals and encourage conversions.
When it comes to marketing, Cyber-Duck's team don't just throw ideas at users to see what sticks. We test our ideas and use quantitative and qualitative methodology to determine what marketing works best for our clients.
That's the high-end service we also brought to HF Holidays: creative marketing underpinned by dedicated research. To achieve that, we needed to bring Google Tag Manager (GTM) to HF Holidays. Our in-house developers integrated GTM with HF Holidays' current website to allow for swift adjustments to tracking. In turn, this would help us tailor marketing activities to the unique needs of HF Holidays users.
But our data-driven marketing techniques aren't just limited to Google Tag Manager. Our in-house marketing team in London also test their creative ideas once formulated. This way, we not only foster creative ideas based on the preferences of users, we also test our ideas to ensure they work.
Through A/B testing, we put variations of the same marketing material in front of users to see which ones performed better. By analysing the results, we were able to further tailor the marketing output of HF Holidays to encourage greater conversions and more brand awareness.
As a user-centred agency, we prioritise the experience your users have with your brand to improve all aspects of your business. In HF Holidays' case, that meant looking at user journeys and creating a micro-moments wheel of experiences to vastly improve the overall experience users have with the brand.
By defining how users engaged with HF Holidays across all touchpoints, we could create the most engaging and relevant content for every type of user. In this way, we could help drive further growth by bringing more customers to HF Holidays. One way we did this was through social media. Through inspiring campaigns, we brought a brand users wanted to see where they're most likely to engage with it.
Growth doesn't just come from improving the first impressions users have with brands. Sometimes, the important thing is to improve how far your brand can travel. For HF Holidays, we improved the reach of their brand by optimising their website to drive organic search results for the business.
Through Search Engine Optimisation and keyword research, we vastly improved the rankings of HF Holidays and made it easier for users to find HF Holidays. To assist with awareness, we also used extensive PPC campaigns to bring HF Holidays' brand to users.
Outcomes
We enjoyed an exceptional partnership with HF Holidays across 2017-2018. During this time, we have consistently delivered exciting marketing campaigns and strategic recommendations to improve their brand awareness and drive growth.
Not only that, we have also collaborated with and worked as an extension of the HF Holidays team. We've invited HF Holidays to join us in workshops to learn the latest marketing techniques, and much more besides
It is this collaborative approach – across SEO, creative advertising, marketing technology like GTM – that enabled us to deliver a 22.7% increase in revenue, a 24.8% increase in organic traffic, and a 13% increase in transactions within just six months of working together.
Key stats
22.7%
increase in revenue
24.8%
increase in organic traffic
13%
increase in transactions