As a multi-award-winning Internet services provider based in the UK, Zen Internet has a broad range of user types across both residential and commercial clients. But with a dated website and brand strategy, Zen found that it was unable to optimally engage its users. Zen commissioned Cyber-Duck to redesign its website and define a new brand strategy.
Objectives
Founded in 1995, Zen Internet was one of the first ISPs in the UK. It is now a multi-award-winning company that provides the full range of data, voice and hosting services to commercial and residential customers throughout the country.
But in 2015, Zen Internet's website and brand weren't communicating its quality services. Its accelerated development and growth had left Zen with a one-size-fits-all website that all audience types had to engage with. But different user types have different needs – for example, commercial clients knew more technical information, whereas residential clients knew less. As a result, customer journeys were convoluted, and the performance of key pages on its website wasn't beating targets.
Zen commissioned Cyber-Duck to redesign the whole website and to improve its brand strategy. The new, unified website would improve the overall performance across key audience types. We would achieve this by: restructuring the website for optimum navigability; deploying usability improvements for key audiences; and streamlining user journeys to optimise communication at crucial moments. To inform the website redesign, we would define a new brand strategy, one that reflected the excellent offline customer experience Zen offered.
1
Conduct persona research to help define a new information architecture and website.
2
Produce a revitalised brand strategy to better reflect the quality of Zen's products and services.
3
Refine user journeys to improve Zen's conversion rate.
Strategy
Cyber-Duck's user-centred design approach has been refined and mastered since 2005. It's this strategy that we brought to the Zen Internet project. It would help us to improve the service offering and communicate key brand messages.
To kick-off, we needed to challenge the brief and get a better understanding of the business needs behind the project. We conducted stakeholder interviews and an early workshop with key stakeholders to establish sentiment and to ensure their thinking was aligned. We used this opportunity to also gather insights around brand and brand messaging, which would help us to develop the brand strategy and basis for tone of voice and written content on the site.
Despite the distances between our office and the Zen headquarters up in Rochdale, it was crucial for our team to embed ourselves within the company culture. To best portray the brand, we had to maximise the opportunity to interact with key stakeholders, including marketing managers and department heads.
Persona Research
Central to our work was the need to understand who Zen's users were, what they needed from the website, and when. By learning this and defining personas, we would improve user journeys and content strategy.
Firstly, we conducted in-depth interviews with target users to establish personas. Our persona research highlighted the habits and experiences of users, and from this we uncovered 4 core user groups:
Residential Users
Small Business Representatives
Larger Business Representatives
Channel & Wholesale Partners
Each group had varying degrees of technical knowledge, but now we knew overarching trends between each group. With these insights, we could accommodate the needs of each persona and provide different experiences within each group, from high-level, simple technical information to specific and in-depth information.
Information Architecture
Vast differences in product knowledge meant we had to overcome a huge hurdle: we had to optimally structure information to ensure all user types got the information they needed.
After card sorting and tree testing exercises, we understood that we would need to split the main website into Residential and Business sections. We could then deliver the right messages to the right people, without compromising content and language. We would also establish a common area to communicate overarching brand messaging and company ethics to everyone.
Ultimately, our improved information architecture (IA) would ensure the navigation was clear. It meant new users could understand the product proposition better and that users would find the most appropriate areas of the website. All the while, we would keep the company values and history of Zen Internet front and centre.
The new and improved IA was also crucial for content editors at Zen. It allowed them to write content that was highly targeted at a predefined audience type, rather than to write generic content across all audience types purely because of a poorly designed website.
Content Strategy and Wireframing
If the IA looked at web pages and the site architecture, the content strategy would define the key messages each page should have. We looked at what worked previously and what didn't, then began the process of outlining what info each page should hold. We established a balance between more experienced users and novices, thereby ensuring there was less friction between user experiences. Finally, we defined key SEO improvements, including meta and URL recommendations.
But all of this would be for nothing if the website itself didn't look and feel right. That's where wireframes came in. Our expert designers created wireframes, which are website designs that feature just the bare necessities. With these wireframes, we could test the core user journeys to ensure users actually got where they needed to go.
Following a gradual process of iteration, we moved from sketches to wire-frames and conducted user tests with our personas along the way. Items we were eager to test included usability, functionality, flows through the site, supporting content and tone of voice and messaging, which all contribute to a positive user and brand experience.
In particular, we wanted to test the functionality of the broadband checker. This tool allowed users to see what broadband packages they could get from Zen. If users could get this information quickly and easily, they would be more likely to convert – getting it right was paramount.
Outcomes
With a new, user-centred website design now defined, the final component of the project was branding. To reflect Zen's approachability, care for its customers and expert knowledge, we incorporated a yin-yang into the design. Then, we deliberately created a global navigation that would sit across both business and residential sites to help Zen communicate their unified brand message.
These two aspects, the new website design and brand, work in harmony to communicate the unique qualities of Zen as a business. Previously, servicing a wide range of user types from less experienced residential users to highly technical IT professionals was a problem. Now, all user types have a home that is tailored to their own needs, but they still have access to a universal navigation so they can access the full range of Zen's services.
By addressing the usability issues and smoothing user journeys through the site, the website became an informative and pleasurable experience for users. The aim was to ensure Zen provided users with all information up front and at the right moments. We delivered that, and now users can make informed decisions quickly and easily in an industry where trust is hard-earned.
Recommended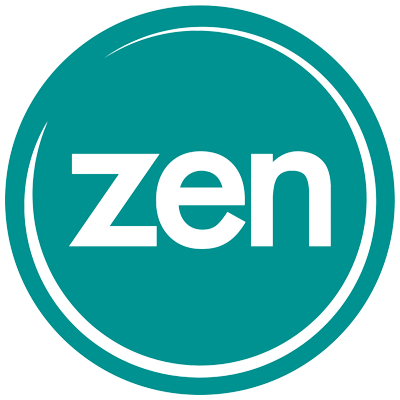 "Cyber-Duck's work helped position us as a modern and dynamic brand. The brand and the website were big changes for our company, but Cyber-Duck did an excellent job of listening and understanding our needs. We'd never been through this sort of project, but Cyber-Duck had a good approach."

Zen Internet