We've been proud to join UX London's fascinating line-up of talks and workshops for the last three years. This year's theme was 'Products, People and Platforms'. Last Friday, Danny Bluestone and I led an event for the Product stream: blending our popular 'Introduction to UCD' session with a new Internet of Things twist. Here's a recap of our workshop!
Our UX London workshop uncovered the core principles of user-centred design: revealing how this process can help build better experiences for users. Our delegates included product managers, UX designers, project managers and management consultants.
This year, our participants took on the Internet of Things (IoT) movement. We embraced the physical world by designing a web/smartphone app for an Internet connected dishwasher.
Why the Internet of Things Theme?
There's a huge variety of IoT-connected products, aside from the popular wearables (we love the Nike FuelBand). During their product launch of next-generation Bluetooth Smart beacons, Estimote coined a new term to encapsulate key utility items, which you wouldn't wear: 'nearables'.
Although IoT products have been around for a while, I believe they have taken off in the last few years. Companies are starting to understand how the 'Internet' can be applied to reinvent everyday products. For instance, the Nest smoke alarm sends you a smartphone notification if it detects an issue.
The advancement of IoT doesn't stop at improving existing products. By challenging our thinking, we can come up with entirely new product segments that are disruptive and totally blue ocean. The Amazon Dash button is a great example. It allows a user to press on a small, low-cost powered Bluetooth button to re-order items like washing up liquid. This helps them re-stock quickly, without having to use their smartphone or PC. Two years ago, ABI Research noted that:
"The year 2013 is seen by many as the year of the Internet of Everything, but it will still be many years until it reaches its full potential. The next 5 years will be pivotal in its growth and establishment as a tangible concept to the consumer."
Now is the right time to apply a robust user-centred design process to these devices, just as we already do to our screen-based websites, apps and services.
Introducing Our UX London Workshop
Danny kicked off the session with an introduction to UCD: covering benefits and limitations, along with real world examples. We looked at the importance of affordance, feedback and constraints, and how to apply Hick's and Fitt's laws to enhance user experience and usability. Our UX Companion app was a great resource to share here, for quick definitions on tricky subjects!
Then, we tackled IoT devices. We ran our groups through common examples of nearables that are in use today: from the IoT Thermostat, to the Droplet, Amazon Dash and Withing's Smart Body Analyser. Our groups were inspired by the forecast that IoT devices are projected to be the biggest group of devices by 2018: eclipsing smartphones, tablets, Smart TVs and wearables.
Exploring Smart Dishwashers
We divided our group into teams, and set a big challenge: designing an app to control a smart dishwasher. We gave them a set of constraints and features to help focus their decisions. To complete the brief, we performed a range of activities together, along with tips and takeaways to help participants apply what they'd learned to their own work. These included:
Stakeholder Interviews — identifying potential internal and external stakeholders and the questions they would like to ask during interviews, to discover more about project requirements.
Personas — establishing the end users and creating effective persona documents, to encapsulate their desires and needs.
Task Table — identifying tasks that the user will carry out in the app and rating them based on difficulty and frequency.
Flow of control — mapping out the various processes and decisions required for the tasks including on-boarding and bootstrapping.
Wireframing — taking the instructional and research documents above and creating prototypes to communicate interfaces and interactions planned, and techniques for successful participatory sketching with our clients and users.
Testing — understanding the importance of reviewing and testing prototypes early and often and getting each group to 'test' the designs on one user from another group during the workshop.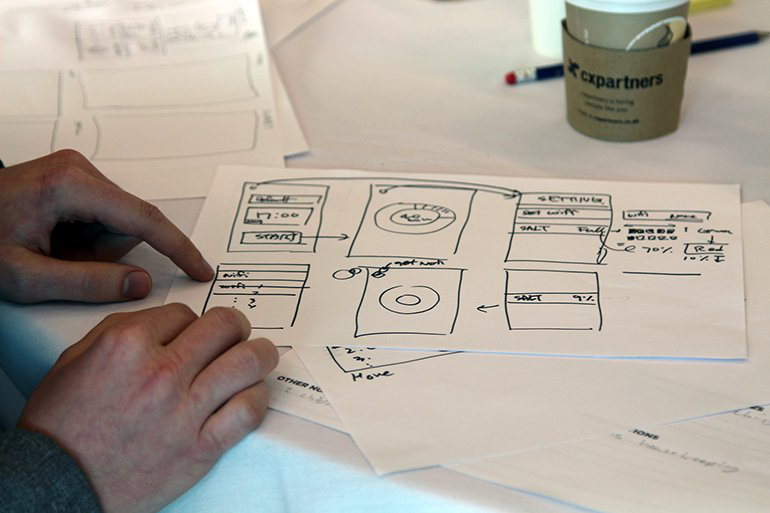 Our delegates enjoyed exploring the possible features of an internet-connected dishwasher.
Summary
The three-hour workshop was hugely successful. Our delegates had a fun experience, which felt more like a hackathon than a typical workshop session. Our groups were really engaged – they took the brief and ran with it some even toying with the idea of building the app in the real world and putting it on Kickstarter! It was great to see them applying their own use cases, based on the personas they had defined. Concepts ranged from an app focused on teaching children to use the dishwasher, to focusing on the environmental impact: prompting users to only wash when the machine is full.
We enjoyed spreading the awareness of IoT and its potential impact: we must consider how to integrate the Internet with physical objects, instead of confined to a screen. We also want to say a huge thanks to Clearleft, the fantastic organisers. Now in its seventh year, the conference never disappoints – and we're looking forward to many more in the future!
If you are interested in running a similar workshop in Europe, the Americas or Asia for your organisation or conference, please email bookings@cyber-duck.co.uk.
Our workshop slides are below: