As ever, content is king. But churning copy will never be enough. A recent brand engagement study discovered that 84% of respondents expected brands to offer content… but believed 60% is currently clutter. How can you ensure your content appeals? Our Content Optimisation Periodic Table is ready to help you!
The number of marketing tools is constantly increasing. New channels, software and technologies pop up like daisies. So, it has become increasingly popular to create (and refer to!) user-friendly checklists while creating marketing strategies. Periodic tables are clearly the most popular. They are designed to help both B2C and B2B marketers.
Just as scientists use periodic tables to quickly refer to chemicals, marketers can use theirs as a visual checklist for key tactics and that dash of inspiration. Marketing periodic tables typically highlight elements that can provoke the desired response from audiences. As new marketing channels and tools continue to emerge, these tables have been updated, edited or created to keep pace. Econsultancy's Periodic Table of Content Marketing is the best known. It visualises the key elements we need to create successful content strategies, formats, platforms, metrics and more.
Use Our Content Optimisation Table
Great content must be a key part of any marketing strategy! There's plenty of periodic table resources that delve into storytelling and story elements… but nothing to help you make the most of your content through optimisation. It can be difficult to create and optimise content, even if you have a solid strategy in place. Our new Content Optimisation table is here to help you check off key elements!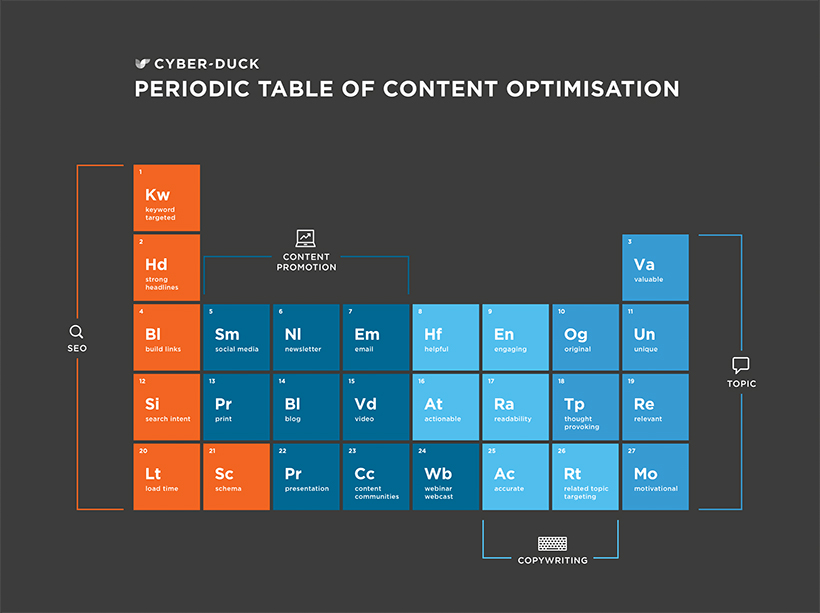 Why Are These Elements Important?
Just like the scientific version, we've divided elements into key sections: SEO, Topic, Copywriting and Content Promotion. The colours and sections aim to help you identify the 'chemicals' that matter for content optimisation. So, why have we chosen these sections?
SEO
Optimising your content for SEO is still critical. It ensures your blogs or articles can rank well for relevant search engine queries. Keyword targeting means you must use the right keywords in about 2-5% of your content. That includes your headlines, if possible! But as ever, consider the 'query behind the query' to create complete content that answers your users' needs. Read my last blog to discover how you can discover the user's intent behind keywords, and create content that answers their real questions. Schema is extremely important for this. These rich snippets mean that you can include extra information, like the publish date. Search engines will read and use these to determine how useful your content is and display to the end user.
Building links helps to get more eyes on your content by linking to it from other websites and building your reputation. Related topic targeting is one technique. It's about including keyword terms associated with the overall theme in your content, which search engines can pick up on. As they crawl your content and determine what you're writing about, including related topics means that your content will be more rounded and user focused. It's all about search intent and answering users' questions in a unique, original way.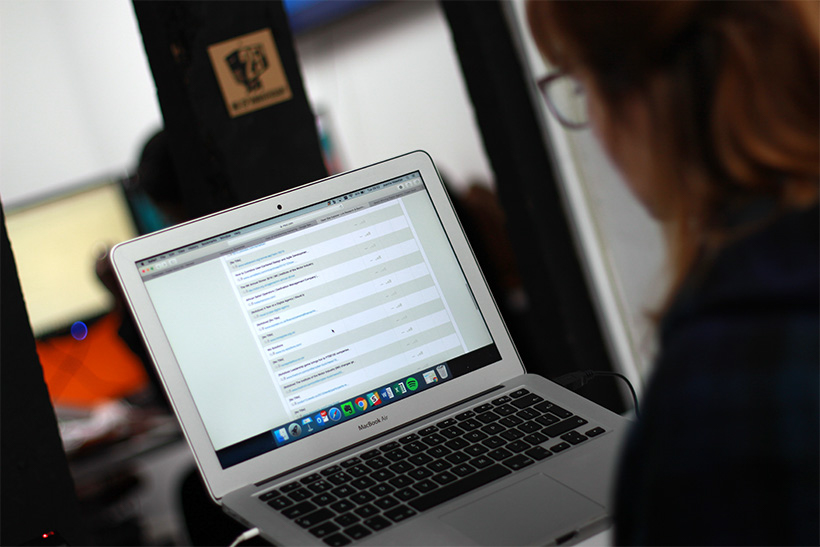 TOPIC & COPYWRITING
Technically the elements in topic and copywriting could overlap. But I have split them into two sections for ease. For topic we have: unique, relevant, thought-provoking, motivational, original and valuable. Choosing a topic is not just about answering user queries. It should also be thought-provoking and motivate the reader to come up with their own great content too.
Originality should drive everything! I don't mean it has to be completely one-of-a-kind. With the amount of content out there already, that could be extremely difficult! In this case, original means that the words, phrases and numbers are written in a way that hasn't necessarily been seen before. For more information about this, watch the Whiteboard Friday video from Moz that discusses how to write great content!
Overall, your copywriting should be engaging, accurate, well-researched, helpful and actionable. You want to hit users right in the feels with your content – and get them to share it! Users should be inspired to take action, whether that be to share it, purchase a product, contact you, etc.
PROMOTION
While content optimisation is key, don't forget about promoting your content! In our table, we've listed a few of the key channels you'll want to use to promote your content, from social media to presentations.
Blogs are something all organisations can incorporate into their website and compliments SEO (by including share buttons). Videos, webinars, and webcasts are a unique way to reach new audiences and retain audiences by creating a series. They can even be streamed live too, much like the increasingly popular Facebook & Twitter Live. Emails and newsletters are also another way to retain visitors and even connect with new audiences. By creating targeted and relevant content to share on these channels you'll ensure your audience return.
Need Help with Your Content Strategy?
We hope our Content Optimisation Periodic Table can help you visualise the elements you need to make the most of your content. Beyond occasional campaigns and sporadic SEO checks, we believe integrated digital marketing strategies are the best way to grow your business consistently.
We've helped scores of clients develop the best kind of content to appeal to their audiences. Check out our work with GB Group's CitizenSafe, a top identity verification provider on GOV.UK Verify. Our colossal brand, website and marketing strategy built awareness for their new brand, against household names – optimising content for different formats, types, and platforms for success. Get in touch if you would like to find out more.