As active members in the tech community, we get invited to a lot of meet-ups, conferences and events. There are few we enjoy as much as the Mozilla Festival, which is renowned for bringing together web developers and designers to celebrate creative ideas and innovative technical talent. Here are the important key themes which we took from the event.
Developing Web Apps for the Physical World
Through our regular participation in hackathons and coding marathons, we are well accustomed to the concept that programmes can be easily made to trigger events in the "real world". Through the use of technology like Arduino boards and Raspberry Pi, the MozFest was flooded with fun and entertaining examples of how sensors, triggers and motors in the physical world can be controlled by web based programmes and applications. Read our article about developing Arduino web apps at MozFest, where Ben and Alex from Cyber-Duck educated attendees via a workshop on examples of achieving this connection.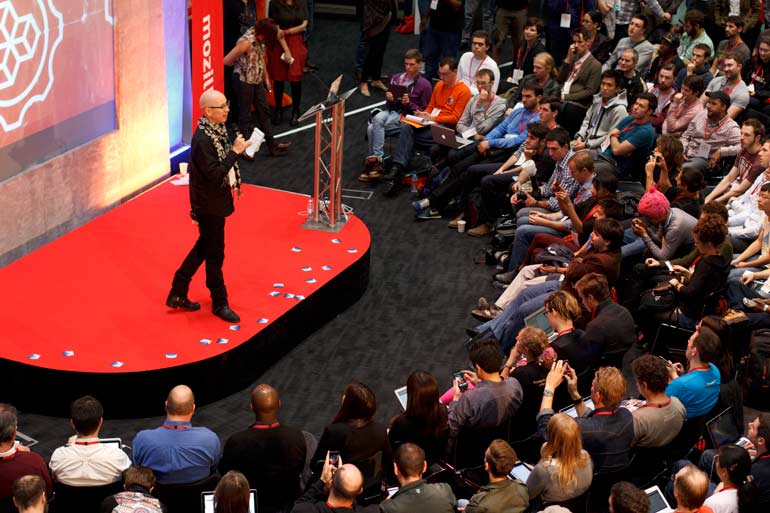 Allen Gunn spoke about the open web at MozFest.
Privacy
In light of the recent NSA files scandals, it is clear that it has become almost impossible for users to understand just how much of their information is being shared and to whom. Our biggest online service providers like Facebook and Google have reportedly given government agencies full access to our private information like browsing histories and email inboxes.
Part of MozFest was championing the movements that are underway to provide users with a clearer understanding of what networks we are exposed to when signing up to different services or logging in to different websites. If we cannot stop our data being delivered to external websites, we should at least have an idea of what exactly is being shared about us and where it is going. The best example of this was Lightbeam, a new tool developed by Mozilla (available on Firefox), which visualises the 3rd party websites who are being sent your data. This is all part of the ideology of building and creating an open web.
Teaching the Web
There is a large grass roots movement for "teaching the web" which has always been a key theme at MozFest. The festival offered up plenty of opportunities for delegates to get their hands dirty, encouraging people to learn new techniques and programming languages by actively participating in workshops, and engaging with the many interactive examples displayed.
It was encouraging to see people from all backgrounds and skillsets partaking in creative activities. This inclusive and fully educational experience definitely evoked feelings off community; we are all working together to create a better web for the future, and we are teaching the newcomers how to do it. Check out Mozilla's webmaker, the online community where you can go to learn new skills, utilising them to create programmes.
Thanks again for another marvellous year MozFest! We can't wait to see what ideas come from the festival in the coming months.