Our UX Lead, Cristina Viganò, has been chosen for the BIMA Hot 100 2019. We're delighted that a Duck has been recognised by the prestigious BIMA award every year since 2013.
Founded in 1985, the British Interactive Media Association (BIMA) represents the UK digital and tech industry. Cyber-Duck is a proud, active member; we've spoken at their breakfast briefings and enjoy teaching teenagers at their BIMA D-Day events.
The BIMA Hot 100 recognises the industry's most influential and progressive people each year, with 100 individuals selected by an independent panel of industry experts.
This year, we're happy to announce that Cristina Viganò – our UX Lead – was selected for the BIMA Hot 100 for 2019. She joins the Creatives & Designers category, which recognises those who can "combine creative originality and exceptional execution, which has seen them push boundaries… or surprise and delight clients".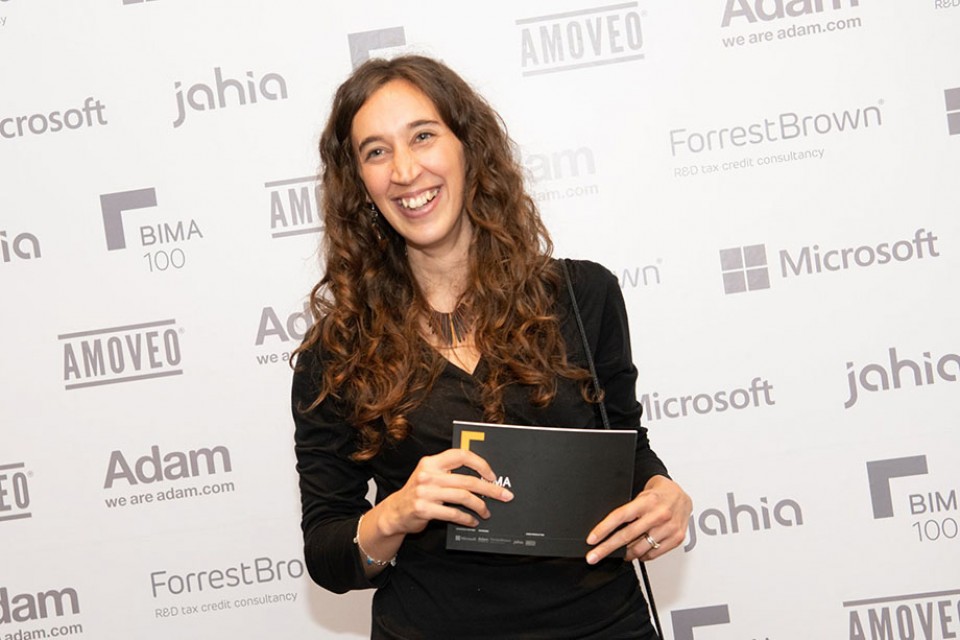 Cristina's selection means the wonderful Cyber-Duck tradition of a Duck joining the ranks every year continues. The tradition began in 2013 with our Founder & CEO, Danny Bluestone, who was selected twice, followed by Siji Onabanjo. Then our CPO, Matt Gibson, was selected in the Creatives & Designers category. Finally, Benjamin Maugain was selected in the Devs & Makers category before I joined the Rising Stars ranks in 2018. I'm so happy that Cristina's experience and dedication have now been recognised.
BIMA Hot 100: Cristina Vigano
This year, Cristina was promoted to UX Lead. Alongside Sam Hooper, she will oversee the quality of all design deliverables: defining the approach and leading the team on best practice, aiming to deliver high standards and satisfaction for clients.
Cristina has a passion and amazing capability for user research, first nurtured during her Psychology studies at the universities of Padua, Helsinki and Milan. This, combined with her fascination with the human mind, usability and human-computer interaction, allows her to create the best user experiences across platforms.
At Cyber-Duck, Cristina has contributed to critical client projects including the Financial Ombudsman Service, International SOS and Connect2Cleanrooms. She was recognised for a huge digital transformation project, which is still under wraps. Following an agile design process that she created, it involved integrating multiple systems and APIs, and conducting over 70 interviews with people from around the world.
Cristina's views on best practice for usability testing and user experience design are well regarded in the industry, and she regularly takes to the conference stage. In 2018, this included UXPA UK, Leeds Digital Festival, UX Cambridge, Ladies that UX, Lloyds Bank meetup, Coventry University, Northumbria University and careers panels at a local school. At UX Cambridge, all attendees had a scoring system; her design friction talk was ranked at 4.30/5.
I'm sure you'll join me in congratulating Cristina. If you'd like to work with our award-winning team, feel free to get in touch with us. We'd love to share our UX expertise.