We're happy to reveal that Cyber-Duck has been shortlisted for a UX UK Award for our work with dlc! Aspiring to recognise excellence in user-focused digital design, the nomination (amidst tough competition) recognises the strategy and success of mydlc, the bespoke customer payment portal launched just before last Christmas.
The User Experience (UX) UK awards celebrate brilliance in user-focused digital design, recognising agencies who take pride in offering delightful experiences for the end user. Chosen by a distinguished panel against a high standard of submissions, our work for mydlc is up there with campaigns from BBC iPlayer, Water Aid, Tesco and British Gas. Unusually, the shortlist is undivided by award category, as the judges decide the best fit for each entry. We're looking forward to the ceremony, as both finalists and winners will be announced on October 22nd.
UX UK Nomination – mydlc
As the UK's leading independent debt recovery firm, dlc needed an effective, bespoke customer payment portal where users could easily manage and pay towards their debts online. We had to meet a demanding set of criteria, covering high levels of accessibility, functionality, consistency and flow to even be considered for this award.
Before the project began, a third-party service was available for customers to make one-off payments only; confusing and tricky to navigate, the service was barely used. Launched in December 2013, we fulfilled dlc's vision of a user-friendly, personalised online payment portal, where their customers were empowered to manage and resolve their debts easily.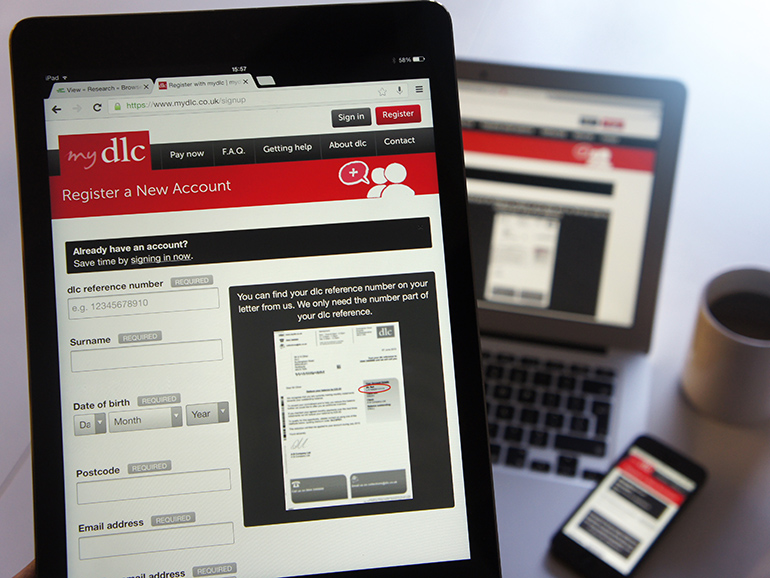 Our creation of a bespoke payment portal for mydlc is up for a UX UK Award.
Using meticulous research, their users' needs were prioritised in each design and development decision throughout the project. Offering a wide functionality, a responsive web design (RWD) was used to build the portal, ensuring it is optimised to display at its best regardless of the device used.
We even continue to work with dlc, refining the portal to meet their customers' ongoing needs. In September, a new Customer Affordability Calculator was integrated to support dlc's provision of a personalised payment or settlement plan for each individual. It captures a complex range of information including home and dependents, income and outgoings, over different timescales.
We're happy our portal has been recognised, and look forward to finding out the results.