With Christmas fast approaching, it's almost time to close the chapter on Cyber-Duck's twelfth year and to look with eager eyes to the year ahead. But we have one more trick up our sleeves before we do – How GDPR Stole Christmas!
Nobody likes to see the calendar year out with a whimper; we all want to greet the holiday season with a bang, and at Cyber-Duck we're no different. In previous years, we've created an augmented reality Christmas card while in others we've created nifty infographics to catch our clients up on what we've achieved in the year.
But this year, we thought we'd go for something slightly different. The General Data Protection Regulation (GDPR) is on its way. With 48% of businesses admitting that they hadn't made adequate preparations yet – and knowing how opaque regulations can seem – we decided our Christmas project should have an educational twist.
So let us present to you: How GDPR Stole Christmas!
GDPR Catches Santa Out
Like almost half of businesses in the UK, Santa Claus has only gone and failed to update his privacy policies and data protection processes to make sure the Grotto is GDPR compliant. And with only a few hours to go until everyone wakes up on Christmas morning expecting to see full stockings, Santa's frantically trying to get things up to scratch.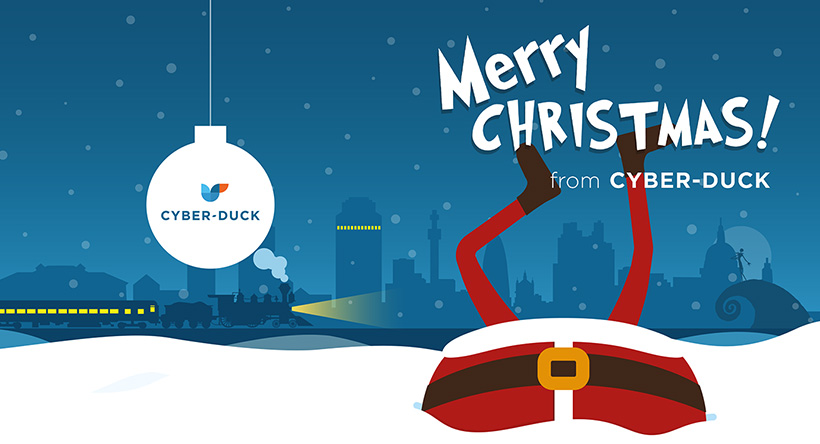 But becoming GDPR compliant isn't something you can do at the drop of a hat. In fact, the whole process is fairly complex, with lots of small print that you have to account for. Santa is lacking in a number of areas, but all isn't lost: Cyber-Duck is here to help!
Through data minimisation issues to data storage woes, we break down where Santa's Grotto isn't GDPR compliant and why.
Will Santa Make It?
Not only that, we're also here to recommend innovative ways for Santa to become GDPR compliant, too. As you journey through the Grotto, you'll discover how Santa has breached the GDPR and how he can rectify the issues.
Our recommendations are based in hard-earned experience – before assessing Santa's data protection processes, we painstakingly reviewed our own! We're now beavering away making our new website GDPR compliant, but it's meant we can help Santa, too. In a race against time, together we'll help Santa get his sleigh in order so we can all have a merry Christmas after all.
Need Help with GDPR?
Ensuring your organisation is GDPR compliant ahead of its enforcement in May 2018 is no easy task. Not only do you need to ensure your policies and processes are in line with the new legislation, you also need to ensure you haven't compromised the quality of your platform's user experience either.
You can find out more about Santa's adventures with the GDPR here. But for more in-depth GDPR insights, we also have a general overview of the new legislation and how changes to acquiring consent relates to user experience design.
But you don't have to stop there – our friendly team is also happy to help with whatever GDPR and UX needs you may have. Contact us today to see how we could help your organisation.