We are enthusiastic supporters of Wirehive 100! They celebrate the wealth of digital talent based in the South of England, beyond the capital. Last year, we built the Wirehive 100 Agency Finder… but it's even bigger (and better!) for 2016.
Wirehive 100 celebrates the outstanding agencies based in the South of England, outside London. Their League Table and Awards scheme scrutinise and reward agencies' finances, projects and people! Combined, it's a great resource for organisations looking for great agencies in their region.
At Cyber-Duck, we share similar values with Wirehive, the innovative hosting provider. So last year, we designed, developed and launched the Wirehive 100 Agency Finder. This innovative map can help you discover talented agencies – but this year, we had some changes in store.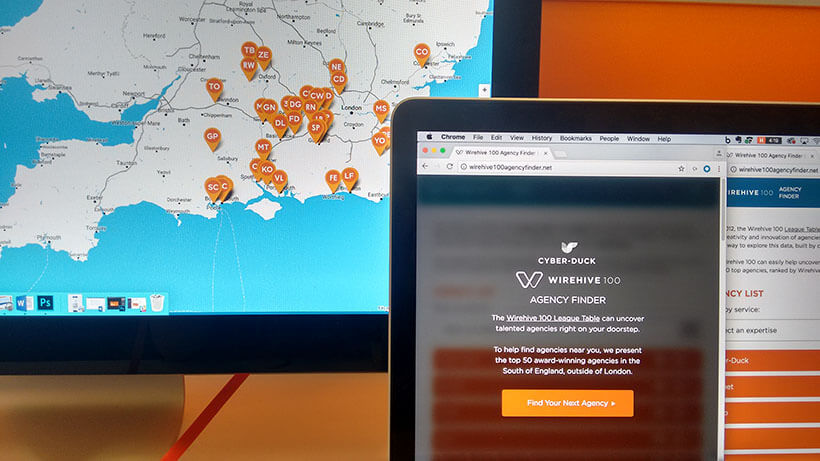 Explore Our Wirehive 100 Agency Finder
The Agency Finder is bigger and better for 2016 – take a look! Now it shows off the top FIFTY companies from the 2016 League Table, along with Wirehive's shiny new branding.
You can roam across the UK and hit an agency's pin to learn more about the top talent right on your doorstep. Each agency's profile displays what they offer and their history of award wins and nominations from Wirehive 100.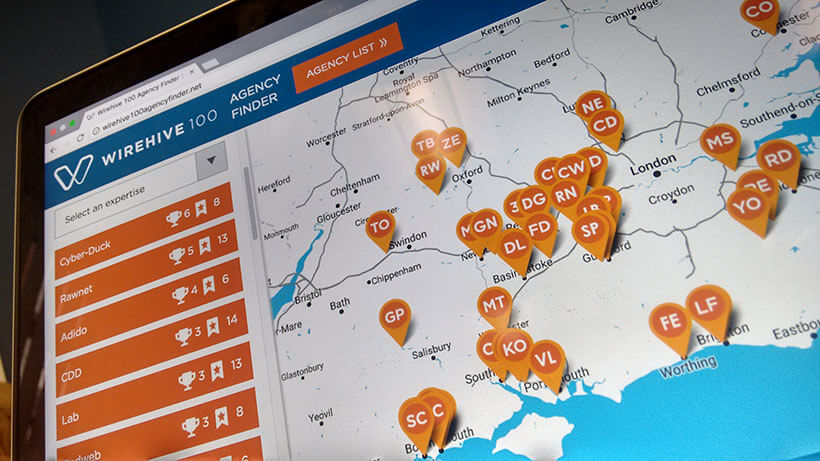 Alongside this, the sidebar displays agencies ordered by their wins since 2012! Take a look at the starry winners from this year's edition at the stunning Mercedes-Benz World. There's even a filter that can narrow down what you're looking for – from web development to marketing and more…
Showing Off Southern Success
At Cyber-Duck, we have been enthusiastic supporters (and frequent winners!) of the Wirehive 100 Awards right from the start.
This year, we celebrated winning two awards! Our epic UX Companion took the Best Agency Marketing crown and our Technical Project Manager, Benjamin was hailed as the Techie of the Year.
So why did we build the Agency Finder? As ever, we're big fans of R&D and hackathons. It's a fun creative outlet, ready to explore new tech, ideas and approaches. Sharing the same philosophy as Wirehive, we wanted to shape their data. By creating a clean map interface and filters, we could craft a more user-friendly experience for curious companies looking for their next digital partner.
Are you on the hunt for an award-winning agency with a dash of innovation to your web project? Contact us today!