Matt Gibson will be featured on tonight's episode of Watchdog on BBC One. Cyber-Duck was asked to help the program to review shopping websites which may confuse some users into paying for more than they bargained for.
The BBC Watchdog show is renowned for being the voice of consumers and helping big brands improve their services. They were looking into online shops who reportedly add extra items to customers' shopping baskets in the checkout process. To aid their report, the show called on our expertise in web design standards and best practices. As advocates of providing a fair and enjoyable user experience on the web, we were happy to help.
We welcomed the Watchdog crew to our offices and even rolled out the eye tracker. We tested some of the websites in question with TV presenter and Paralympic gold medalist, Giles Long. This meant we could see how he naturally reacted to the checkout processes, particularly when additional items were included in his shopping basket.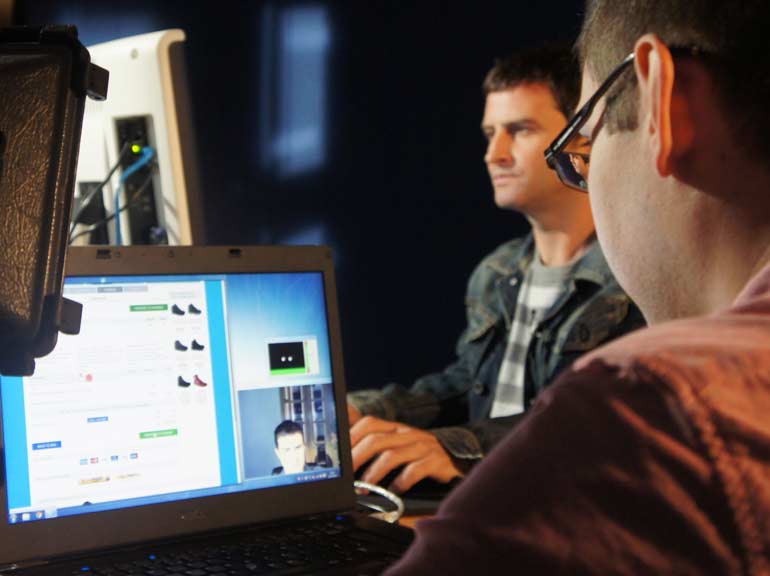 Matt runs Giles through an eye tracking test.
The eye tracker testing allowed us to see how Giles' eyes reacted to the different layouts and messages on the webpages. Due to the nature of the testing it would be impossible to offer fully conclusive, scientific results, as this would require far more testing and research. However we did come across some intriguing discoveries.
If you missed last night's show, you can catch up on the BBC iPlayer. We urge you to watch the whole show, but should you want to skip to the best bit you will find our report at exactly 18 minutes in.