The BIMA Digital Day is a national event where the UK's top digital agencies mentor kids in schools. Cyber-Duck, a Hertfordshire digital agency guided Bushey Meads kids through a native app design project. Craig recounts the day he went back to school.
The purpose of BIMA D-Day is to give secondary school pupils an introduction to the digital industry, highlighting the many varied career paths that are available. The digital industry is one of the fastest growing in the UK and it is set to only continue growing, however venturing into these careers are rarely pushed or encouraged in schools. I (Craig Gardner) took the opportunity to pair with my old school, Bushey Meads in Hertfordshire. I went back to school taking one of our web developers, Benjamin, with me.
To get going, Benjamin and I introduced ourselves and told our story, from our education history to our career journeys so far. We spoke about our current job roles and showcased some of Cyber-Duck's projects. After the introduction, we assigned various pre-set challenges to the kids, mainly focused around app design. The pupils started by generating ideas for the concepts, then moved over to paper sketches and brand creation. After the youngsters produced some high level page sketches, they were encouraged to move onto interface design using Photoshop.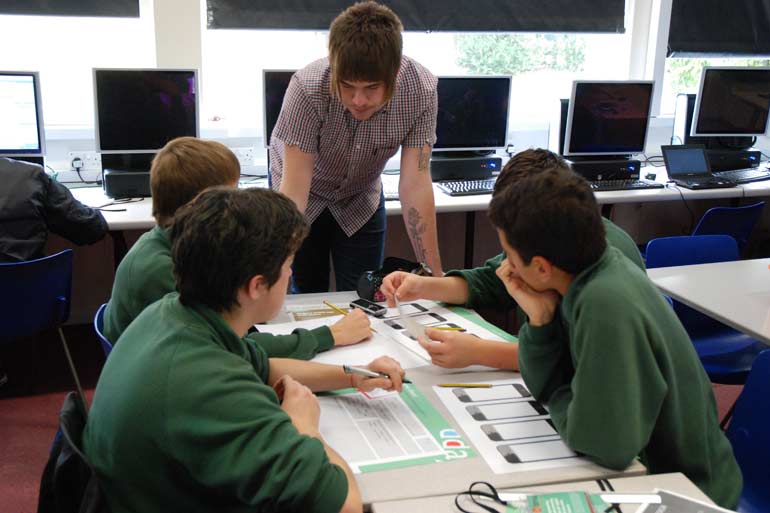 Craig mentors the future designers at Bushey MeadsWe were very impressed with the ideas and work they produced, the execution was also impressive for such a young age group. The Bushey Meads students reacted really well to the tasks that were assigned to them and they quickly learnt about methods and tools that they were previously not familiar with and effectively reacted to comments and feedback.
The day was a fantastic success, and as a result, Cyber-Duck will be taking on one of the students for work experience during half term. Jamie will be working on some internal research and development projects, with the help and guidance of the Cyber-Duck team. By the end of his time here, we will hope to have given him some real life experience of what working in a digital agency is all about!