Last month, Cyber-Duck were involved with Talk UX, a brand new conference exploring new user experience concepts and ideas: from accessibility and design, to the digital afterlife. I travelled to Manchester for the event and left feeling inspired. I've summarised the main themes within this article.
Sponsored by Cyber-Duck and created by Georgie Bottomley and Lizzie Dyson, the co-founders of the popular Ladies that UX network, Talk UX aimed to become an 'open space, to meet, learn and collaborate within UX' – and they definitely met this goal. The stand-up comedy sections definitely helped boost the chatty mood of the audience! Since then, I've organised the main ideas and theories I learned into four general themes: designing for data, people, devices and change. Here are my highlights.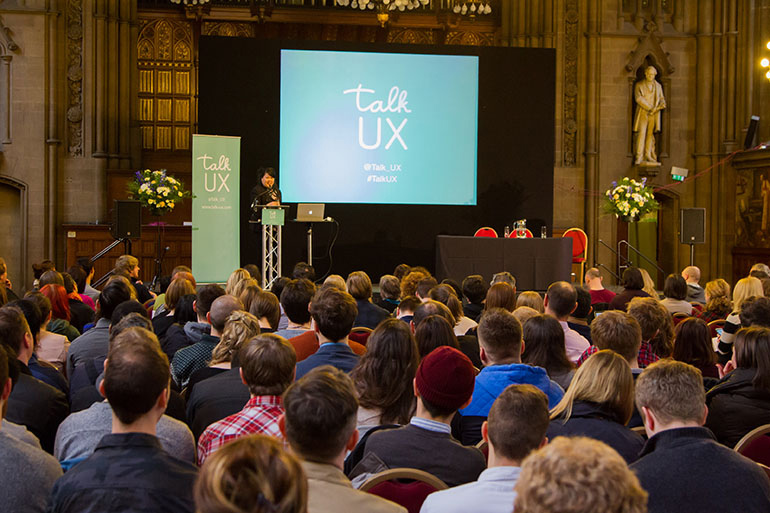 Design for Data
A few of the speakers discussed the tricky challenge of how best to present data. Emily Heath gave a great talk about using cards to display data in a consistent, recognisable way. She defined 'cards' as a piece of portable, snackable micro-content, to achieve a user-friendly data display. Tinder's cards are a great example: they present essential information and allow users to easily swipe on to their next match.
Hannah Tempest gave some hints about how to handle more complex data structures; involve developers early in the creative process, and take their input into account. Start by mapping the user journey, creating the information architecture and defining what information we are able to pull from APIs. Facilitate these user journeys by pre-populating the content you have from the start, such as getting the users' location from their device's GPS. Finally, challenge the layout by asking developers to provide real data for the best and worst case scenarios (e.g. what are the longest and the shortest labels for a certain field?).
I also enjoyed Andy Parker's talk, revealing how to use 'microformats' for contact details and increase accessibility for both users and search engines.
Design for People
As designers, we are always creating products for people – so must consider accessibility. But, this doesn't mean 'designing for disabilities'. Instead, aim to design for as many people as possible. Rebecca Topps and Elizabeth Chesters gave me a few brilliant ideas about how to achieve this:
Ensure designs can answer the needs of all, by recruiting diverse participants for usability testing and including them in personas
Optimise visual affordance by using high colour contrast and clear visual hierarchy. Improve readability and make error messages meaningful, by providing users with clear explanation of what went wrong and how to fix it.
Use tools to aid and assess your work, from Colour Contrast Analyser and Pa11y to Hemingway.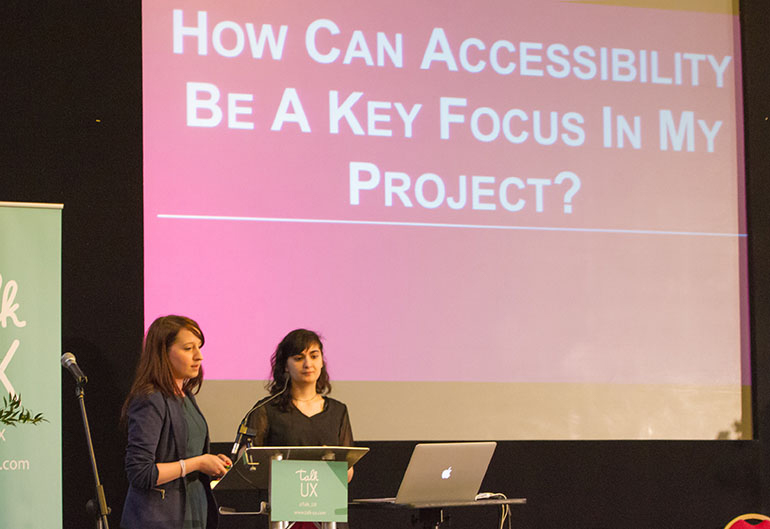 Design for Devices
Devices are one of the main constraints designers must consider. Yvonne Caravia highlighted how users expect the same experience of a product or service, no matter what device they are using for access. For example, users must find all the features available for a desktop or tablet version of an app, when accessing from a phone. Our goal is to make the experience as similar as possible by offering the same content and features.
Virtual reality is a new exciting medium, which offers users a hyper immersive emotional experience. Cyriele Piancastelli and Laura Cortes focused on this topic in their talk. When designing for VR, we can borrow some of the rules used in the first shooting videogames, by showing an avatar for instance. Being able to see part of our own body in the VR can increase realism. But, it must be perfectly synchronized to the user's movement; if not, it will increase the risk of cyber sickness.
Design for Change
The role of a designer should not purely focus on deliverables: from wireframes to graphic design, or even the final website or tool we were asked to produce. On the contrary, our role implies a wider vision, as Lauren Currie underlined in her beautifully inspiring talk. She talked about how we designers are 'guilty by association' every time we limit our skills to the label we give ourselves: web designer, interior designer, UX designer, etc.
Too often, we stick to the role picked for us, and forget that we can and should do much more by going beyond the boundaries. As designers, our primary and most important role is to fix people's problems, whatever they are and no matter what the solution implies. If we don't want to be 'guilty by association', we also need to write more, show our work, think bigger – don't complain, but fix.
Along the theme of using design to affect change, another interesting talk by Alberta Soranzo discussed the eternal digital afterlife. Although some progress was recently made, social media websites currently don't give us much choice about what will happen to our digital identities after we pass away – and when they do, it isn't easy. As designers, we should force ourselves to make an effort to design not only for beginnings, but also for ends. Most importantly, we should also design for choice. After all, people have the right to pursue freedom in their digital realities.
Summary
Talk UX was a brilliant conference that touched on wide variety of fascinating topics and trends in UX. Along with the main speakers, I also enjoyed the 300 second talks, which challenged up-and-coming speakers to cover a specific topic in a short amount of time. If you'd like to watch any of the sessions, TalkUX has now shared all the videos on YouTube.
Above all, the conference reminded me of how exciting being a designer is. Our job is extremely varied, and we can make a huge difference to whatever new challenge we decide to face. I'm definitely looking forward to returning for Talk UX 2016 already!