The best brands are flexible: letting their assets breathe, enriched with fun, rich content and experiences. Our latest R&D project invites you to put your own stamp on our classic Cyber-Duck. Hack our logo – switch the colours from our web app and send to our Farringdon window, right from your smartphone.
2015 was a big year for Cyber-Duck. Our agency turned 10 years old, Craig grew a beard, and we launched our new brand identity. As much as we all admire Craig's facial locks, it's that last one that has been particularly exciting for everyone at Cyber-Duck.
Seeing our new branding take shape across different forms has been a really rewarding experience; whether it's building a version of our logo purely in CSS; the moment our wonderful new signage was nailed on both offices; or even blowing out 10th birthday candles from a delicious logo-shaped cake.
Bringing Brands to Life
But the thing with branding is, once it's been rolled out, initial excitement and pride begins to fade. Signage becomes part of the furniture; on the web, logos are yet another avatar. That doesn't mean businesses like ours don't love our brands – we absolutely do! – but it's inevitable for familiarity to replace the creative thrill of novelty. This is where brand activation comes in.
The best brands are flexible: letting their assets breathe, constantly reinvigorated by offering content and experiences that encourage participation and emotional engagement. That's why I've always been a massive fan of Google's doodles. Almost every day, they find playful, inventive ways to adapt their logo, commemorating everything from national holidays to key historical events.
The fact that a company as large as Google aren't precious about a single form of their branding, but keep it fresh and interactive is pretty inspiring, to me at least.
Come & Hack Our Logo
That's where the idea to hack our logo came from. We wanted everyone to have fun with our logo as a physical object: enticing passerby and our office visitors to interact and control our logo themselves.
So we've turned our duck into a window light installation: each section is lit with different colours, powered by Philips Hue light bulbs. By designing and developing a web app (that integrates with Philips' API), anyone can control the light logo's colours right from their mobile browser.
Now we're inviting you to put your own stamp on our classic Cyber-Duck! A super-sized light version of our duck logo now graces the windows of our Farringdon office; facing down Cowcross Street, a busy commuter (and lunchtime) hive of activity.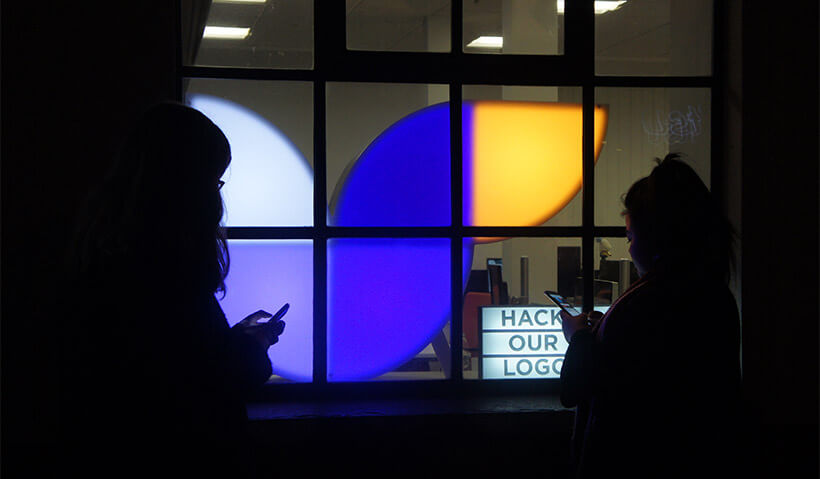 WHY PUT THAT DUCK IN OUR WINDOW?
Day or night, walk past our Farringdon office today and hack our logo display:
Using your smartphone, visit cybrd.uk/logo-hack in your web browser
Tap sections of our logo to switch the colours
Name your duck, and send it straight to our window
Your creation will be up there – in lights!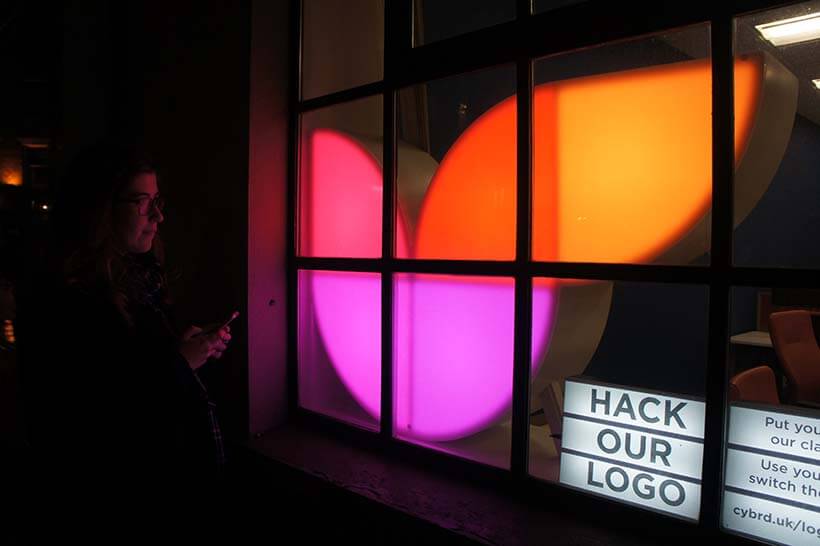 We'd love to see your hack of our classic logo – share a #ducklight photo with us @cyberduck_uk.
Looking Ahead: Brand Activation
Brand activation campaigns spark awareness by bringing brands to life, across channels: building real engagement and encouraging action from customers. The most memorable way to go is offering an interactive experience that resonates with their values or personality.
Aside from playing with our logo, brand activation examples include Carlsberg's #ProbablyTheBest Poster in the World – dispensing free drinks instead of messaging – and a dog named Barley following Battersea Dogs' Home leaflet holders through Out of Home advert screens in Westfield Stratford.
There's so much potential for this kind of playfulness and interactivity in branding. Turning your brand from a one-way transmission into a two-way conversation that actually involves your customers and users can be incredibly valuable for your business. Get in touch with us today to hear more about brand activation, and ensure your business resonates with your customers.