Born out of Cyber-Duck founder and CEO Danny Bluestone's desire to help his elderly neighbour, Jim, we're excited to showcase our proof of concept of a social care assistant, Jim.Care. Using Amazon Alexa, Jim.Care bridges the gaps in social care by providing the elderly and disabled with an intuitive way to get in touch with their families or carers in an emergency.
A founding principle of Cyber-Duck is our commitment to R&D. For years now, our annual hackathons have been a wellspring of innovation. It's at our hackathons that we created UX Companion, the Wirehive 100 nominated BlockAid concept and several other high-quality products.
Now, it's with great pleasure that we announce our latest R&D project, exploring the user experience and technology of a conversational UI (user interface). Jim.Care is a proof of concept that serves as a social care assistant so you can be there for your loved ones. It's a great example of the potential of technology in health and social care. Here, we'll run you through what Jim.Care is and the problems it could solve.
Why do we need Jim.Care?
We live in a time of heightened economic and political uncertainty during which we are failing to meet the demands of an ageing population. Sadly, the social care crisis bubbling away is both underreported and an ever-growing risk to our society. Every year, 3.4 million elderly people suffer falls that are potentially life-threatening. With Age UK reporting that over two million aged over 75 live alone, and the population of over 65s set to increase from 18% in 2016 to 23.9% by 2036, the risk that more elderly people will suffer in silence is increasing fast.
However, technology may provide us with the solutions we need to provide the elderly and disabled with the care they need so badly. That's because care workers alone can't provide the level of care our ageing population needs and deserves. (In the event of a no-deal Brexit, this would be even more true: social care already has a high turnover and has difficulty recruiting enough people to meet demand, but without freedom of movement estimates suggest there would be 115,000 fewer care workers by 2026.)
Using emerging technology in health and social care could be the missing link. With the rise of conversational UI and the greater adoption of voice assistants like Google Home and Amazon Alexa into our homes, we can bridge the gap in care.
We developed Jim.Care to act as an assistant to carers and the elderly or disabled people they look after.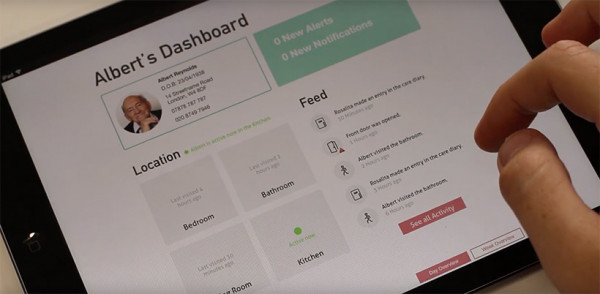 How does Jim.Care work?
Jim.Care is designed to work with Amazon Alexa, Amazon Dash Buttons and PIR sensors to help you keep in touch with your loved ones and those you care for. The separate devices are all connected by an API layer that we developed, which has the potential to be extended in the future to accommodate more devices.
You can see Jim.Care in action below, as well as hearing a little more about why we built Jim.Care from Cyber-Duck Founder and CEO, Danny Bluestone.
Users place Amazon Echo devices in the home of who we call the helpee (the elderly or disabled person in need of care) and then place dash buttons around the room. You can also give a helpee a dash button to wear, just in case they can't reach a button. In an emergency, helpees can use Alexa to call their helpers through a dedicated Skill. The dash buttons, meanwhile, use the web portal API to send an SMS directly to carers.
The PIR sensors add an extra function. These are motion sensors that connect to the Wi-Fi network and use a particle photon chipset to detect movement in the room. All movement is then recorded for the helper to see in Jim.Care's dedicated web application, which brings me on nicely to how carers can view records.
Jim.Care has an intuitive web application which carers will use to check in on the helpee. This dashboard will show whether there is still movement in the home, or if an alert has been triggered. It can then send push notifications to carers in an emergency; for instance, if the helpee has fallen over.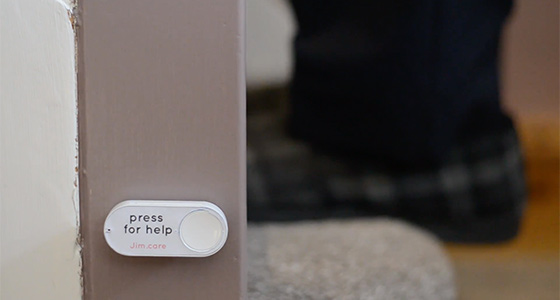 The great thing here is that you can personalise the application to meet your needs. If you know the helpee isn't going to leave their home on a given day, you would expect there to be plenty of movement during daylight hours. It would, therefore, be odd if Jim.Care didn't detect movement for say two hours. You could ask Jim.Care to trigger an SMS alert if no movement occurs for 120 minutes, prompting you to call or drop by to check the helpee is okay. Any anomaly would result in an alert – better to be safe than sorry.
There's so much more we can do with Jim.Care, but this proof of concept is a great demonstration of the potential of technology in health and social care. We're proud of what we have created so far.
What's next for Jim.Care?
Cyber-Duck is all about research and development. It is because of our strong R&D work ethic that we're able to deliver world-class digital products to our clients.
But we find it fulfilling to give back to the community and to try to make our society a better place. We believe that Jim.Care has the potential to do exactly that.
Ultimately, we believe that Jim.Care – currently just a proof of concept rather than available to the public – could play a major role in solving the social care crisis. It could work as part of what Age UK calls a 'coherent and joined up vision of a society in which older people are able to fully participate, avoiding life-limiting disability and isolation.'
Jim.Care could prove a vital element that stitches our social fabric back together by giving the elderly and disabled the confidence to live full lives on their own, knowing that their loved ones and carers are within touching distance should they need them.
We have already had some interest in our latest R&D project, but we want to know what you think – can a product like Jim.Care help to alleviate some of the strain on our ailing social care system? We believe it can be the helping hand we all need.
To learn more about Cyber-Duck's R&D, our UX design or digital transformation services, be sure to contact us today.