ComScore's forecast reveals that voice could take over half of searches by 2020. With Amazon Echo at the top of so many Christmas lists, we're well on our way. Not one to disappoint, we've made our popular UX Companion app into an Amazon Alexa skill. Download it today for your Amazon Echo, Dot, Tap, or any Alexa-enabled device!
UX Companion is our handy glossary app of user experience (UX) concepts and tools. Originally launched in Autumn 2014, we've continued to add two articles a month and support our community with new features. The campaign has won two Wirehive 100 and UK Agency Awards for our ingenuity, design and marketing.
We've seen incredible growth over 2016, reaching over 44,000 total downloads across iOS and Android. More people are using the app the ever before. So where do we go from here? Are there other ways to use and experience UX Companion?
Our New Amazon Alexa Skill
We think so. During our annual Quack Hack, we built a rough and ready version of UX Companion to be used with Amazon Alexa! Alexa is an intelligent personal assistant built by Amazon that is capable of voice interaction. It's most commonly accessed through Amazon's range of Echo devices. But, it's also available in app form through iOS and Android.
Using Alexa is as simple as asking a question. "Alexa, what is the time?" will prompt a verbal response from Alexa staying the time. This is what sparked our idea. Instead of searching through the UX Companion app for a term why couldn't you just ask and have Alexa tell you all about a term?
Get started by downloading our UX Companion skill for Amazon Alexa.
Once enabled, begin using the app by asking: "Alexa, open UX Companion". Then, get asking about that mysterious jargon:
"What is user experience?"
"Can you define cognitive load?"
"Tell me about eye tracking."
Our UX Companion website has the entire 80+ article list and links to download for iOS and Android.
Why Amazon Alexa?
Speed is a clear advantage. Rather than opening the app on your device and searching or scrolling the glossary for a term and reading through it, you can simply ask your question, hands free, within proximity of the Alexa-enabled device. You can carry on with a task while listening to Alexa tell you all about it.
Another advantage is the verbal response. We have users from all over the globe who speak a wide variety of languages. A verbal response could be easier to understand and could help alleviate concerns around the pronunciation of certain names or words.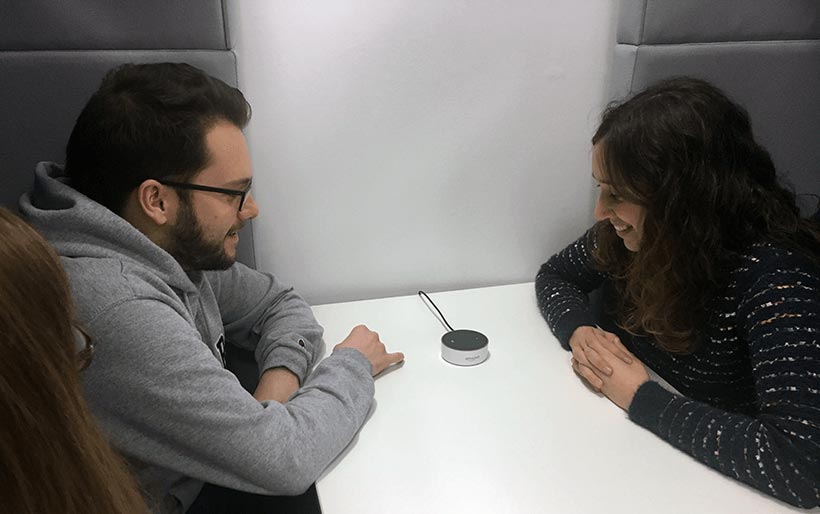 How Did We Build It?
As with every new technology, we have to adapt. Alexa was no different. While our articles are expertly written, they are created to be read by humans, not a computer! We had to run through every glossary term, analysing the way Alexa spoke about it, making tweaks where a word or phrase didn't sound quite right.
On the other side, we also had to ensure terms could be understood from the user. We programmed alternatives that to catch terms that may be spoken differently but mean the same. For example, "User Experience" and "UX" will trigger the User Experience terminology. This is something we're actively improving as we discover alternative phrases for each term.
What's Next?
ComScore predicts that half of all users' searches could be voice by 2020. Content is already king within our marketing strategies – but your business must adapt content, offering conversational copy that answers specific questions.
While Amazon Alexa is still new and captivating audiences, it's the perfect opportunity to stand out with a robust, creative skill for your business. Get in touch to find out how we could collaborate.