Cyber-Duck's latest Digital Pond event was held in London last night and featured charismatic guest speaker Kevin Allen who divulged his secrets into what makes a successful business pitch.
The evening attracted a wide variety of entrepreneurs, CEOs, managers and tech enthusiasts who were all looking for some great advice from the man coined the "Billion Dollar Man" for his success in a variety of international advertising campaigns, which includes Rudy Giuliani's run for Mayor of New York and the Mastercard "Priceless" campaign among others.
Kevin's talk, titled The Hidden Agenda, demonstrated how not to persuade - but to compel people to follow you. Kevin demonstrated how to win an account, convince an investor, sell a vision to a board of directors and how to ensure you get you pitch correct 'almost' every time.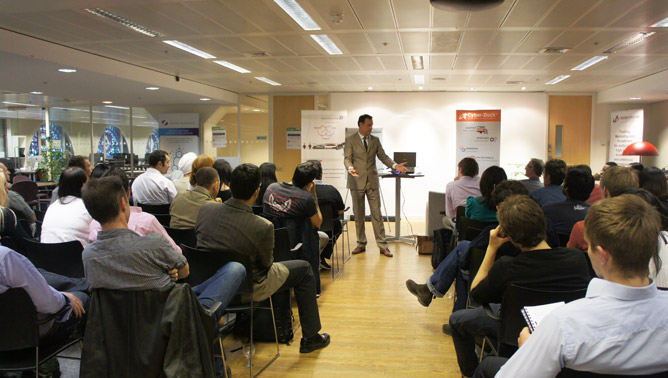 During his presentation, Kevin spoke in depth about how the MasterCard "priceless" campaign became such a success and how he had to appeal to their directors' hidden agenda (sense of need) in order to sell his vision to them. Kevin also spoke about how you need to share the same values as the client you are seeking and how you should look to interact with them on a personal level.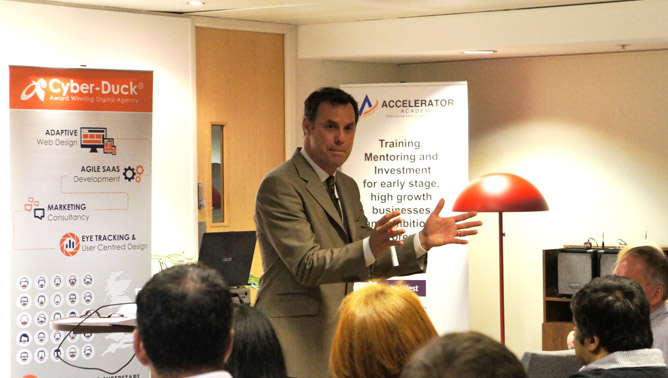 The event was also a great chance to network with like-minded business professionals who all enjoyed the free refreshments and laid back atmosphere from the comfort of Cyber-Duck's London based shuttle office; The Innovation Warehouse.
Siji Onabanjo, Cyber-Duck's Strategy Manager said, "We had over 100 of the UK's most exciting entrepreneurs and established business owners register for the event looking to learn and be inspired. Kevin Allen did not disappoint. Having previously met Mr Allen, I knew of his tremendous talent and ability to captivate an audience with his message. It was another great Digital Pond evening and we welcome the challenge of orchestrating yet another fantastic event next time."
If you were unfortunate enough to miss the event then follow Cyber-Duck on Facebook or Twitter and be one of the first to see footage from what was a highly entertaining and inspiring presentation. We would also like to thank the Innovation Warehouse for supporting us with hosting the event and a special thanks to the Innovation Bureau who helped sponsor it.
Plans are already in place for our next meetup which will have a marketing theme. Make sure you stay tuned to the Cyber-Duck blog , Digital Pond Twitter and Digital Pond Meetup group for further information!