The Hertsmere Dragons' Apprentice Challenge kicked off last week. Our CTO, Sylvain and New Business Manager, Tom were invited to become dragons! Drawing on their digital and business experience, they will support teams of local students. Each has just 6 months to turn £100 of seed capital into £1000 or more for local charities.
The Dragons' Apprentice Challenge is a fantastic scheme that brings education, business and not for profit together to benefit all. Since 2009, over £350,000 has been raised by 1,600 young people for charities based across Hertfordshire. Not only that, the scheme offers students the opportunity to apply their entrepreneurial skills in a real world environment.
We love supporting the local community and young, aspiring entrepreneurs – so we were delighted to get involved with our local branch in Hertsmere. Our CTO, Sylvain and our New Business Manager, Tom have become dragons! At the launch event last week, the student teams were formed, charities announced and dragons assigned.
Commenting on the challenge, Sylvain said "I am honoured to be able to share my business experience with students for a great cause. The local charities are doing an amazing job and we will work hard to raise money for them"
As dragons, Tom and Sylvain will offer their advice and resources to their teams over the next 6 months. They will meet the students again soon, as their first task is to help them choose a business idea.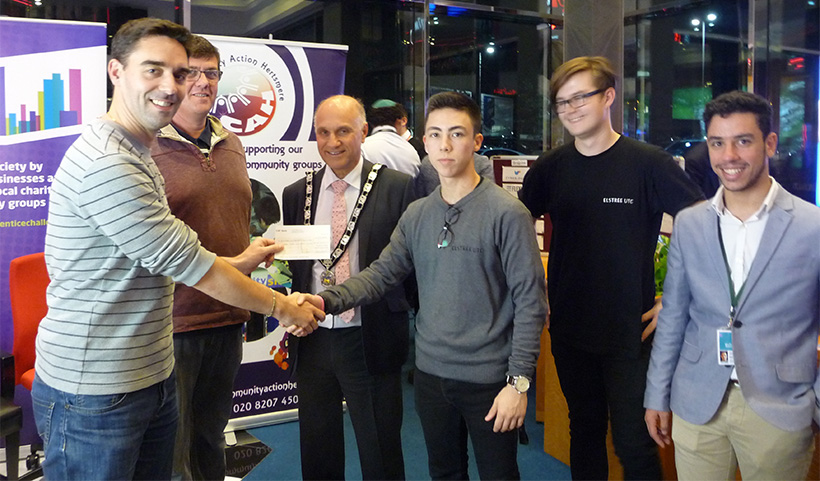 The teams are made up of 6th form students from Hertsmere and North London. They will use their entrepreneurial skills and enthusiasm to develop business ideas, plans and run small businesses. The aim is to turn the £100 seed money into at least £1000.
All of the profits will be donated to local charities. Our local charities are Borehamwood Foodbank, Carers in Hertfordshire, Goods for Good, Home Start Watford and 3 Rivers and Hertfordshire Domestic Violence Helpline. Goods for Good is particularly close to our heart, as we recently launched their website!
We wish all the teams the best of luck over the next 6 months. The Challenge Awards will be announced on the 29th of March, 2017 – chosen by 3 super dragons.