Cyber-Duck's team came together to create six fantastic products in one weekend in the 2013 internal R&D weekend (Hackathon). The 18 Ducks devoted a weekend of hard-work to achieve some ambitious projects and display their areas of expertise.
Cyber-Duck hosted their annual internal Hackathon on 27-28th July 2013. The Ducks pulled together their extensive range of expert skills to create five apps and a tweeting cuckoo clock in less than 48 hours. It was a weekend of BBQs, energy drinks and nerf guns along with long hours of coding and designing in order to deliver the innovative (and ambitious) projects that were planned.
Each team faced challenges along the way and worked together to draw on each participant's skill set. As well as being a great learning opportunity for all, it gave all the departments a chance to come together and work directly with each other, strengthening the bond here in the office!
Check out each of the 6 projects:
Cuckoo Quack - the modification of an antique cuckoo clock into an office notification system.
iRequire - a project management tool for organising client retainer time, budget and messages.
Homeworker - an app to enable greater transparency and organisation of homework tasks.
Floodgate - an error message centre to collate all website error notifications for developers.
üBus - a bus tracking tool to enable users to effectively manage their time and plan their journeys.
Pondero - an online portal holding all our branding guidelines and document templates.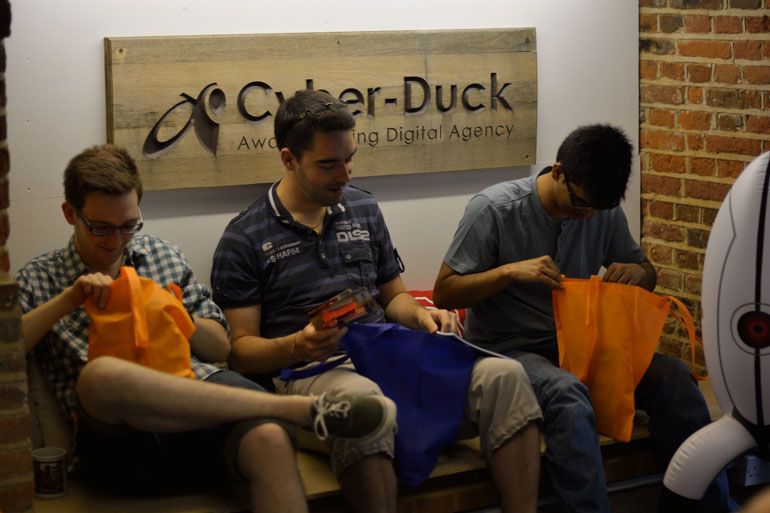 Live updates from the hackathon weekend can be found on the Quack Hack blog. To find out more about Cyber-Duck's previous innovative R&D projects, visit the Ducklabs.