BIMA's annual Digital Day event (D-Day for short) is a nationwide initiative that links schools with creative professionals from across the UK. For the second year running Cyber-Duck helped students from Bushey Meads School develop their concepts for apps and Internet of Things projects.
The UK's digital industry is growing very quickly and there is continuous need for new skills. BIMA D-Day encourages young people to consider a career in technology by putting them in direct contact with mentors who have already carved out a successful career in the industry. With the support of the mentors, students are given just hours to complete a challenge; to come up with an idea and some accompanying designs for one of the preset briefs spanning digital design, mobile and social media. At the end of the day, the participating schools submit their work and the winning project is acknowledged with a prestigious BIMA award.
After hearing about last year's success, I (Cristina, UX Designer) decided to take part and help the students of Bushey Meads School with Craig, our Production Lead.
We started the day with a presentation about Cyber-Duck, the projects we work on and our production process. Craig and I also explained our backgrounds and how we ended up working in the digital industry: Craig studied multimedia design and approached the industry very early, while I studied cognitive psychology with a focus on human-computer interaction.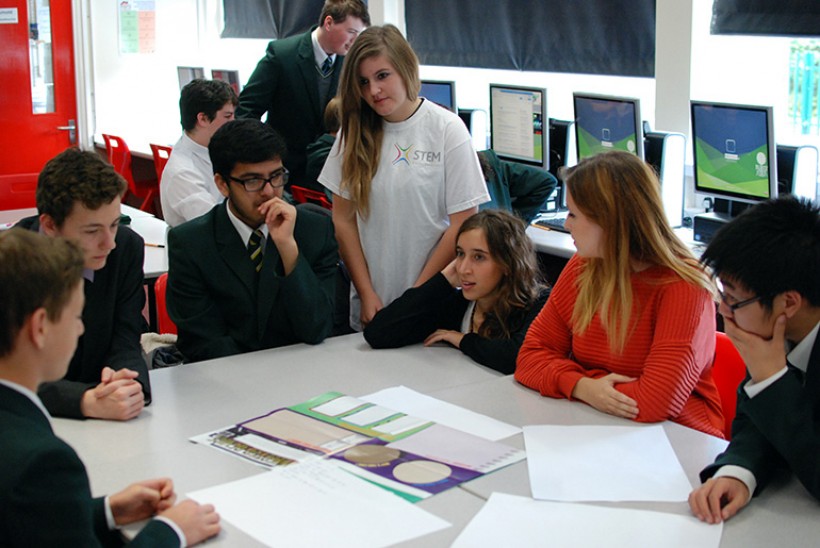 User Experience Designer Cristina Viganò guides students at BIMA Digital Day.
After the introduction the students formed five groups; three groups decided to work on "apps for social good" while the other two took on the Internet of Things project brief. The most challenging part for them was the initial brainstorming session, in which they had to come up with an idea easy enough to be realised in the allotted four hours, but also impressive enough to be considered for a prize. All the groups quickly found a very good balance and we were impressed to see how kids of different ages managed to cooperate and multitask to get their ideas into action.
After defining the concept, target audience and main features of their applications, the students had to sketch the way their product will work in terms of user flow. They also had to design a few screens and think about branding (e.g. logo, slogan, colour palette, etc.). Not only did they sketch their ideas with pencils and paper, they also gave Photoshop a go with brilliant results. Though Craig and I were there to support them, it was amazing to see how quickly they picked up the fundamentals of UX design.
At the end of the day, the teams presented their projects:
An app that directs users home via the safest route
A fridge that scans ingredients and suggests matching recipes
A lamp that changes colour depending on the importance of emails received to save users from checking their inboxes too frequently
A chat app for teachers and students that only works during school hours
An app that improves home security by allowing a user to see who is standing on their welcome mat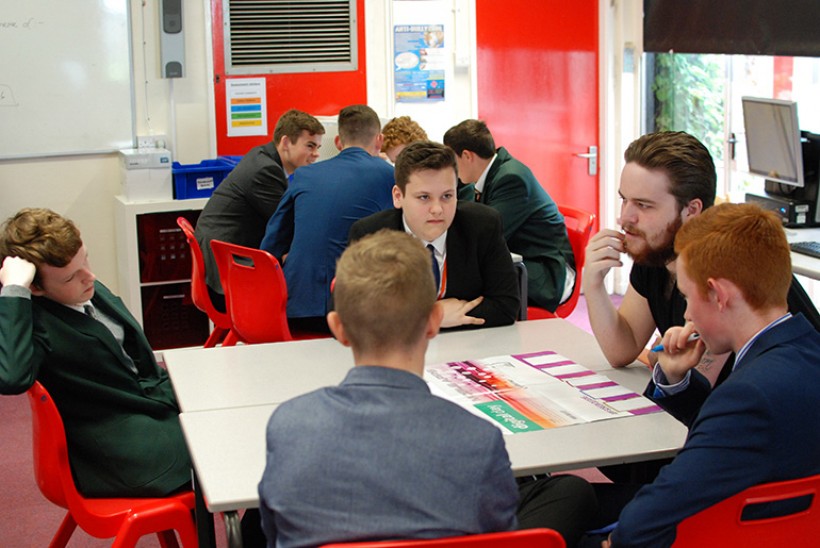 Production Lead Craig Gardner working with students from Bushey Meads School.
Though the day was intense, everybody enjoyed it and we all learned a lot. Many of the students expressed interest in doing work experience at Cyber-Duck to get hands-on industry experience, and Craig has been invited back to the school to teach a lesson on app design next month.
Cyber-Duck is committed to promoting the next generation of digital talent. If you know of any schools or community groups who would be interested in taking part in one of our digital workshops, please get in touch with us.
Thanks to BIMA and Bushey Meads School for another successful Digital Day!