The Bank of England unveils the first polymer banknote today, featuring none other than Sir Winston Churchill. We produced a new website that showcases the banknote's design and security features. Find out more about our work below.
Founded in 1694, the Bank of England promotes the general public's interests through maintaining monetary and financial stability.
English banknotes have been printed on cotton paper for 320 years – but that's set to change. New notes will be printed on polymer (a thin plastic film) as key benefits were discovered during intensive research and public consultation.
Meet Your New Note
At Blenheim Palace today, the Bank of England will unveil the first polymer banknote – featuring Sir Winston Churchill.
The Cyber-Duck team are excited to showcase the new website we have produced – diving into details of the new design and material.
The new website will be the focal point for the Bank's multi-channel campaign, ensuring that people have trust and confidence in the new banknote before release this September.
The New Website
Together, we wanted to provide fresh ways to interact with, explore and share the banknote. Applying our ISO accredited user-centred process, the user-friendly website showcases the banknote's design and security features.
It opens with a fun interactive feature – inviting the general public to meet their new £5 note! Users can explore the note in 360° by dragging the slider to highlight its key features.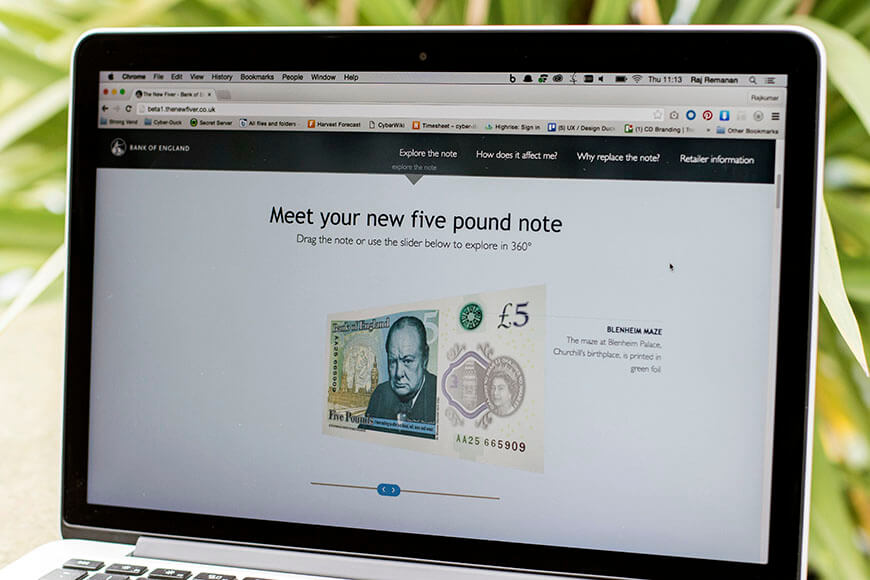 The life and work of Sir Winston Churchill is given full tribute. On the note itself, he's shown in front of the maze at Blenheim Palace, his birthplace. It introduces the Bank of England's augmented reality campaign with Blippar. Once users have downloaded the app, they can point their smartphone camera at a physical £5 - and watch it transform into the new fiver in their hands!
Finally, the website outlines why and how the switch will affect the public. It dives into the three significant benefits of polymer, in comparison with paper notes:
Cleaner – resistant to dirt and moisture, staying clean longer
Safer – enhanced counterfeit resilience
Stronger – 2.5 times more durable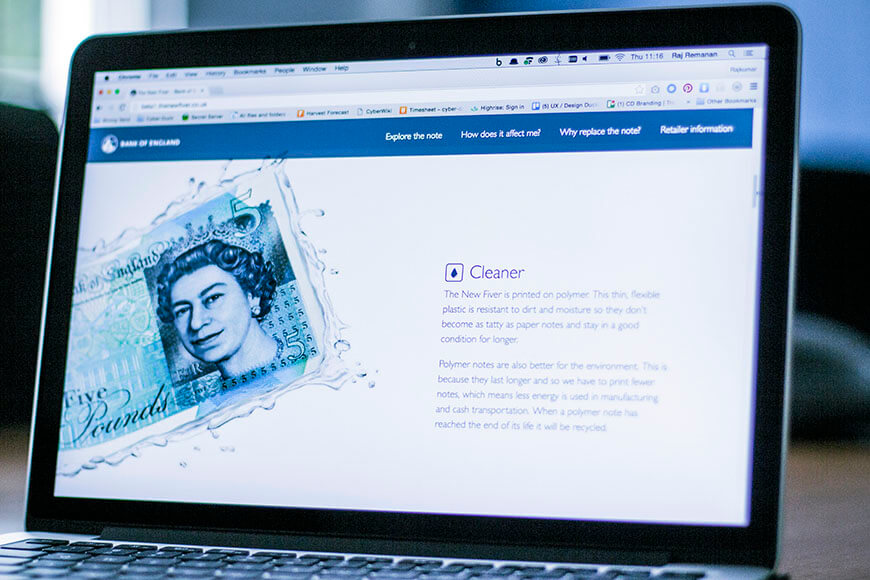 Work with Us
The Cyber-Duck team has enjoyed working with the Bank of England, producing a stunning website that showcases each feature of their new banknote's design.
We'd love to bring our creative, technical and marketing expertise to solve your digital challenges. Take a look at the client story for this project – and get in touch to find out more!