For our sixth annual Quack Hack - our very own hackathon - we all headed to our home office in Elstree for a 24-hour challenge that proved to be our biggest yet. From blockchain to WebVR, our Ducks worked in variety of areas in a race against the clock to deliver working prototypes of fantastic apps and websites. Find out more below!
Every Autumn, many of the country's birds migrate in search of warmer climes, but this year our Ducks made a different migration: they came home to roost in our Elstree office for our annual hackathon, the Quack Hack!
Over a 24-hour period spanning a weekend, our Ducks convene on Elstree House once a year and attempt to build phenomenal new tech before the timer hits zero. We take on a variety of projects and race against the clock to produce a stellar product which we then pitch to our judges.
This year's projects were among the most exciting we've ever undertaken. From a text-to-speech newsreader app to a blockchain charity giving platform and much more besides, our Ducks went above and beyond to create some truly amazing products. We arrived early for breakfast, team huddles and then we were briefed…
The Teams & Briefs
GLOBAL TRAVEL HAZARDS APP
Clem
Tiago
Tom
Matt
Cristina
We've all got the travel-bug, but the world is a dangerous place. Extreme weather and terrorist attacks make travelling hazardous, but imagine if you had an app that would warn you about hazards in real time? With this app and its constant coverage, you could get back to enjoying your adventure in safety.
The question for this team was could they create this app within the time limit? How would they ensure it pulled from multiple sources of data, consolidating it in a user-friendly manner? And how would they make it their own?
VOICE APp
Simone
Siobhan
Sofia
Noel
Ramon
Visiting a new place is certainly exciting, but sometimes you need a helping hand to get the most out of your travels. Think about it – in a new country, it's difficult to know how far your money will go, where's best to eat, what the greatest sights are. Wouldn't it be easier if there was an app to help you?
And how much better would it be if that app supported voice recognition, too?
This team was tasked with building a holiday companion app, but how they addressed their brief went above and beyond.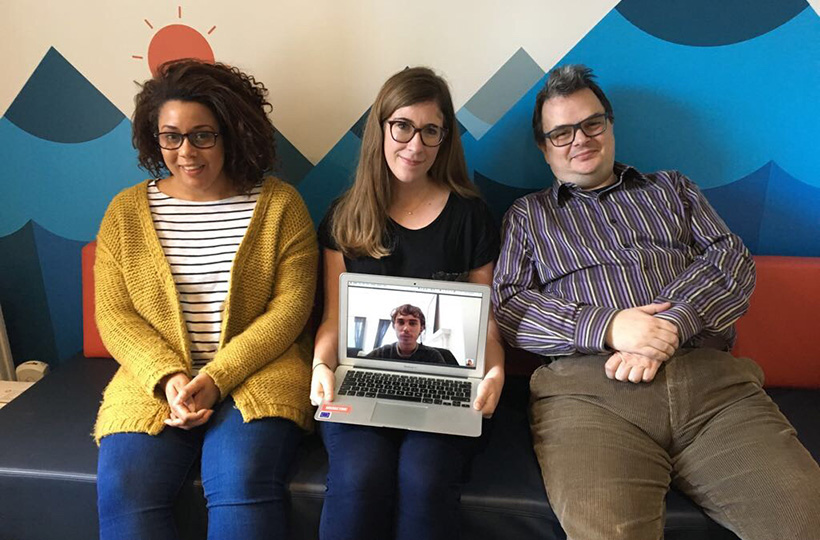 CHRISTMAS WEBVR EXPERIENCE
Adam
Jason
Veronica
Kayleigh
Harry
It's been on the up for a few years now, but this is the biggest year yet for virtual reality. Google Cardboard and other VR headsets abound in the marketplace, and make for a great stocking-filler. But behind-the-scenes, even more fun, big things are happening with VR that are soon to take the world by storm.
WebVR is that next big thing. It's an in-browser experience, meaning you can enjoy virtual reality however you want to experience it. Whether it's on your computer monitor, tablet screen or via a VR headset, you can view the website your way and completely in VR.
So this team's challenge was to create an immersive WebVR experience, all centred around Christmas ahead of the festive season. The ideas they had for promoting UX design principles was particularly interesting, but we're getting ahead of ourselves – onto the next project!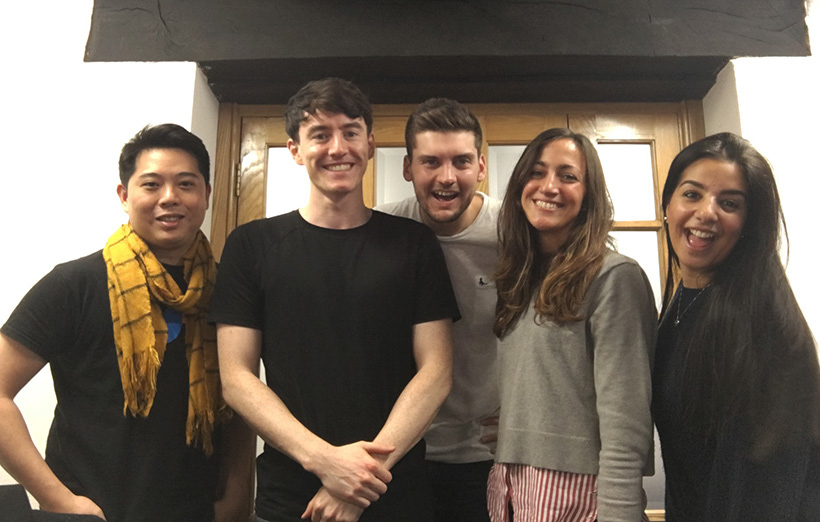 BLOCKCHAIN-BASED CHARITY PLATFORM
Benjamin
Sylvain
Obi
Ramsay
Joanna
Recent years has seen an erosion of public trust in charities throughout the country, reports the Charity Commission. How come? Bad media coverage is a huge reason, but the public also worries about where the money actually goes. Fortunately, there's a way for charities to win back the public's trust, and accountability and excellent management are two areas where charities can improve. With that in mind, a great way to restore trust is in providing a more secure platform to donate through.
So this team – self-dubbed Flockchain – set out to find a way to utilise blockchain for a charity and to restore public trust in charities. A blockchain would allow charities to offer transparency, accountability and unparalleled security. Exciting things were to follow…
TEXT-TO-SPEECH NEWSREADER APP
Andy
Guillaume
Karen
Sam
Jordan (Me)
News apps are everywhere nowadays, whether on our tablet or phone. For a lot of people, these are a godsend, but for others they are simply inaccessible. With a small screen, tiny fonts and fiddly buttons, it can be difficult for many users to interact with the app.
But it doesn't have to be this way. With the rise of voice recognition software and text-to-speech virtual assistants, it's now easier than ever for those with visual impairments or other disabilities to easily enjoy the technology most take for granted. That in mind, the final project was to create a newsreader app with high accessibility at its core.
Let the Hacks Begin
Once our teams had assembled, we vanished to various parts of the office to begin our hacks. The first thing on everyone's agenda was to get out the whiteboards and think how we'd engage with our briefs. The key was to take the brief, run with it and truly make it your own.
The quality of the ideas that were bandied around were top notch. With diverse teams of designers, marketers and developers, that wasn't the hard part. The difficulty during a hackathon lies in curbing your ambition and keeping it real. Is our idea feasible? Can we create it within the time limit? How useful will this be for an end user?
It's easy to get carried away, but with a strict time limit there's only so long you can spend on the planning before you need to get cracking. Fortunately, we had Gareth – the Hackmaster – outside with the BBQ on the go to tempt us from our whiteboards. Then, fuelled up on burgers and sausages we were ready to crack on with the development of our products.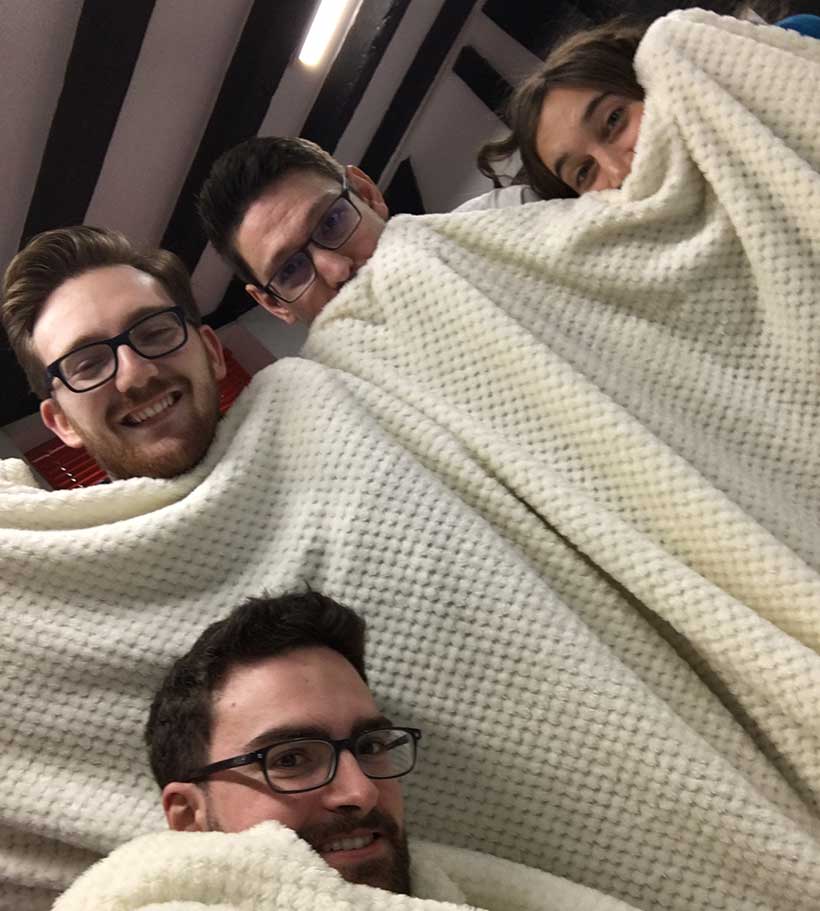 Pushing the Limits
We're always busy at Cyber-Duck, and this means that every member of our team is an expert in their field. But finding the time to learn a new skill, especially if it's quite out of your comfort zone, is sometimes pretty difficult. However, the Quack Hack is the perfect time to learn new skills, skills which we can then bring to the projects we create for our clients.
For a lot of people, that meant learning an element of coding. Learning how to use voice recognition software and React Native – a JavaScript library used to create user interfaces, maintained by Facebook and a dev community – was a big one for some of our developers and their crew. For others, it meant pushing themselves out of their comfort zone and presenting their pitch to the judges and other teams. But ultimately, everyone gave it their all and got stuck in. Coming together and supporting one another like this is what it's all about.
A Race Against Time
Our Ducks are used to working to tight deadlines, but the hackathon takes this to the limit. Just 24 hours to create and pitch a product is a big ask. But this wasn't our first rodeo – at six Quack Hacks in, we quickly get a move on.
Once we've sussed out our ideas, our developers begin the hardest part of the hack: coding. In my own team, it wasn't long before Guillaume and Andy were hammering their keyboards in a valiant attempt to bring our idea to fruition. It only took a brief walk out of our HQ in the basement to see that everyone in the office was also frantic at work.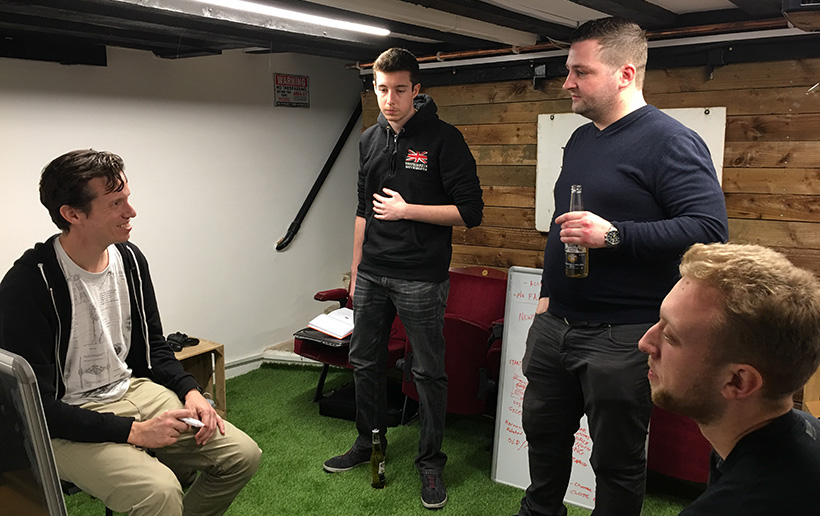 Although we try to learn new skills, ultimately it is crucial that every member of the team brings their A-game and biggest strength to the project to ensure it is completed in time. In most cases, that means the developers staying up late into the night coding. But the product itself is only half the battle – the pitch is where the big points will come.
Pitching Our Products
They say it's all in the presentation, but that doesn't only apply to the treats on Bake Off – how we pitch a product is key to its success. So despite some of us getting no shut eye at all, at 12pm Sunday we were told to stop hacking and gather to present our pitches to the panel.
The competition was tough, the presentations fierce, but there could only be one winner. We'll be outlining the projects in more detail over the coming weeks, but the judges were blown away by what we produced. Gareth, our Hackmaster, said he felt 'that the standard of work produced by the teams was exceptional.'
That would make it a hard hack to judge, but there could only be one winner.
The 2017 Winners!
The champions of our sixth annual Quack Hack were team Flockchain, our blockchain charity developers!
Their project, BlockAid, was designed to restore trust in the charity sector by making donating transparent, accountable and, above all, secure. With some charities, you can never be sure that all of your donated money is going to help the cause. That may all change with blockchain, a type of public ledger that anyone can see but no one can hack.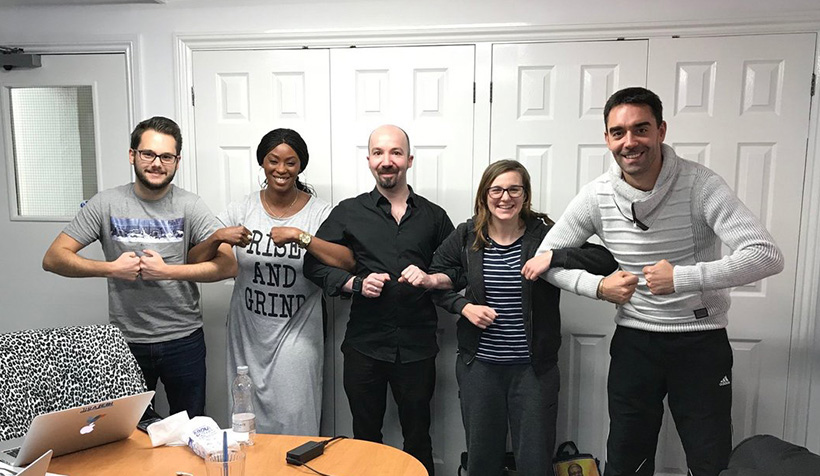 It was a great weekend, and with the skills that we learned over the weekend we hope to create new and exciting products for our clients in the future. We'll elaborate more on the products we made during the hackathon over the coming weeks, so watch this space!
One more word before you go: as you can see, we're hackathon veterans here at Cyber-Duck, but we don't just limit our hacking to our Pond. If you want to unlock innovation in your company, we can run an intensive hackathon session with your staff, too. We can work with your team to create fresh prototypes (for either products or campaigns) that hone your staff's creativity. You can find out more about our R&D services here.