There's a major Drupal upgrade coming that will fundamentally change your Drupal website. This Drupal 9 explainer lays out all the implications – and how you can get ready for the shift. Here, you'll discover:
What Drupal 9 means for all Drupal sites – and what will happen to sites running Drupal 7 and 8
How you can ensure your site remains secure and supported by Drupal.org and the Drupal open source community
The benefits of Drupal 8 and 9 and the opportunity they offer to your website
The upgrade process that's recommended by Drupal themselves – and what to expect if you decide to upgrade
This briefing draws on the experience of our Drupal experts, many of whom have been building, migrating and supporting Drupal sites for more than a decade. The Commonwealth, the Cabinet Office and Sport England have trusted us with their Drupal sites – now you can get our insight for free.
Make sure you're ready for change – download the free briefing now.
What's happening to Drupal?
There's a big change coming to Drupal. The release of Drupal 9 and the end-of-life for Drupal 7 and 8 will seriously impact hundreds of thousands of Drupal websites worldwide. We've created this briefing to help you navigate the coming change.
Websites that use Drupal 7 and 8 will need to migrate to Drupal 9 by November 2022 so that they remain secure. That means they need to start planning their Drupal migrations now.
What's at risk?
Soon, Drupal 7 and 8 will no longer get automated testing, updates or security patches from Drupal.org or the Drupal community. Unless site owners upgrade or migrate their Drupal sites, those sites risk becoming vulnerable.
It's important to act now, because the jump from Drupal 7 to 8 is significant and complex. Start your Drupal migration now, to ensure you have time to manage the replatforming smoothly and securely.
Can I stay on Drupal 7?
Why upgrade to Drupal 8 now?
Should I wait and upgrade straight to Drupal 9?
Lots of people are asking these questions about Drupal upgrades. Download our free briefing, packed with advice from experts who have handled multiple Drupal builds and migrations.
You'll also discover:
The 4-stage process for updating your version of Drupal
The risks associated with a Drupal upgrade
The potential that upgrading can bring your site and your customers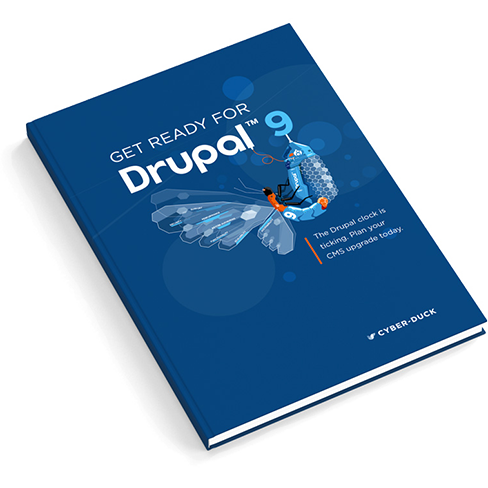 Get your Drupal briefing today
In exchange for getting a free digital copy, please sign up for our newsletter below.
- or complete the form below -