Business Media Insights is a one-day conference focused on issues facing B2B information, publishing and media organisations. Cyber-Duck Development Director Sylvain Reiter was invited to share his search engine optimisation (SEO) expertise.
BMI2014 took place on Wednesday 22 October at London's 1 Wimpole Street conference centre. The event was produced by the Information Industry Network, the European division of the SIIA, and featured keynote speakers like Simon Middelboe and Tim Weller sharing their views on the future of media and how the publishing industry can adapt to a digital landscape.
Sylvain Reiter walked attendees through the history of online search and gave actionable tips on how media companies can improve their search rankings to stand out among the competition.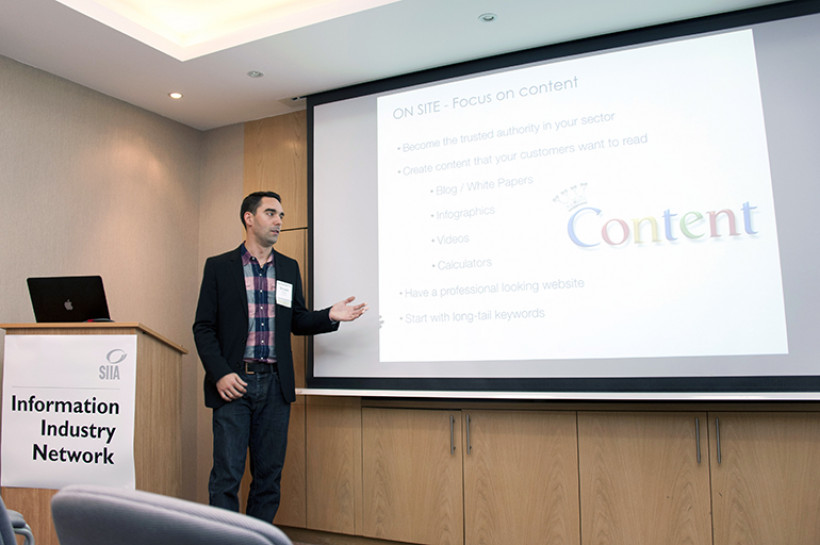 Development Director Sylvain Reiter speaks about SEO at Business Media Insights 2014.
A Brief History of SEO
The Internet's first search engine, Archie, was introduced in 1990. Within five years, over 20 search engines were competing for users' attention (and data!). These services used "spider" algorithms to "crawl the web" and analyse content, keywords and header tags.
Google arrived in 1997 with a plan to improve search. They would monitor the popularity of different websites and the relationships between them by analysing links. As quickly as Google gained users, people tried to game the system with "Black Hat" SEO tactics such as creating hidden pages full of links, hiding white links on white backgrounds and spamming blog comments.
Google began penalising websites for such techniques in 2006 and a number of global brands saw their search rankings plummet due to bad practice. This helped them gain what is now an 89% share of all UK search engine traffic. Major updates to Google's algorithms are regularly released to punish tactics such as duplicated content and low-quality/paid links, reward good practices like proper markup, and improve the user experience with better local results and semantic understanding.
Improving Your Search Rankings
"Design your site as if search engines did not exist, but be search engine smart in your design." —Eric Enge
SEO and user experience (UX) go hand-in-hand; what's good for one is good for the other. Both are affected by content as well as structure.
To attract visitors and become a trusted authority in your business sector, create content that your customers really want. This could mean blogs, white papers, infographics or videos. Well-written content is naturally keyword rich, which means consistent and specific content will have a valuable impact on your website's search rankings.
On the technical side, using proper website and page structure, committing to human-readable URLs, coding with semantic HTML and using a geographically nearby server are just a few things that can improve SEO before even considering the text on a page.
Lastly, rankings are also affected by a user's browsing device. Google runs several spiders to identify how sites respond on mobile devices. Bounce rate—that is, how quickly visitors leave your site—indicates bad user experience and Google takes this into consideration when determining your site's ranking. Optimising for mobile is critical to achieving and maintaining search result prominence.
Find out how your website can climb through the search result pages!
Contact us
to chat with Sylvain and our marketing team today.