As previous finalists for the Digital Team of the Year at The Drum's DADI Awards, this year's Wirehive 100 nominations recognise some of the individuals who contributed heavily to the team's success. We're delighted that Danny, Craig, and Gareth have become finalists for the Digital Leader, Creative, and Techie of the Year respectively.
Wirehive 100 Nominations
The Wirehive 100 Awards recognise the crème de la crème of digital across the South of England. From client projects to individual team members, Cyber-Duck has featured as finalists and winners year-on-year, since the scheme began in 2012. Last year, I was delighted to win the Account Handler of the Year award.
For 2015, the Cyber-Duck flag is being carried by three of our directors:
Digital Leader of the Year - Danny Bluestone, CEO
Creative of the Year - Craig Gardner, Design Director
Techie of the Year - Gareth Drew, Development Director
We're also looking forward to the release of the annual Wirehive 100 table, which classes all agencies in the South of England according to size. We ranked 13th last year, a phenomenal achievement for an agency of our age - and we're hoping to rise even higher this year.
Here, I'll reveal how each of our Directors impressed the judges, and why they are deserving of their status as finalists.
Danny Bluestone - Digital Leader of the Year
Without Danny, there is no Cyber-Duck. His vision, values and ethos have led Cyber-Duck to year-on-year growth without external investment, since we began in 2005. Ten years later, we have built up a reputation as a leading digital agency. Working with revered brands and exciting startups, our team provides effective, elegant answers to the most challenging briefs.
Throughout Cyber-Duck's evolution, Danny has continued to play a vital role in the day-to-day running of our agency. He's actively involved in our strategic growth, a digital producer for key client projects, and generally acts as a motivating presence around the office. This year, he has also earned a nomination for the Entrepreneur of the Year, with the Lloyds Bank National Business Awards. Our client Pedro Ros, CEO of Wilmington Plc, had the following thoughts to share about Danny's role:
"Danny is an incredibly effective digital leader. At Wilmington, we have worked closely with him across multiple, critical digital projects. He consistently builds a thorough understanding of the business requirements and objectives. Proposals and communication are always drawn from Danny's deep insights into our industry. He collates and leads a great team at Cyber-Duck, who can exceed our original brief and costing outline."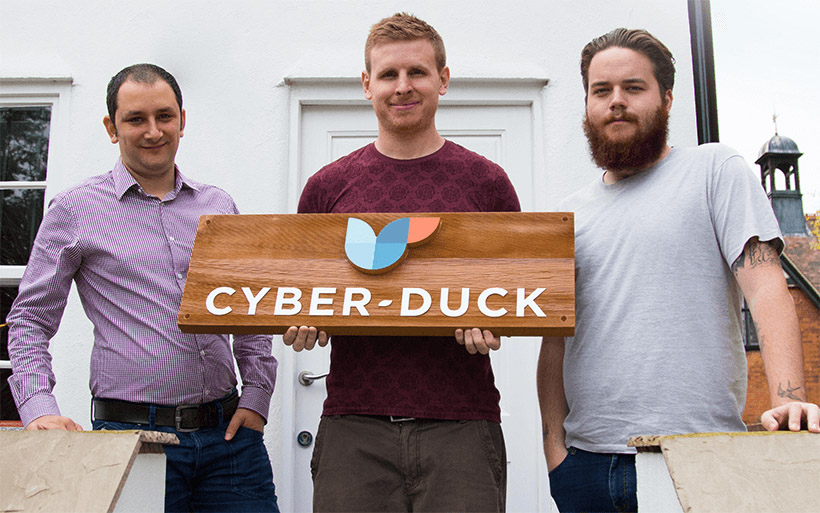 Craig Gardner - Creative of the Year
Having been nominated two years in a row, Craig's ability to create beautiful designs that meet both client and user requirements is not to be sniffed at. An interesting story in its own right, he joined Cyber-Duck as an intern in 2012, after glimpsing an advert in our window. Three years on, Craig has demonstrated his tremendous dedication, ability, and managerial skills, joining the board at just 24. He successfully leads Cyber-Duck's projects, helping to ensure our production team all steer in the same direction.
The redesign of our own website is a wonderful achievement, that truly encapsulates Craig's design and managerial abilities. Of course, our website is a fundamental marketing tool (and showcase) for us. Craig managed to turn a project with colossal internal expectations into a beautiful final product, which launched in just two months.
Gareth Drew - Techie of the Year
Over the past four years, Gareth has been pivotal to raising the development standard across our agency. With a large team of developers with different skill-sets under his management, he leads the way in developing stable, award-winning solutions for clients.
As part of his role, Gareth defines and oversees all development activities throughout implementation: including crucial decisions for the technology, structure and configuration of complex applications. For instance, when we had to create a complex cross-channel collection of projects for Maxinutrition, Gareth defined the back-end technology behind our design efforts to connect their corporate website, ecommerce store and scan-and-shop mobile app together, creating a high-performance, mobile-friendly experience.
Everyone at Cyber-Duck wishes all three the best of luck at the awards ceremony, on the 19th of November.