Trust in digital is broken. The challenge for brands is to regain user trust, fast. To share his ideas on how brands can try to earn user trust back, our CEO & Founder Danny Bluestone is heading to SXSW in March 2019.
As part of a Department for International Trade (DiT) initiative, we're absolutely thrilled to be chosen to speak at SXSW next week. The UK at SXSW event during the week-long festival aims to promote the UK's creative industries and encourage greater overseas trade.
It is also supported by the 'Make Britain Great' campaign, Promote UK, the Institute of Practitioners in Advertising and the Advertising Association. Along with a whole host of other advertising and digital businesses, we'll be addressing some of the biggest issues in our sector right now.
And if there's anything everyone is talking about right now in digital, it's trust. On March 9th 2019, Danny will take to the UK at SXSW stage to show how brands can regain their users' trust… on his birthday!
What is SXSW?
South By Southwest (SXSW) is the world's largest Interactive, Film and Music Festival based in Austin, Texas. First held in 1987, the SXSW conference and festivals celebrate the convergence of film, music and interactive industries.
SXSW is huge, with thousands of professionals, creatives and artists taking to the stage across the conference, music and film festivals.
Find us at the UK at SXSW event
We aren't making the long trip to SXSW alone. The Department for International Trade backs the UK at SXSW event, which will host a selection of leading UK businesses in Austin. This follows on previous success for the DIT at SXSW.
Experts from Crowd, Google, BBH, Foresight Factory, McCann Truth Central and Hey Human will share their keen insights on the biggest topic affecting the digital and advertising industries right now: trust.
Janet Hull, chair of Promote UK said the "aim at SXSW is to raise awareness of British advertising on a global platform to drive reputation and engage with industry leaders and creatives from across the world."
As part of the line-up of leading UK businesses, Cyber-Duck will be showcasing the best the UK has to offer.
Danny takes on trust in digital
Representing Cyber-Duck, our Founder and CEO Danny Bluestone will take to the UK at SXSW stage on March 9th 2019 at 13:15 in the British Music Embassy.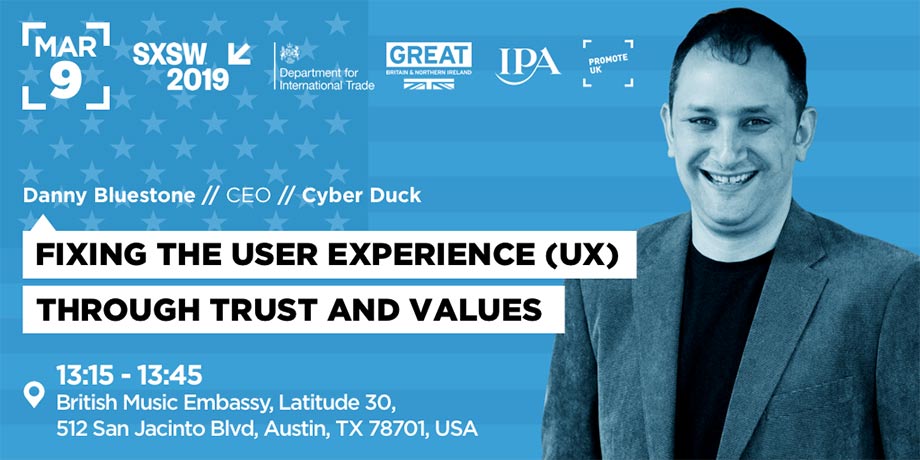 Trust in brands is at worrying levels. Data breaches and scandals plague our news feeds, and false advertising has even seen people duped into attending phony festivals.
Although governments are now waking up and beginning to address the very real problems we find in digital, brands shouldn't wait for governments to regulate ethical behaviour. The question brands and designers should ask is: What can we proactively do to build trusted products and services?
Danny will be showing how brands can restore trust by developing core values and enhancing their user experience. He'll show that ethical businesses are actually more profitable because you'll engage your workers and achieve better customer buy-in. It's all about cementing your commercial strength by enshrining ethics to build consumer trust.
See you at SXSW 2019
Are you headed to SXSW, the biggest music, film and interactive festival in the world?
Join us at the British Music Embassy on March 9th to hear from British advertising diverse talent!
It isn't the first time that the Cyber-Duck team have been chosen to share their digital insights at the lauded SXSW. Check out our previous talks:
Missed the event?
Check out Danny's slides below.